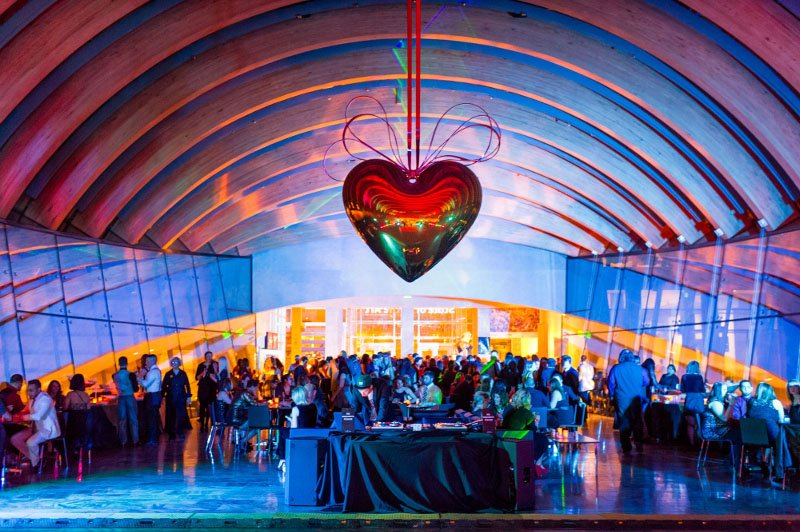 Photo courtesy Stephen Ironside "The latte event will be a big draw, Ultra Suede will be a great draw, the comedians will be a great draw...you can pop in and out of any of these events. It's a pretty free-flowing evening, and you can spend a little time here, a little time there and get a full range of experiences." -- Crystal Bridges educator Kentrell Curry © 2014 Stephen Ironside/Ironside Photography
Crystal Bridges Museum of American Art's Valentine extravaganza, the Black Hearts Ball, promises to do the impossible: please the romantics who celebrate the holiday as well as the skeptics who eschew all things hearts and flowers.
"We have a little bit of something for everyone, whether you're single or in a relationship or somewhere in between," says Kentrell Curry, educator of Artinfusion programming.
Because of the diverse programming included with the new, lower ticket price of $25, that's an easy promise to make. Participants will be treated to live music provided by Ultra Suede; Little Rock's DJ Swift 720 will take care of the anti-love music; and ComediansNWA will provide the laughs. Onyx baristas will compete in a throwdown -- a large, bracketed latte art competition -- and Blake Worthey will present "Holy Terror," a dance-theater performance. Add in food, a cash bar and the silent disco -- which has become one of Crystal Bridges' signature activities -- and you have quite the celebration. Curry says the event last year drew more than 500 people, and he's hoping the lower ticket price will mean even more participants this year.
"We see a lot of new faces with this event," says Curry. "I think it's a great way to acclimate to the space. You'll be able to explore the galleries, including the temporary exhibit 'Men of Steel, Women of Wonder', which is included in the ticket price. If you've never visited the museum, we hope this will bring you through our doors and that you'll take a look at the calendar for other things you may be interested in."
WHEN -- 9 p.m. Feb. 16
WHERE -- Crystal Bridges Museum of American Art, 600 Museum Way, Bentonville
COST -- $25/person
INFO -- 657-2335
And here are a few other events inspired by that most romantic of holidays.
Valentine's Dinner and Comedy Show
Two comedians and dinner choices that include steak, shrimp, scallops or pasta.
WHEN -- 5:30 p.m. Feb. 14
WHERE -- The Grove Entertainment Complex, 808 S. Bloomington, Lowell
COST -- $75/person
INFO -- 347-4966
Valentine's Day at the Rink
WHEN -- 7-9 p.m. Feb. 15
WHERE -- Ice rink at the Jones Center in Springdale
COST -- $7 single; $10 couple, nonmembers
INFO -- 756-8090
Sweetheart Lunch and Eagle Watch
Share the wonders of nature with your sweetheart by taking an Eagle Cruise on beautiful Beaver Lake and enjoying a scrumptious lunch at Ventris Trails End Resort. The event is hosted by interpreters from Hobbs State Park.
WHEN -- 11 a.m. Feb. 16
WHERE -- Rocky Branch Marina on Beaver Lake
COST -- $80/couple or $40/person
INFO -- 789-5000
The Expelled: My Bloody Valentine
This haunted house promises that it will "give your better half a reason to climb all over you."
WHEN -- 7-11 p.m. Feb. 16
WHERE -- The Expelled Haunted House, 29555 Highway 23, Huntsville
COST -- $15
INFO -- 466-8556 or theexpelled.com
NAN What's Up on 02/10/2019
Print Headline: Feelin' The Love
Sponsor Content
Comments