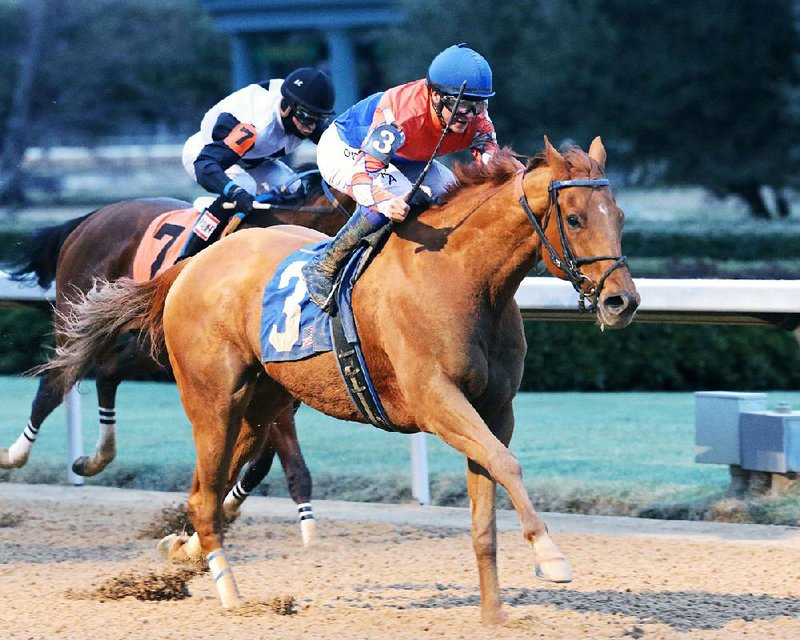 Wilbo is the betting favorite at 7-2 in today's King Cotton Stakes at Oaklawn Park. David Cabrera gets the mount.
HOT SPRINGS -- Wilbo is set to return from a seven-month layoff to defend his victory in last season's King Cotton Stakes at Oaklawn Park today.
Scheduled post time for the $100,000 6-furlong King Cotton for 4-year-olds and up is 4:20 p.m.
"I think he's doing well enough that he should be very competitive in this race," Wilbo's trainer Chris Hartman said. "There is a big question, though. There's always a question when you bring one back. Hopefully, he will answer them all."
From the rail out, the 10-horse King Cotton field is Wilbo, with jockey David Cabrera, and trainer Hartman; Bourbon Cowboy, Orlando Mojica; Gordy Florida, Alex Birzer, Kenny Smith; Toasting Master, Alex Canchari, Randy Morse; Heartwood, David Cohen, James Chapman; A M Milky Way, C.J. McMahon, Beverly Burress; Sightforsoreeyes, Walter De La Cruz, Anthony Quartarolo; Balandee, Fernando De La Cruz, James Baker; Control Stakes, Ricardo Santana, Jr.; and Dan the Go to Man, Edgar Morales, John Ortiz.
[RELATED: Rick Lee's Oaklawn Park selections and analysis]
Chris Wilkin's Wilbo, a 7-year-old gelding by Candy Ride, won the 2018 King Cotton by 2 lengths over Ivan Fallunovalot in 1:09.85. He completed his 2018 Oaklawn campaign with a second-place finish to Whitmore in the Grade III 6-furlong Count Fleet Sprint Handicap on April 14. Wilbo's last start was a third-place finish in the 6-furlong Iowa Sprint Handicap at Prairie Meadows in Altoona, Iowa, on July 6.
"He really likes this racetrack," Hartman said. "We decided to point him toward this meet. He likes it so much, so that's what we did."
In eight career starts at Oaklawn, Wilbo has 3 wins, 1 second, and 2 thirds.
Wilbo is the 7-2 morning-line second choice to Heartwood, by Tapit, at 3-1.
Heartwood, 5, owned by Chapman and Tsujimoto Stuart, raced 13 times in 2018. His final start was a third-place finish in the Grade III Mr. Prospector Stakes at Gulfstream Park in Hallandale, Fla., on Dec. 22.
"He was coming up to where he needed to do something," Chapman said. "He likes to run every 30 days."
Former Road to the Kentucky Derby participant Gordy Florida, by Cactus Ridge, is set for his first stakes start since he finished 10th of 14, 21 lengths back, in Oaklawn's Southwest Stakes on Feb. 15, 2016, four weeks after he finished second by a neck to Discreteness in the Smarty Jones Stakes. A high suspensory ligament pull in the Southwest kept Gordy Florida from competition until the 2017 season at Oaklawn.
Smith has since limited Gordy Florida to sprints
"When he returned, I thought if he went two turns, it might be kind of rough on him," Smith said. "He's been going real well sprinting."
Dream Walkin Farm's Gordy Florida breezed 4 furlongs in 46.6, the fastest of 45 at that distance on Jan. 31.
"This is a little bit of a step up for him, but his numbers say he can run with these horses, so let's see," Smith said.
Ortiz said he considered a go in the King Cotton for WSS Racing's and Hooties Racing's Dan the Go to Man, by Smoke Glacken, before the Oaklawn season began, but he was convinced after Dan the Go to Man won a 6-furlong starter-allowance race in 1:09.32 at Oaklawn on Jan. 25.
"We came in here wanting to win that starter, obviously, and he was very impressive," Ortiz said. "I didn't think he would go 1:09, but he showed his true colors."
Hartman said he believes the King Cotton field is full of contenders.
"There are no gimmes," he said. "There's nine other horses in there, and we're going to have to be worried about all nine of them."
"There are a lot of good horses in this race," Ortiz said.
At a glance
WHAT $100,000 King Cotton Stakes for 4-year-olds and up
WHERE Oaklawn Park, Hot Springs
WHEN Seventh of nine races, approximately 4:20 p.m.
DISTANCE 6 furlongs
Sports on 02/09/2019
Print Headline: 7-year old back to defend King Cotton Stakes victory
Sponsor Content
Comments