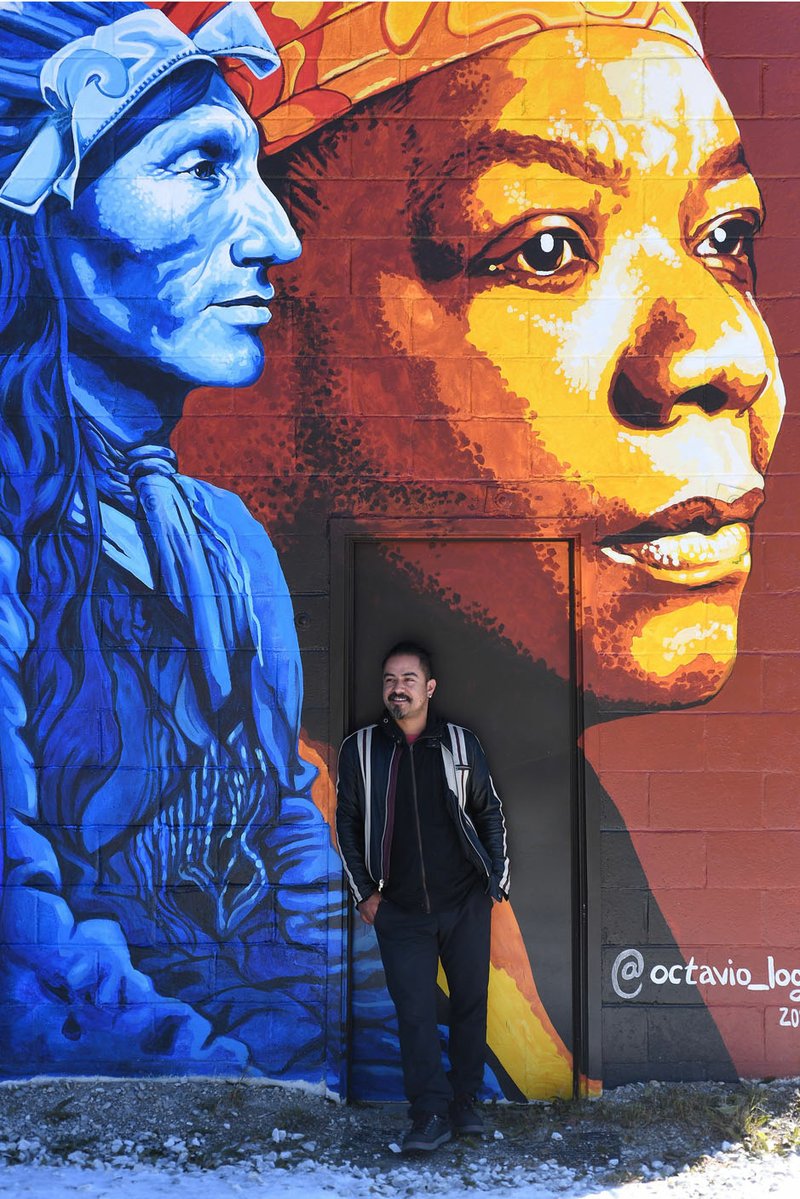 NWA Democrat-Gazette/J.T. WAMPLER Octavio Logo in his studio in south Fayetteville Tuesday Nov. 12, 2019.
Octavio Logo is using art to build awareness of the barriers faced by Northwest Arkansas' immigrant community.
Logo, 39, of Fayetteville immigrated to the U.S. from Mexico in 2017 when he married his wife, Emily Hackerson, he said. The couple met when Hackerson visited Mexico as a graduate student a few years before.
A job opportunity led Hackerson to Northwest Arkansas, and she invited Logo to join her, he said.
"I didn't want to immigrate here," he said. "I just fell in love with this lady in Mexico City."
Logo works with multiple mediums as a visual artist, including sculpture and murals, and said he was prepared to get to work as soon as he moved. He said his experiences as an immigrant began to be reflected in his projects.
His 2018 traveling exhibition Exodus used the Christ story to show the contradictions that exist between faith, humanitarianism and immigration in a mainly Christian society.
Logo explained Jesus and the holy family were refugees in Egypt, much like many of the immigrants living in Northwest Arkansas.
"It was the first time that I opened up about what I really wanted to say," Logo said. "I want to give you a different approach to move, to sensitize people, to start a conversation instead of to start a fight."
Logo was one of 19 artists who contributed to the Better World Mural at Terra Studios in Durham in April, said James Ulick, Using Art to Create a Better World president. The nonprofit organization owns Terra Studios.
Logo's portion of the mural featured a human form with an orange skull for a head and images of skewed power and inequality comprising the body.
"If we're going to have equality, we have to address power," Ulick said. "We have to change the structure of how we relate as human beings."
Artists have a duty to have such conversations, he said.
"Our responsibility is to creatively change the world -- to see inequality, to see injustices, to see things that need to be changed and put them out there in a way that impacts people on a a visual or emotional level," Ulick said. "Words often don't get through."
[Don't see the podcast above? Click here.]
The immigrant population
There's no way to precisely know how many people successfully immigrate to the U.S. because of the unknown number of undocumented immigrants, said Ellen Weintraut, a lawyer with Northwest Immigration Law in Fayetteville. The number who obtained lawful permanent resident status decreased from about 1.18 million to 1.12 million from 2016 to 2017, according to the U.S. Department of Homeland Security.
The largest number of immigrants with permanent residence status are from Mexico, according to Homeland Security. Their number grew from 158,619 to 170,581 from 2015-2017. China was second with 71,565, followed by Cuba with 65,028 in 2017.
Immigrants are often looking for some form of familiar community when relocating, Weintraut said. Many move to where they have family or regions that have employment opportunities.
Moves such as Logo's are a factor in Arkansas' continued population and diversity growth.
The state's population in 2018 was estimated by the U.S. Census Bureau at 3,013,825, a 3.4% increase from 2010. The state's population remains predominately non-Hispanic white at 79.1%, followed by black at 15.7% and Hispanic or Latino at 7.7%.
Northwest Arkansas has a primarily white population of 73.3%, followed by Hispanic or Latino at 16.49% and Asian at 2.46%, according to the Northwest Arkansas Council Diversity report published in 2017.
The council is a regional group of political leaders and business people. One part of its mission is to promote an inclusive environment to harness the economic and social benefits of diversity.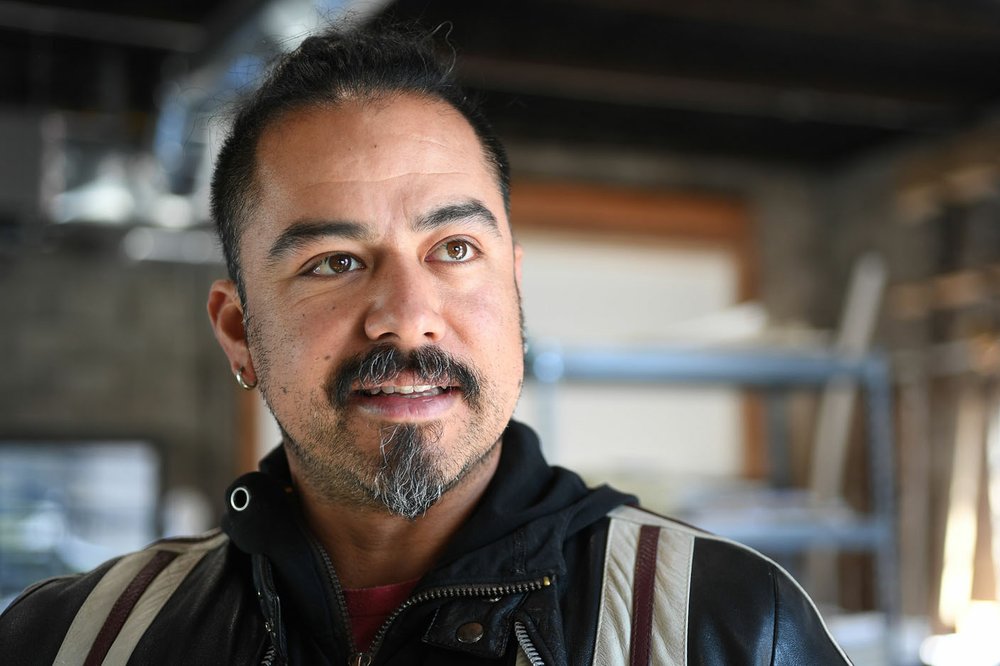 NWA Democrat-Gazette/J.T. WAMPLER Octavio Logo in his studio in south Fayetteville Tuesday Nov. 12, 2019.
Border barriers
Logo said he discovered immigrating to America wasn't a simple or necessarily welcoming process, even for those who do so legally.
"I realized how difficult it is for a brown, single male to come to this country," he said of his initial attempts to explore the U.S. when he was considering immigrating.
Logo obeyed the law as he traveled to and from Mexico several times, only to find he was continually met with suspicion at the border.
"The third time, they stopped me and put me in a room with people in different circumstances -- all brown people," he said. On other occasions, Logo was asked to do things like show his arms to prove he had no gang-related tattoos or confirm his stability as a working artist in Mexico.
Most must have a financial sponsor to immigrate, Weintraut said. Nonimmigrants, such as tourist visa applicants, usually have to show ties to their home country to prove their intention of returning after visiting the U.S.
"I came here, and I was a tourist," Logo said. "A big percentage of males my age trying to do the same by themselves, they don't get accepted if they don't have a lot of stability like a job or a house."
Weintraut said the process governing immigration can often be a barrier, especially for those who don't speak English.
"There's just a lot of bureaucratic nonsense that people have to deal with, reams of paperwork that they have to fill out," she said. "It's often impossible for those people to figure things out on their own."
Many need the assistance of a third party, such as an immigration attorney, to navigate the process successfully, Weintraut said. This can add prohibitive costs to a process that already requires thousands of dollars in filing fees.
Northwest Arkansas' foreign-born population has grown significantly in the past several years, according to a report Global Talent: The Economic Engine of Northwest Arkansas. The report was compiled through the combined efforts of the New American Economy, the Winthrop Rockefeller Foundation and EngageNWA.
The total population of Northwest Arkansas grew from 464,653 to 501,710 from 2009-2014, according to the report. The region's foreign-born population grew by 39% from 40,146 to 55,838 during that same period. The number of immigrants increased by 42% in Washington County to 26,512 and by 39% in Benton County to 28,144.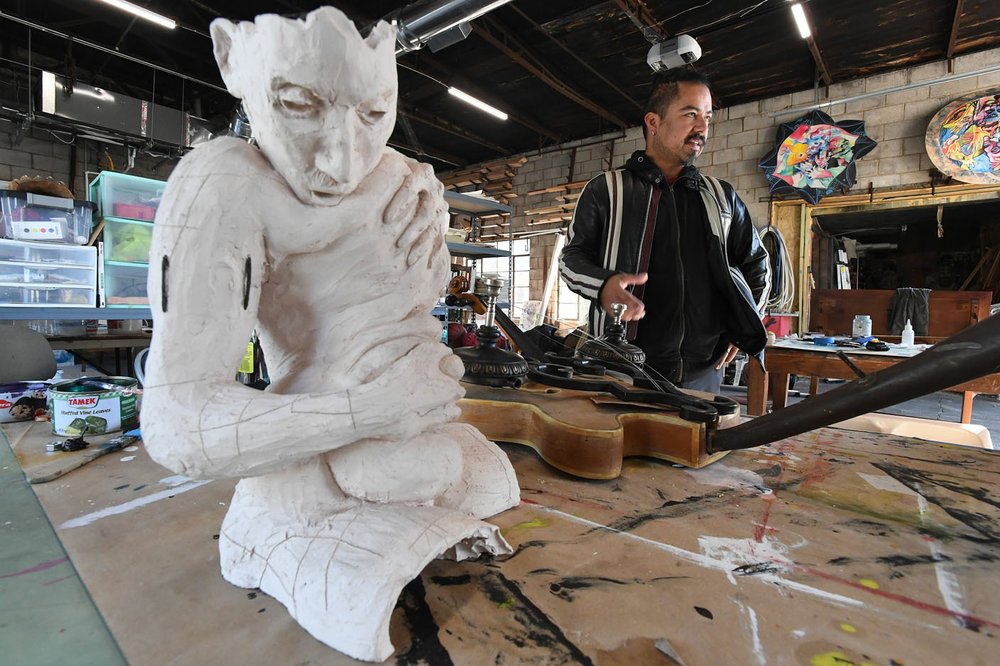 NWA Democrat-Gazette/J.T. WAMPLER Octavio Logo in his studio in south Fayetteville Tuesday Nov. 12, 2019.
Going public
Logo said art can have the most impact toward building awareness of Northwest Arkansas' evolving population when it is introduced directly into a community.
Some of the artist's most noticeable efforts have been at his south Fayetteville studio at 704 S. Washington Ave., which the artist has made a gathering place for the surrounding community.
The studio stands out with its colorful mural depicting images of Martin Luther King Jr., Malcolm X, Maya Angelou and two Native Americans.
"It's not mine anymore," Logo said of the area outside of the studio, which has picnic tables and a food trailer to encourage members of the community to use it as a performance space.
"It's an open space," he said. "People can come and use it and have ideas and get inspired."
The neighborhood is home to a variety of immigrant families, Logo said, many of whom were at the studio in October for an informal gathering called Movement to celebrate the many nationalities.
"I was kind of crying," he said of how moved he was at the event. "People from the Congo and the Middle East were dancing to traditional Mexican music."
Logo believes such community events and the introduction of more public art that communicates the history of Northwest Arkansas and its immigrant populations will continue to dismantle barriers in the region.
"Public art was taught as an easy way to teach people their history, their roots, their heritage," Logo said of his experiences growing up in Mexico.
The artist recognizes the growing amount of public art being incorporated into Northwest Arkansas' development, but hopes future additions will consider focusing on the area's past, present and future in an effort to effect change.
"What is the history of this city?" Logo asked of Fayetteville. "Where is the history of the black community? Where is the history of the Trial of Tears and the Native Americans here?"
Introducing more art of that nature will create neighborhoods where residents are proud of who they are, he said.
"If we can do that together as a community, we can really change things," he said.
Find Help in Your Community
Many community organizations and social service providers offer citizenship classes and assistance with the naturalization process.
Information on how to attend citizenship classes, obtain legal assistance and enroll in U.S. Citizenship and Immigration Services programs is available online at https://www.uscis.gov/citizenship/learners/find-help-your-community.
Source: U.S. Department of Homeland Security
Upcoming articles
Subsequent articles in this series about artists in Northwest Arkansas will feature:
• Danielle Hatch, a woman who's attempting to find success amid the societal expectations that exist for her gender.
• Bobby C. Martin, a member of the Muscogee (Creek) Nation, who's exploring his family's Native American history through his work.
• Jody Travis Thompson, who is addressing challenges and diversity within the LGBTQ+ community.
• Ziba Rajabi, an Iranian working to reconcile her relationship with her homeland with the life she's building in Northwest Arkansas.
Source: Staff report.
Editor's Note: This is the third in a series of articles about diversity in the visual arts in Northwest Arkansas.
NW News on 12/31/2019
Print Headline: Art helps paint picture of immigrant population
Sponsor Content
Comments