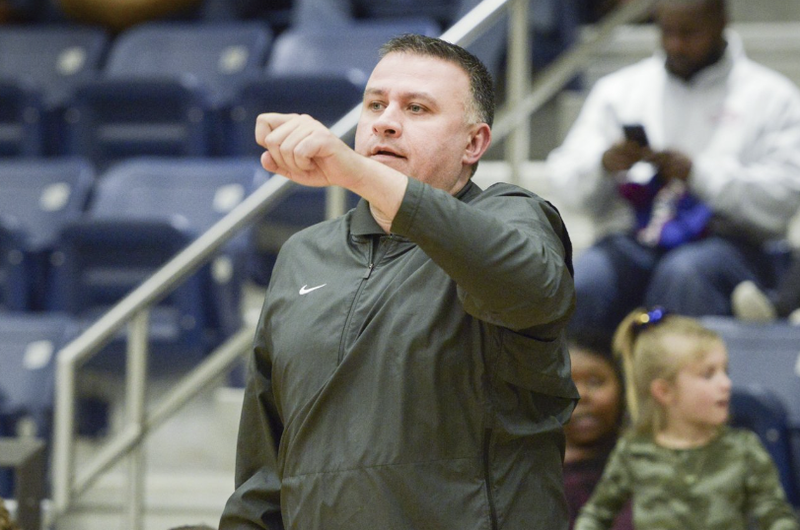 In this Jan. 2019 file photo, Bentonville West High School head coach Greg White calls out to his players during a basketball game at Wolverine Arena at Bentonville West in Centerton. - Photo by Charlie Kaijo
NEOSHO, Mo. -- Bentonville West coach Greg White was concerned about his team's stamina coming off Thursday's double-overtime win in the 65th annual Neosho (Mo.) Holiday Classic.
The Wolverines put their coach's fears to rest, draining 10 of 19 3-pointers, and downed Joplin, Mo., 64-57 to reach tonight's Gold Bracket finals.
West (5-4) will take on West Memphis, which defeated Morrilton in the other gold semifinal, at 6:30 tonight.
White couldn't have been prouder of how his team responded any time Joplin, which never led in the game, mounted a challenge.
"We got great minutes from everybody," White said. "This group, there's something special about them. I've been telling people that. They play hard for each other, not for me, not for our school, they play hard for each other.
"They've answered the bell every time we've rang it for them. They've come out every round and I'm really, really proud of them. It's the biggest thing for our program in four years. West Memphis is well-coached, got great players, but we're starting to put our school on the map right now so we're excited."
Riley Buccino, a 6-foot-2 senior, registered a double-double with 19 points and 10 rebounds to key the Wolverines' victory. Senior Dillon Bailey also scored 13 of his 18 points in the second half as West held off any Eagles' charges.
White led the 3-point barrage, making 4-of 6, while Buccino also hit 3-of-3.
Isaiah Davis, a 6-1 senior who was named the Missouri football Gatorade Player of the Year, pulled Joplin within 43-40 with a three-point play early in the fourth quarter.
But West responded with an 11-3 spurt, and the Eagles never got closer than the final score.
Bailey and Buccino drained back-to-back 3-pointers to push the Wolverines' lead to 49-40. After Joplin hit a free throw, Bailey scored off the drive for a 51-41 advantage with 5 minutes, 16 seconds left.
Davis led Joplin with 19 points and 10 rebounds, while Always Wright chipped in 14.
Joplin 7 18 12 20 -- 57
Bentonville West 13 17 13 21 -- 64
Joplin (5-3): Davis 19, Wright 14, Allen 10, Westemoreland 7, Hafer 3, Tash 2, Gaines 2.
Bentonville West (5-4): Buccino 19, Bailey 18, White 13, Honeycutt 6, Higson 3, McDonald 3, Allen 2.
Bentonville 72, East Newton County 49
The Tigers started off red-hot from the floor to open up a big lead and cruised into today's back division finals.
Bentonville made 9 of 16 from 3-point range in the first half, then hit its first two to start the second half for a 48-30 lead and never looked back.
The Tigers (8-3), now advance to face Neosho at 5 p.m. today, placed four players in double figures led by Harrison Hicks with a game-high 17 points, including 5-of-6 from 3-point range and 6-of-9 overall from the floor.
Colton Simmons added 16, including four 3-pointers -- all in the first quarter as the Tigers grabbed a 27-18 lead. The 6-6 senior also added seven rebounds to go with four assists and three steals. Thane Spencer chipped in 13 points and five assists. Sawyer Price added 12
Neosho 63, Huntsville 45
Neosho used a 15-4 run to start the second quarter to claim a 30-19 halftime lead en route to the victory.
Junior guard Landon Austin scored 12 of his game-high 18 in the second half for Neosho, which will take on Bentonville today.
Huntsville (9-3) was led by senior guard Kent Mayes' 11 points, Hunter Davidson added nine. The Eagles will take on East Newton County this morning at 10:30 for third place in the black division.
Preps Sports on 12/28/2019
Print Headline: Wolverines, Tigers reach division finals in Neosho tourney
Sponsor Content
Comments