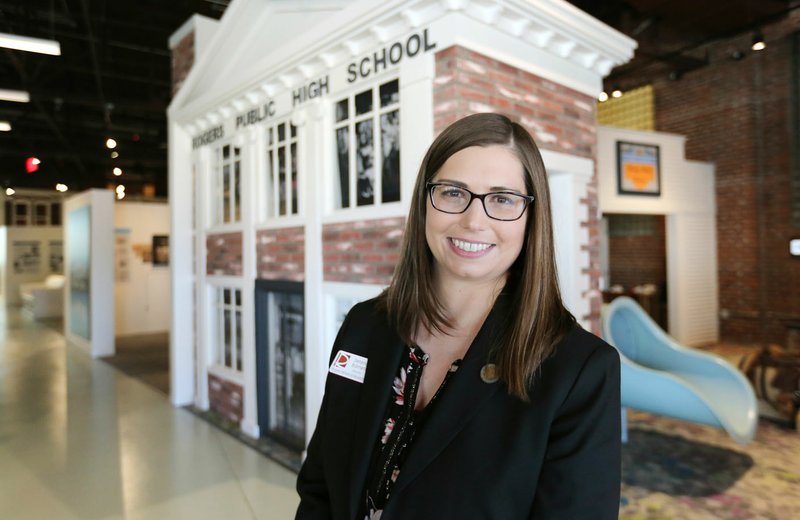 NWA Democrat-Gazette/DAVID GOTTSCHALK Serena Barnett, director of the Rogers Historical Museum, stands Wednesday in the entrance of the museum. "My heart is with this museum particularly. It is a dream come true for me to come back here to work for this museum in my hometown," she said.
ROGERS -- The Historical Museum's new director wants the new and renovated museum to entice visitors to make downtown an "all inclusive day trip destination."
"I want to really help project that, in our community, you don't have to go to Branson or to Tulsa to have a day trip. You can do it here in your own local community," Serena Barnett said.
Fast facts
The Rogers Historical Museum opened in 1975 in a rented 1905 former bank building. The Harold Hawkins family donated the 1895 Hawkins House on South Second Street seven years later, and an addition was completed in 1987. Efforts to expand again began in 2006, and the Hailey Ford/Rogers Morning News building became available in 2015 when Northwest Arkansas Newspapers closed its Rogers office. Northwest Arkansas Newspapers is the parent company of the Northwest Arkansas Democrat-Gazette.
Source: Staff report
Barnett, 37, started the job Dec. 9, about a year after John Burroughs resigned and the museum moved to the renovated Hailey Ford/Rogers Morning News building at 313 S. Second St.
She plans to work closely with other organizations and downtown businesses so museum visitors will also eat and shop downtown and use the city's parks. The city is renovating Railyard Park, formerly Frisco Park, about a block from the museum.
"Serena captured our attention with her vision and enthusiasm for Rogers and the museum. She knows the importance of the museum as an anchor in our downtown growth," Mayor Greg Hines said in a news release when Barnett's hiring was announced.
Shey Bland, executive director of Downtown Rogers Inc., a nonprofit organization hosting events downtown, said the renovated museum is aesthetically pleasing to visitors. Bland said she'd like to work with the museum as much as possible to promote downtown.
An average of 1,100 visitors have visited the museum per month this year, Barnett said. An average of 825 people per month have attended programs and events this year. The museum has seen an increase of about 56% in overall visitation since opening in its new spot, she wrote.
Barnett was hired from a pool of 22 applicants in the city's second search for a director. Twenty-nine people applied in the first search from late May to early August, but the candidate offered the job by the city turned it down. Barnett's salary will be $60,320. She will oversee nine employees and at least 22 volunteers.
"She just had the personality and the drive to do the job," said Mike Whitmore, Museum Commission chairman.
Barnett asked commission members what they were looking for in a director, he said. The commissioners wants her to get the community more involved in the museum and incorporate more technology.
Leading the museum is somewhat of a homecoming for Barnett. The Rogers Historical Museum was the first museum she visited as as child and where she had her first museum job. Barnett worked as an education assistant from 2002-08 before resigning so she could attend school full time, she said. She earned a bachelor's degree in history from the University of Arkansas and a master's degree in museum studies from Johns Hopkins University in Baltimore.
"My heart is with this museum particularly. It is a dream come true for me to come back here to work for this museum in my hometown. I feel like I've won the lottery being able to come back here," Barnett said.
Barnett has worked for the Pea Ridge National Military Park in Garfield, where she developed guided tours among other responsibilities as a visitor use assistant, according to her resume. She went on to supervise the museum store. She has also worked as an archivist and collections assistant for the Tulsa Historical Society and as visitor services and museum store associate at the Gilcrease Museum in Tulsa, Okla.
Barnett's first task is to ensure the museum is attracting visitors through events, such as concerts and educational programs for children, she said. Barnett also said she'd like to rotate exhibits often so visitors always see something new.
Allyn Lord, longtime director of Springdale's Shiloh Museum of Ozark History, said city museums should appeal to as many people as possible by offering a variety of programs and exhibits and should offer as much as they can for free because they are paid for by taxpayers.
General admission at the Rogers Historical Museum is free. The museum's budget for 2020 is about $660,000.
Local museums should also tell thorough and accurate stories of their community's history -- as in, not solely the history of white people in their community, Lord said.
Lord was assistant director of the Rogers Historical Museum when Barnett worked there as an education assistant and said Barnett will be a good fit as director.
NW News on 12/23/2019
Print Headline: Rogers museum director starts job
Sponsor Content
Comments