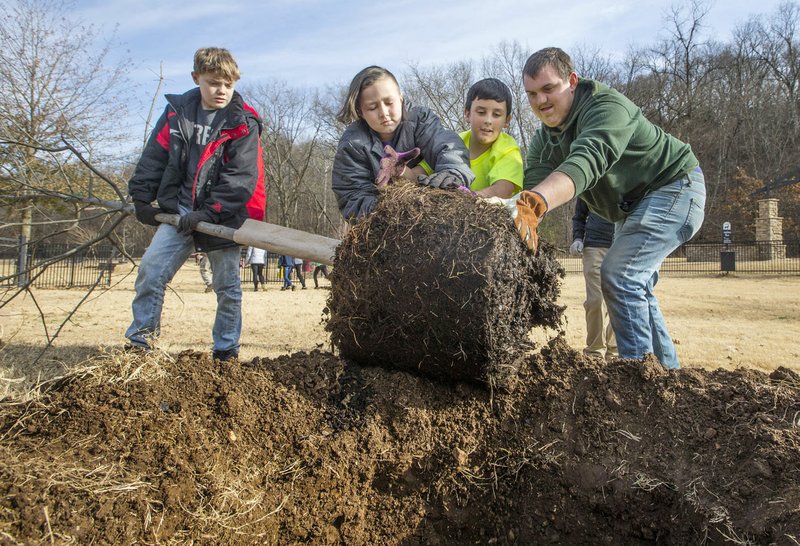 NWA Democrat-Gazette/BEN GOFF • @NWABENGOFF Isaac McArthur (from left), 11, from Old High Middle School, Landon Peters, 11, from Barker Middle School, Elijah Taylor, 11, from Creekside Middle School and Jon Wilson with Bentonville Parks and Recreation roll a tree into place Friday at Bentonville's Bark Park. A group of fifth-graders from Bentonville's gifted and talented program helped plant 20 trees for shade at the dog park. Go to nwaonline.com/photos to see more photos.
BENTONVILLE -- Dogs and people alike someday may enjoy a lot more shade at the Bark Park, thanks to the combined effort of the city and some local youth.
Nineteen fifth-graders from the School District's gifted and talented program met with city staff members Friday to plant 20 trees throughout the park, more than tripling the number of trees there.
The Bark Park
Bentonville's Bark Park is a 1.3-acre, off-leash recreation area for dogs and dog lovers, just west of the North Bentonville Trail. It began as a Girl Scout Gold Award project for Melissa Schube, who raised the money for the project. It opened in 2008.
Source: Staff Report
The students spent the past semester studying service learning. They learned what it means to make an impact in the community, then considered ways they could make a difference, said Carrie Whitfield, a teacher at the district's TREC Center for Gifted Education.
"They started thinking about things they cared about in their community, and they settled on animals," Whitfield said.
They decided to do something for the dog park. Mayor Stephanie Orman, who visited the students last month, put them in touch with Parks and Recreation Director David Wright.
"I visited with Miss Whitfield, who said her students would like to plant trees," Wright said. "And I'm like, you know what, so would we. So two initiatives, two desires lined up at the perfect time."
City workers dug the holes before Friday's meeting with the kids and brought the 20 trees, a mix of elms, oaks, river birches and bald cypresses.
Wright told students the history of the Bark Park and what it takes to maintain it. While it's a very popular park, the lack of trees makes it hard to stand on hot summer days, he said.
By planting trees, the students were leaving a legacy, Wright said.
"There are so many people who will benefit from the work you're about to do today," he told them.
Dana Torczon, a city horticulturist, and Chris Flores, another Parks and Recreation staff member, demonstrated for students the process of removing a tree from its container, making sure it's placed at the right depth in the hole, and mulching the base of the tree.
Torczon instilled in students a saying: "Plant it high and it won't die; plant it low and it won't grow."
The students broke into five groups of about four students each to plant. A Parks and Recreation staff member guided and helped each group.
Isabella Van Hersh, 10, a fifth-grader at Barker Middle School, said helping animals and volunteering her time to the community makes her happy.
"I've always wanted to stop world pollution and world hunger," Isabella said. "I really just want to help the community because there are so many bad things happening lately, and I think helping the community can really help fix things that have gone wrong."
Beatrix Drewyor, 10, of Creekside Middle School said Friday's activity was a good and fun service project.
"I just thought it was important to do for Bentonville and the area. It's important to me," she said.
Wright said he didn't have statistics on how many people use the Bark Park, but estimated several hundred visit on a nice day.
The city is planning to build three more dog parks. One will go at Orchards Park; another is planned for the south side of the city near Creekside Middle School. The location of the fourth is undetermined, Wright said.
NW News on 12/14/2019
Print Headline: Students help plant trees at Bark Park
Sponsor Content
Comments