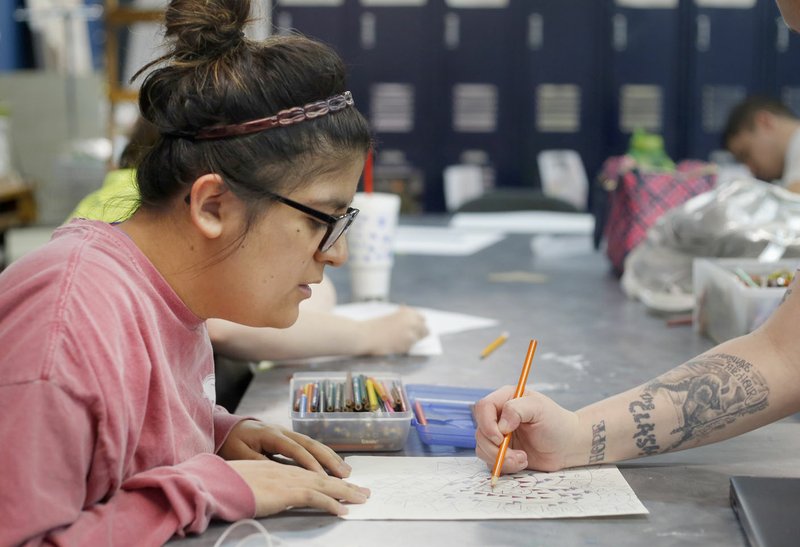 File Photo/DAVID GOTTSCHALK A client watches the hand of Brandi Tyner, lead art teacher at the Life Styles Blair Center in Springdale, as she works on a rough draft for a table centerpiece.
As we do every year, the Northwest Arkansas Democrat-Gazette is asking area nonprofits what is on their Christmas wish lists -- volunteers, iPads, paper towels or gift cards, whatever they need. We hope our readers will reach out and make the holidays merry for the organizations that do so much for our communities all year long.
This list will continue to run in the Our Town section through Jan. 2. To have your organization included, email Becca Martin-Brown, Features editor, at [email protected]
Sunshine School & Development Center
Address: 3400 Woods Lane in Rogers
Mission: Developing and enriching the lives of individuals and families through therapy, education and support.
Needs: For our preschool: baby wipes, board books, hand sanitizer, construction paper, watercolor paint sets.
For our adult clients: bath towels and wash cloths, cleaning supplies, dishes and silverware, twin or queen-size bedding.
Website: nwasunshineschool.org
Contact information: Cyndi Bilyeu, CEO, (479) 636-3190 or [email protected]
WelcomeHealth
Address: 1100 N. Woolsey Ave. in Fayetteville
Mission: To provide free medical and dental care to low-income families regardless of their insurance status or ability to pay.
Needs: Monetary donations to pay our staff providers who give patients no-cost medical and dental care; Walmart gift cards to purchase volunteer snacks and supplies; postage stamps; travel size toothpaste; 33-gallon black trash bags; 13-gallon white trash bags; and 100 white votive candles (nonscented).
Website: WelcomeHealthnwa.org
Contact information: Brittney Gulley, (479) 444-7548 or (479) 444-6033, [email protected]
Life Styles Inc.
Address: 2590 W. Sycamore St. in Fayetteville
Mission: Life Styles enthusiastically supports individuals with disabilities in reaching their full potential as contributing members of the community.
Needs: Countertop popcorn popper; theater-quality microphone set; portable spotlight; two 50-inch smart TVs; alternative/flexible seating (stability balls, wobble stools, floor cushions); software/virus protection; bocce ball set; 1,000 piece puzzles; board games for ages 18 and older; PlayStation 4 or Xbox One
Website: lifestylesinc.org
Contact information: Sherri Esarte, director of development, (479) 521-3581 or [email protected]
Havenwood
Address: 808 N. Main St. in Bentonville
Mission: Havenwood helps single mothers and their children move from crisis to self-sufficiency.
Needs: The residents at Havenwood could always use donations of toilet paper, paper towels, diapers, wipes, cleaning supplies, laundry soap, gift cards for gas, clothing, etc. Havenwood could also use new or almost new twin beds, small couches, flat-screen TVs, small dressers, etc., for when we restock apartments as residents complete the program and move back into the community. Monetary donations are also accepted.
Website: nwahavenwood.org
Contact information: Debbie Martin, director, at (479) 273-1060 or email [email protected]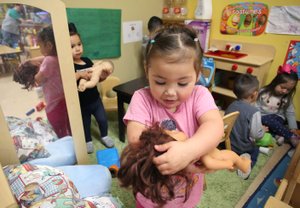 File Photo/DAVID GOTTSCHALK A little girl plays with her doll in the Arkansas Better Chance Toddler Room at the Northwest Arkansas Sunshine School and Development Center in Little Flock. The school has been serving the area for more than 50 years.
NAN Our Town on 12/12/2019
Print Headline: Christmas wishes
Sponsor Content
Comments