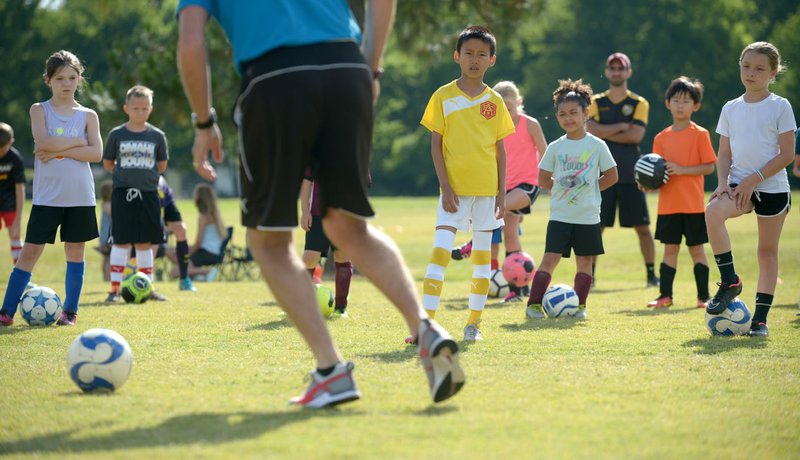 File photo/NWA Democrat-Gazette/ANDY SHUPE Coach Steve Oliver changes direction with the ball on June 21, 2018, as Jerry Xu (center), 9, of Fayetteville joins other campers in watching during OliverSoccer's annual summer skills camp at the Lewis soccer fields in Fayetteville. The city and Fayetteville School District have a plan to divide ownership and maintenance of Lewis Park.
FAYETTEVILLE -- A trio of requests Monday renewed the parks board's desire to have the city revisit its rule regulating the amount of land dedicated or fees paid for new developments.
Three separate apartment complexes on the northeast side of town are proposed to have 579 units total. One is northwest of Old Missouri Road and East Joyce Boulevard. Another is planned east of Frontage Road, south of Zion Road. A third would go at the east end of Sain Street, near the south bank of Mud Creek.
The developer, Lindsey, requested to pay park fees on all three. Those fees total $551,208.
Parks board members expressed reluctance at granting the request. Aside from Lake Fayetteville to the north and green space along trails, that part of town generally lacks genuine park space, several of the eight board members present Monday agreed.
"There is a dearth of parks in that area," board member Will Dockery said.
Parks Director Connie Edmonston said the money will go toward park amenities for that quadrant of the city.
Any developer of 24 residential units or more in the city has to either dedicate land for a park or pay a one-time fee instead. The amount of money or land is based on a formula.
Park planning superintendent Ted Jack told the board the city attorney's office says the developer has to have an option. So, if he requests to pay the fee, the board has to grant that request, Jack said. If the developer offers to dedicate land, then the board can make a recommendation on whether the land is appropriate to use as a park.
The board in February recommended increasing the park fees associated with new developments, which the City Council approved in April. The parks board also recommended hiring a consultant to look at the entire parkland dedication rule under city code. The study also would possibly include the city's other impact fees for police, fire and emergency medical services.
Jack said parks staff made a request early in the year to get bids for a consultant to do such a study but got no responses. A request can be made again next year, he said.
"We're going to try to reach out a lot stronger this time," Jack said.
The board accepted the requests to pay park fees on all three developments. It also made a renewed recommendation for the City Council to seek an impact study for parkland dedication.
NW News on 12/03/2019
Print Headline: Panel debates merits of city's park land rule
Sponsor Content
Comments