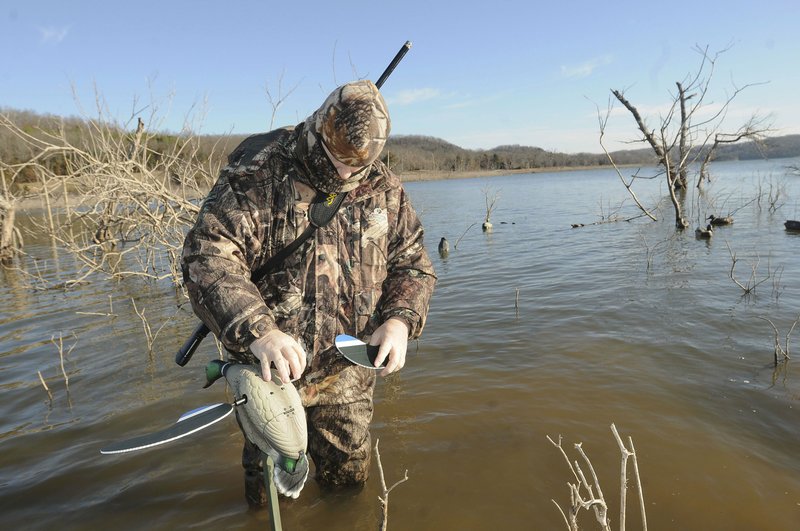 File photo -- Alan Bland wears chest waders while laying out decoys during a Beaver Lake duck hunt in 2012. - Photo by Flip Putthoff
Success on public hunting areas depends on the hunter's approach, knowledge and, in many cases, motivation, according to Ducks Unlimited.
The following tips from veteran waterfowlers can help hunters find success on public land.
Identify good habitat
Why are birds visiting that particular property? What food sources are they after, and when are they using certain habitats? The answers can help find birds, but first a hunter has to know what to look for.
"Water depth can determine where ducks feed, and the best hunting areas for dabbling ducks are often pretty shallow. Teal forage in water depths of six inches or less, while bigger puddle ducks like mallards and pintails can feed in up to 18 inches of water," said Tom Moorman, Ducks Unlimited chief scientist. "Anything deeper than that will be loafing or roosting habitat, which ducks tend to use at different times of day from foraging areas.
"It's a good idea to be able to identify the most common types of watefowl forage -- wild millet, smartweed, panic grass, fall panicum and bearded sprangletop, just to name a few."
Change Up Decoys
Steve Hawkinson has spent 28 years hunting ducks on public land in California. He sets himself apart from the competition by deploying a decoy spread with a different look.
"Most of the hunters in my area use two dozen to four dozen mallards, a dozen pintails or other species, and a spinning-wing decoy or two," he said. "All the spreads look exactly the same. I want my spread to look natural and not like anyone else's."
As hunting pressure mounts throughout the season, Hawkinson switches to a truly unorthodox spread, consisting of only a dozen coots and two mallard decoys.
"There are coots all over the areas I hunt. As the season progresses, other ducks associate these rafts of coots with safety," he explained. "It's amazing how difficult mallards are to decoy in this area later in the season, but my coot spread has improved my success. Just having something that looks different makes a huge difference."
Hunt The Late Shift
The early bird might get the worm, but there are times when the advantage may go to hunters who don't mind missing a classic duck-blind sunrise.
Alex Lang, of Sedalia, Mo. hunts several conservation areas in the central portion of the Show-Me State. All these properties have rest areas where hunting is prohibited. This allows waterfowl to gather in large numbers adjacent to hunting areas. Lang explains that these birds wise up after a few weeks of hunting pressure and learn to wait out impatient hunters, who often give up by midmorning, especially on cold, windy days.
"We go to the draw station to get our card, then head into town for breakfast," Lang says. "There are times that we don't even show back up at the hunting area until ten o'clock."
By this time, most of the shooting has subsided, there are fewer hunters wailing on duck calls, and the birds gain a sense of security as the afternoon approaches.
Revamp The Camo
Virginia duck hunter Worth Osgood said concealment is the most important thing for hunters on public land.
"You have to give the ducks credit. They are pretty good at picking out blinds and people," he said.
Osgood uses a mobile concealment system to hide his boat within the marsh grass that flourishes along the marsh shorelines. He uses collapsible panel blinds.
Osgood thoroughly brushes the panels with natural vegetation gathered on the bay. When he reaches the spot that he plans to hunt, he pulls the boat as far as possible into the grass, and then unfolds the panels and sets them up on the side of the boat facing the water. The lightweight panels are easy to set up and take down and can be stowed in the boat while running to and from the hunting area.
He spends additional time brushing the boat's bow, stern, and motor with grass mats and natural vegetation.
"Out here, if there's even a patch of metal or a section of the motor showing, it's all over," he said.
Sports on 12/03/2019
Print Headline: Tips outsmart ducks on public land
Sponsor Content
Comments