Jim Gibbons wrote the name of his true love on a piece of paper and tucked it into his Bible. And then he didn't see her again until after his friend took her on a date.
He first saw Callye Hunt at a singles Bible study at Immanuel Baptist Church in Little Rock in October 1982, when she came as a guest of a mutual friend.
The first time I saw my future spouse:
She says: "He was an engaging conversationalist. I was impressed that he was in the service field and he was confident in that sense, and yet there was a kindness about him."
He says: "I was taken aback by her big blue eyes."
On our wedding day:
She says: "It was hot — very hot. We had to change places for our reception because the air conditioning went out in the initial place."
He says: "Callye wanted us to sing a song in rounds. The night of the rehearsal — every time we tried it before the actual wedding — it flopped mightily. The only time it worked perfectly was at the wedding and it looked like it had been orchestrated from above."
My advice for a long happy marriage:
She says: "I feel like marriage is sort of an experience of grace and humility and growing. You have to remember that you're not the boss of it all and you have to keep thinking that your life, and your life together, is bigger than about just yourself."
He says: "Remain committed and to, with intention, choose to love each other during good times and bad."
"Everybody was gathering and greeting each other and I saw this young lady with curly black hair that I had never seen before," says Jim, who introduced himself and asked her name. "She smiled and said 'My name is Callye Rose Hunt.' She had the most beautiful blue eyes I'd ever seen. And so I remembered that -- Callye Rose Hunt -- and I wrote it down and put it in my Bible."
Jim's father had been ill and passed away in December, and Jim was busy with family obligations for a time.
"Time went by and we had not seen each other or talked to each other, and in 1985, a mutual friend of ours had a date with Callye," Jim says. "I said, 'You lucky dog.' And being the great friend that I was I immediately got on my phone and called her and asked her for a date."
Jim had run across the piece of paper with Callye's name on it a couple of months earlier and had actually asked her for a date on New Year's Eve. She told him no. She was an activities director at a nursing home, and she was working that night. But this time when he called, she said yes.
She had thought of him shortly after they met as she needed to schedule a musician for a church event. She remembered he sang and mentioned to a friend that she wondered about asking him to help, hoping for an excuse to see him again.
Her friend said his strength was musical theater rather than gospel, though, and she dropped it without contacting him.
Their first date was on April 6, 1986, the night before Easter. They went to a singles Bible study at Immanuel Baptist and then went to the home of one of the singles group members to watch movies.
Callye was impressed when Jim pulled over and offered to help a stranded motorist they encountered while they were out on their date.
She didn't know much about the quality of his mechanical prowess, but says "I thought that was a nice gesture."
When he took her home, she didn't invite him in, but neither was ready for their date to end.
"We sat in the car and talked for about five hours after the date was over," Jim says.
The next time Jim asked her for a date, he asked her for two nights in a row. By the following December, he was ready to propose. His parents were married on Dec. 20, 1945, and he wanted to ask Callye to marry him on that day in 1985.
"But there was something that just made me feel that this was not the right thing to do right then. I felt like the Holy Spirit was telling me not to do that at that moment. So we just kept eating, kept laughing, kept having fun," he says. "One Sunday morning in May, I awakened and my first conscious thought was that I needed to ask her to marry me that Friday night."
They went out and as midnight approached, he still hadn't mustered the courage to pop the question.
"Finally, a little after 2 in the morning, I finally was able to ask her if she would be my wife, and, fortunately, she said yes," Jim says.
They exchanged their vows on Aug. 16, 1986, at Calvary Baptist Church in North Little Rock.
After their wedding, they had a reception at the church, followed by a reception at the nursing home where Callye worked.
"These were people that I really loved, and they were so supportive. And I thought that this was a way we could share," Callye says. "They could see me in my wedding dress and not just ask about it, and we could serve refreshments and have a party, do a little dancing and have a little music."
Jim and Callye have two sons -- Jimmy, 30, of Fayetteville, and Gabe, 27, of Little Rock. They also have two dogs, Whiskey and Little Bit.
Jim is a chaplain at the University of Arkansas for Medical Sciences and Callye is the social activities director at Baptist Health's Parkway Health Center.
The third or fourth time they went out together, Jim and Callye went to a Razorbacks Red and White game at War Memorial Stadium in Little Rock.
"We were walking into the stadium and we saw this little elderly man and his lovely, elderly wife with their Razorback attire and their stadium cushions and everything," Jim says. "I looked at Callye, and I said that would be us in 50 years. And, OK, we haven't made it to 50 yet, but we're working on 34 right now."
If you have an interesting how-we-met story or if you know someone who does, please call (501) 425-7228 or email: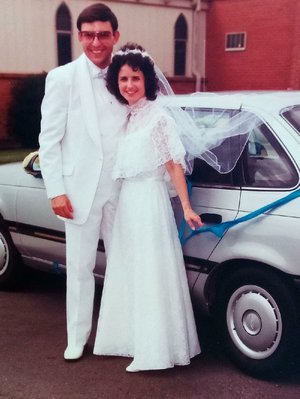 Photo by Special to the Democrat-Gazette
Callye Hunt and Jim Gibbons were married on Aug. 16, 1986. When he proposed, he told her he would get her any kind of engagement ring she wanted. Callye didn't want one. "He said he was glad because he always thought they were a waste of money, but the fact that he would be willing to do whatever would please me was so sweet."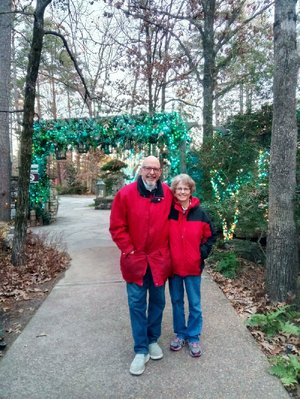 Photo by Special to the Democrat-Gazette
Jim Gibbons, on his third or fourth date with Callye Rose Hunt, saw an elderly couple and remarked that they might be like that couple in 50 years. "And, OK, we haven't made it to 50 yet, but we're working on 34 right now."
High Profile on 12/01/2019
Print Headline: They were brought together by a Bible bookmark
Sponsor Content
Comments