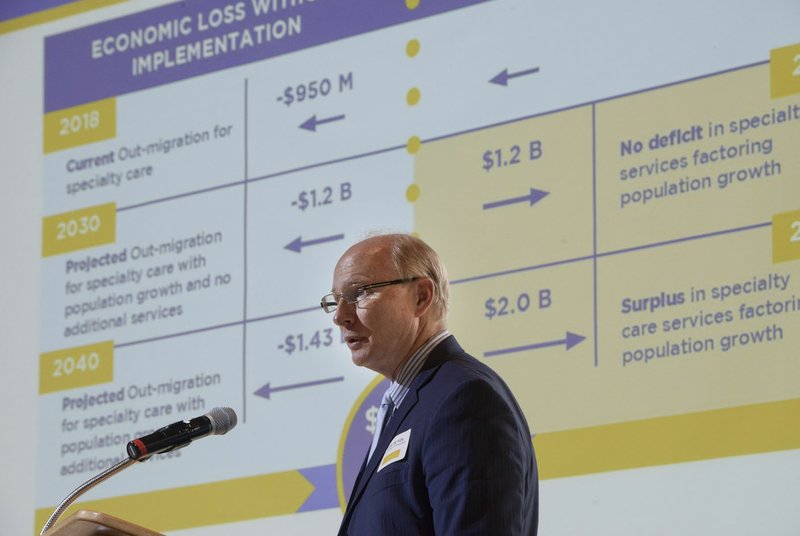 NWA Democrat-Gazette/CHARLIE KAIJO "Already meeting with leadership teams from the Northwest Council, the Arkansas Governor's Office, our Congressional delegation, the St Louis Federal Reserve Bank, the University of Arkansas and UAMS, and of course with local corporate management, Ross has hit the ground running. Leadership is valuable." -- Mary Ann Greenwood
Ross DeVol was a chief research officer at the Milken Institute -- the prestigious think tank created by Michael Milken in 1991 -- when he first started talking to Jim Walton about the Walton Family Foundation's Heartland Forward initiative. The new organization's mission -- to improve economic performance in the center of the United States -- was squarely in DeVol's wheelhouse: He had spent nearly 20 years studying what factors were responsible for the success of various hubs around the United States, and his brain was a veritable repository of useful information for the kind of studies the Walton Family Foundation hoped to conduct at Heartland Forward.
"I got to write a lot about regional innovation ecosystems, the state technology and science index [and] best performing cities that were used as metrics to evaluate regional performance," he explains. "I went around the country speaking about what you need to be successful, and a lot of economic development practitioners and governor's offices used to follow [these recommendations]."
Through Others' Eyes
Ross DeVol
"Ross is a great communicator and as an economist, Ross has a great way of explaining complex economic situation in an understandable and practical manner. He is also dedicated to building an ecosystem that works and improves a communities/state's ability to build a more competitive future. Ross also does not present an egotistical persona – it is NOT about him – it is about understanding the elements that must be brought together for a community/state to provide an improved economic future for themselves and their families." — Jerry B. Adams
"Ross is the intelligent, economic development professional that will work and lead NWA to the next level of success. Whether it is assessing the critical implementation of technology transfer or the integration of research between medical and academic research institutions or the measurement of comparative advantages/disadvantages between Arkansas and the rest of the US, Ross has experience is these important areas." — Mary Ann Greenwood
"Ross has a deep understanding of the data and can make it talk. He speaks with the depth of this information and rather straightforward. He is not only sharing complicated to explain terms and data but he is informing the Heartland that we have a lot to do in order to become a competitive economy long term. Yes, Arkansas' economy is fundamentally healthy and has had a great run in the last decade but, compared to the highest performing states, it still does not have the strength of the ecosystem that can innovate and entrepreneurs that can bring new and different ways of doing things by looking at markets differently and using technology to deliver at less cost and greater speed." — Tim McFarland
Next Week
Larry Middleton
Little Rock
He was living in Los Angeles at the time and working in a high-profile, internationally recognized position. The offer to join a new, untested "think and do tank" in Arkansas might not have appealed to some people, but to DeVol, it was all but irresistible.
"I said, 'This is a really compelling idea -- there really might be something there,'" he says. "I didn't want to look back on my career and think, 'What if I had tried that?' The easiest thing for me was to have stayed [at Milken], but I'm so passionate about trying to see how we can improve things across the country. The 2016 presidential election really demonstrated the fissures across the country. It wasn't just politics: It was kind of an economic dislocation, or a feeling like you've been left behind. It really demonstrated to me that we're having such economic divergence that it really begins to challenge whether we can stay unified as a country if we don't see economic performance improve here in the center of the country."
It helped that his wife's parents were born and raised in North Little Rock, meaning Arkansas was not a completely foreign state to the couple; DeVol had even worked in the state before.
"Relationships are also important, and Ross has Arkansas connections," says friend and colleague Mary Ann Greenwood, president of Greenwood Gearhart Inc. "Melissa DeVol, his wonderful wife, has family in Central Arkansas where her late parents retired. His son Clark and his daughter Claire are students at the University of Arkansas and enthusiastic Razorbacks."
In fact, both DeVol and his wife were born in the same Midwest that he will now spend his professional life studying: she, in St. Louis, and he, in Ohio. Math was revealed to be one of his strengths by middle school and, by high school, he was taking all the advanced math classes available. But math had its limitations as a possible career choice, he realized -- the stereotype of the math savant who can lock himself in an office typing endless numbers into a computer could not have been further from reality for DeVol.
"I would have been a terrible accountant," he says. "I took a couple of accounting classes. [One of the] hardest [classes] I ever worked at was to get a B-plus in an accounting class. To me, making sure all the numbers added up was irrelevant. They've got to add up, right? It's very rigid, and it didn't really permit much creativity with numbers and looking at how to do things differently. And that's what always attracted me: 'How do you come up with new ideas and test them?'"
Geography's secrets
DeVol was intrigued by the intersection of people and numbers, which led to a fascination with geography, his undergraduate major at Ohio University.
"[In college,] I got exposed to broader geography, and it just resonated with me," he says. "You're studying places, you're looking at all of the things that affect different geographies, looking at different climates. Once I had that exposure to higher level geography classes, I was naturally kind of drawn to it and to the people in those places. I distinctly remember a human geography class with one of the leading experts in the United States on barns. [This professor] could tell you migration patterns based upon the barns that had been built. I thought it was really fascinating -- you could follow where different nationalities in groups migrated within the U.S. just by looking at their barns."
DeVol stayed at Ohio University to earn a graduate degree in economics and briefly considered pursuing a Ph.D., but he knew at that point he did not want to go into academia. He had studied econometric forecasting, and he got a chance to put that major to good use when he landed a job with Union Pacific Railroad in Omaha, Neb.
"You learn all about manufacturing and industrial economy in the country because the railroad hauls steel, autos, lumber, all kinds of chemicals, everything used in various industries," says DeVol. "They served the central U.S. out to the West Coast, and so you learn a lot about regional economics -- where things are produced and consumed. You learn about port activity, how it connects into L.A., Long Beach ... basically, where things are produced and where they're consumed, how they're shipped."
After a few years, DeVol was recruited by Chase Manhattan Bank and moved to the East Coast. He would work for several different organizations -- including a stint as director of economic planning at another railroad company, CSX, where he was one of the youngest people to ever assume a director position. While working out of Baltimore, a skill he had become known for gave him exposure on a national level: His ease at explaining complicated economic issues to the general public led to appearances on a local news channel, then, later, national news programs anchored by Dan Rather and Sam Donaldson.
"I always felt it was perfectly acceptable, reasonable, that if you wanted to explain something to someone you needed to use language that they could understand," he notes. "Don't try and impress your peers by the language you use, but try and communicate it so that somebody could act upon it. What does it mean for them? I've always had that perspective. I don't think a lot of my Ivy league colleagues looked at the world that way."
"Ross is unflappable, and I have seen this first hand," says Matthew Waller, dean of the Sam M. Walton College of Business at the University of Arkansas. "In the spring of 2017, I participated in the Milken Institute Global Conference, and we were at a meeting with globally recognized financiers from the top investment banks and other financial institutions. Ross was called upon to address a topic on the spot, and he stood up and addressed it with adroit logic in a way that everyone could easily understand. He was entirely undaunted. This experience and his connections make him well suited for the task of serving as the leading architect and orchestrator for developing the economic ecosystem of the Heartland of America."
People and places
Another skill that had come to the forefront was how prescient DeVol's research could be.
"When I headed up the regional economics group from 1993 through 1997, I had noticed that the top performing metropolitan areas -- the ones that were growing fast in job creation, income growth, all those kind of measures -- were those that were heavily concentrated in technology industries that were growing. I'd done a couple of reports demonstrating different ways you could measure the technology concentration of economies around the country, and there really hadn't been much of this work done in the public domain. There had been some academic work that had been done prior to that, but it really hadn't made its way out into the world. [I was] introduced at a National Association for Business Economics conference as 'the guy who was the first to explain the importance of technology-based economic development.' Back then, it wasn't that popular -- people had heard of Silicon Valley, certainly, but were not looking as to just how important it was in determining growth across the country."
So when the Milken Institute was looking to make changes, its leaders took notice of DeVol.
"The Milken Institute was trying to retool itself," he explains. "They were looking to make the Institute much more applied, because it had become more of a traditional think tank where you had a lot of Ph.D.s writing papers in a particular area -- if they got one paper published a year, it was a great year -- but they weren't engaging with business leaders, governors, senators, public policy officials, CEOs. Mike Milken was a Wharton MBA alum, and he knew [my former employer] Larry Klein and asked him if he knew of someone that could explain complex economic relationships in a manner that people could understand in the business community. And Larry Klein recommended me for that job."
For nearly two decades at the Milken Institute, DeVol immersed himself in the subject that made him happiest -- how humans, geography and economics intersect. He found the Institute's goal of using its research to make or recommend policy changes to be the most fulfilling aspect -- as when the research that he and colleagues completed became the basis for a new medical school at the University of Central Florida, an iniative spearheaded by then-Gov. Jeb Bush.
"There are very few times when you're an economist when you can actually say, 'We helped create that. That may not have happened if we weren't involved,'" says DeVol.
Some of the work he did even had an impact on Arkansas even before he started with Heartland Forward, says Jerry B. Adams, president/CEO of Arkansas Research Alliance. He worked with DeVol on a project for Accelerate Arkansas, a volunteer group that formed in 1999 to "focus on Arkansas' ability to compete in the 21st century knowledge economy."
"We contracted with Ross, and he and his team produced a 300-page comprehensive report [titled] 'Arkansas' Position in the Knowledge-based Economy' in September 2004," says Adams. "It was an honest and sobering report that acknowledged that Arkansas had a lot of work to do. I became chair of Accelerate Arkansas shortly after that report was released, and it provided important information on priorities that we needed to address in Arkansas. From the beginning, Ross was easy to work with, knowledgeable, collaborative and keenly interested to provide important working examples of successful models to evaluate."
Having an active role in facilitating positive change, then, was the main draw when he was asked to take the reins as president and CEO of Heartland Forward.
"I just thought it was such a compelling opportunity to really try and make a difference in a new place," DeVol says.
Heartland revelations
Here's how Heartland Forward's leaders describes its mission: "Most research and policy efforts by existing think tanks in the Heartland are focused on the specific state or metropolitan area where the think tank is located. Right now, there is minimal policy research and discussion focused on the Heartland as a whole. We think a cross-cutting view is critical to solving the regions challenges, and Heartland Forward will fill this void. While recognizing the differences between places in the center of the country, we will analyze the region holistically to identify common issues and solutions."
"Just the idea of starting a 'think and do tank' -- it's not your 'inside the beltway' traditional think tank, where you write papers, and you meet with your colleagues, and you discuss things, and maybe you talk with some policy leaders once in a while," DeVol says. "Instead, [we're trying] to actually engage with political leadership and economic development officials to change policies and to make some investments sometimes. I felt that was really [an] attractive [offer] -- serendipity, in some sense."
DeVol describes two projects Heartland Forward is currently working on as examples of the kind of research they'll be doing. The first, he says, has a tentative title of "Millennials in the Heartland" -- a study to determine why millennials move away from the Midwest and what brings them back.
"This is being done with Joel Kotkin, a senior fellow here," explains DeVol. "One, it looks at where the millennial population growth has been the strongest in the Heartland, and then it looks at recent trends in terms of, 'Are people migrating from the coast back to some Heartland locations?' The team is going in to about 10 different locations in the Heartland and interviewing millennials who have recently returned from the coast and [asking them] why ... I think it's an important narrative because if millennials don't return or stay in the Heartland, that's not a measure of success."
Heartland Forward has completed the quantitative research on a second major project that DeVol will be writing with senior fellow Richard Florida.
"[This project] looks at the importance of young firms and their knowledge intensity in explaining job growth across the country," he says. "This is one of these really econometric studies, but let me try to put it in English: Basically, what we're trying to look at is a young firm of five years of age or less -- from family entrepreneurship, dry cleaners, restaurants -- and we calculate the share of total jobs in every county in the country that are at young firms. This gives you [not only] a measure of initial startup rates, but also initial scale-up at five years. You start to see companies that could become midsize companies someday.
"The data set allowed us to look at employees at young firms, five years of age or less, and what proportion of them hold at least a bachelor's degree. My hypothesis was that both [factors] would be important, but I was really shocked at how important they are. So what those two measures are: It's a broad measure of the entrepreneur ecosystem -- people aware of entrepreneurship who start a family business or whatever. And then the knowledge intensity really gets at founders who are targeting markets to exploit -- they're not just trying to sell people locally, necessarily. There might be some of that, but they're founders that want to scale up and become important firms. And you can kind of measure that by the percentage of the employees that have a bachelor's degree or above, and that gets at the knowledge base.
"If you take those two measures in 2010 -- after the Great Recession -- and use them to try and explain job growth across the country from 2010 to 2017, both of those measures are highly significant and explain over one third of the variation in job growth across the country. I've spoken to economic development officials over the years who have begun to understand that growing your own firms and supporting their growth are perhaps a better economic development strategy than focusing so much on recruitment and offering incentives [to bring large companies in to a community], which can be very expensive."
To put it in the most simplistic terms, it's the difference between nurturing a plant from a seedling in a greenhouse versus transplanting a fully grown tree.
"Elected officials like to hold up newspaper clippings that say, "We brought XYZ company in here with 200 jobs, and they're going to locate a plant here," notes DeVol. "I'm not saying that places still shouldn't do some of that, but we've misallocated our resources towards principally focusing on recruiting and using incentives where the most successful communities have nurtured [and] supported entrepreneurs, given them access to capacity-building skills, had incubators and accelerators and had mentorships and angel capital investors and had economic development officials focused on that aspect of it.
"I was fairly confident that would work at the metropolitan level, but it holds equally true for micropolitan -- these smaller communities. And that's something that's really new. That's a new finding."
By the time he finishes explaining Heartland Forward's current projects, DeVol is on a roll -- his excitement is palpable, his enthusiasm, contagious. There's a lot to do: He's staffing up his organization, including welcoming a new chief research officer starting in January. But it's clear that this challenge he's undertaken is one that is feeding every aspect of his interest, commitment and ambition. And it's not just DeVol who is excited about the possibilities the future holds.
"I am not sure how high his IQ is, but I know of no one I would say is smarter than Ross," says Tim McFarland, CEO of Elevate Performance. "You take his background, his knowledge, his experience at Milken and the support of Walton Family Foundation for him to go and do his work, and you have a region that is well-informed and well-advised on economic matters and how to build a vibrant economy. It is a weapon. We have to put to work what Ross is recommending."
"Look, there's a lot of work to be done," DeVol acknowledges and then adds, with a gleam in his eye, "We're just getting started."
NAN Profiles on 12/01/2019
Print Headline: Ross DeVol
Sponsor Content
Comments