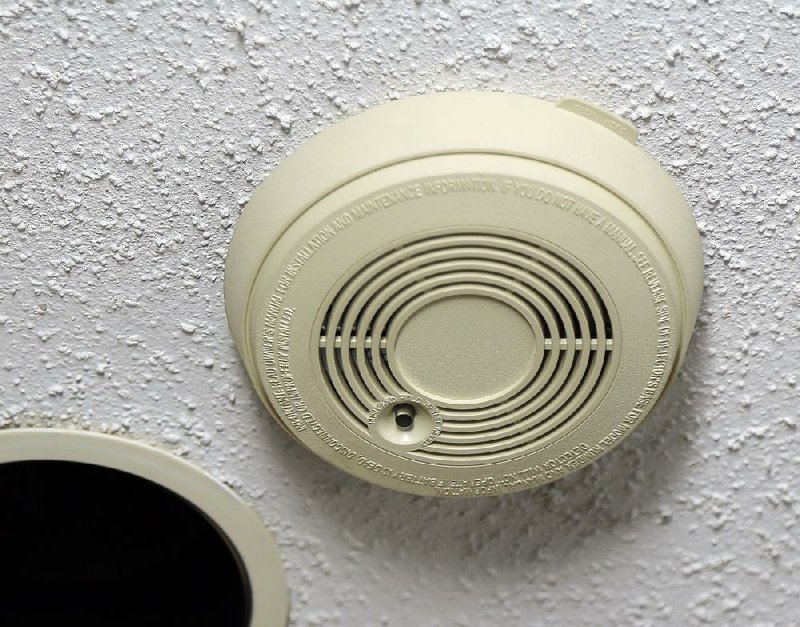 Arkansas Democrat-Gazette/JOHN SYKES JR. - Even the Little Rock Fire Department has a use for smoke detectors. 093014
Thanksgiving is much more than a culinary affair, although many Arkansans sure put on a spread of delights worthy of the holiday. The occasion, though, is perhaps healthiest when a little time is spent not just thinking about one's own blessings, but also mindful of people whose lives this holiday season are defined more by challenges than by abundance.
On our minds Thursday was the joy of time with family, but from time to time our thoughts drifted to Fort Smith. It was there nearly two weeks ago that a fire started inside a house in the 800 block of North 35th Street, a road lined with small, wood-frame structures. In those early morning hours, 30-year-old mother Whitney Kaub and her four children -- all under 11 -- had settled into their rented home for the night.
What's the point?
Arkansas lawmakers should require landlords to install smoke detectors in properties they offer for rent.
The fire marshal says the blaze started in the living room, evidence pointing toward a heater inserted in a wall as the source, although the investigation into the cause continues. Regardless of source, the fire did what fires do: It spread, and quickly.
Once a source of heat is available, all a fire needs is oxygen and fuel to take off fast. Our houses, usually places of refuge, provide an ample source of both. According to Ready.gov, within a minute or two, a small flame can engulf a house. Even more dangerous is the thick black smoke that invades enclosed spaces. Smoke and toxic gases kill more people than flames do. Smoke is particularly dangerous to the small lungs of young children.
Firefighters responded in Fort Smith soon after a neighbor noticed a home in the neighborhood was ablaze. They got Kaub and the four kids out. The mom went to a local hospital; the kids went to Arkansas Children's Hospital in Little Rock.
Quickly, the youngest succumbed. She was 3 years old.
Next, the 5-year-old slipped away.
Four days after the fire, Whitney Kaub couldn't hold on any longer. She passed from this life while her remaining children, 8 and 10, continued their struggle for life 160 miles away in the state's capital city.
In the news coverage that tells this sad story, these words deliver a haunting case of "what if": There were no smoke detectors in the home.
We certainly recognize that life holds no guarantees, but it's quite conceivable that for less than $20, this family would have had a chance to get out of the house before they were overcome. Smoke detectors these days are ridiculously inexpensive and they are effective.
A January 2019 report by the National Fire Protection Association found the death rate per 1,000 reported home fires was more than twice as high in homes lacking any working smoke alarms as it was in homes that had them. Almost three of every five home fire deaths resulted from fires in homes with no smoke alarms (40%) or no smoke alarms that were working (17%), the report found.
Smoke alarms are, quite easily, a no-brainer.
In many states, lawmakers have seen the wisdom of requiring landlords to install working smoke detectors into the homes they make available for rent. Arkansas' General Assembly has amazingly failed in this regard. Legislation to create an extraordinarily basis list of protections for renters has faced resistance from the real estate and landlord lobbies.
Legislators have been known from time to time to be convinced that they shouldn't see the forest because of all those darned trees. In this case, legislators could easily require landlords to provide working smoke detectors in the places they put up for rent. They should, at least to the degree that the detectors should be present and in good working condition at the time a new tenant moves in.
The cost is minuscule, particular in the context of saving lives. How much would anyone give today to save the lives of Whitney Kaub and her children?
The Arkansas Realtors Association has been a force of resistance when it comes to the state setting even a minimal level of expectations for landlords. A good number of state lawmakers are landlords, too. Some in both groups don't care to have state government telling them to do anything.
We think saving lives should take priority.
Many states and local communities require smoke alarms in properties rented as housing. Arkansas should follow suit. It's simply too easy and too inexpensive to protect Arkansans.
But also, tenants, don't wait for your landlords. On day one of moving into a new place, look up. Determine whether the home has smoke detectors. Test them. Mark it on the calendar to change the batteries out at least once a year.
And if the landlord is so callous about caring for renters that the place lacks any smoke detectors, tenants should go out and spend a very few dollars for the devices. For those few dollars, everyone living in a rented unit will be safer. Beyond protecting life, tenants can and should get inexpensive renters insurance to cover their belongings. Landlords may have insurance on their property, but that doesn't cover a tenant's belongings.
Maybe, state lawmakers in the next legislative session will remember Whitney Kaub and her four young children. We can't imagine any amount of lobbying that would counter the tragedy visited upon them and the reality that one or two inexpensive smoke detectors could have played a life-saving role for all of them.
With smoke detectors, those children could today be decorating a Christmas tree or playing in a nearby park. Without them, a family and a community has suffered a tremendous loss.
Commentary on 12/01/2019
Print Headline: Avoidable losses
Sponsor Content
Comments