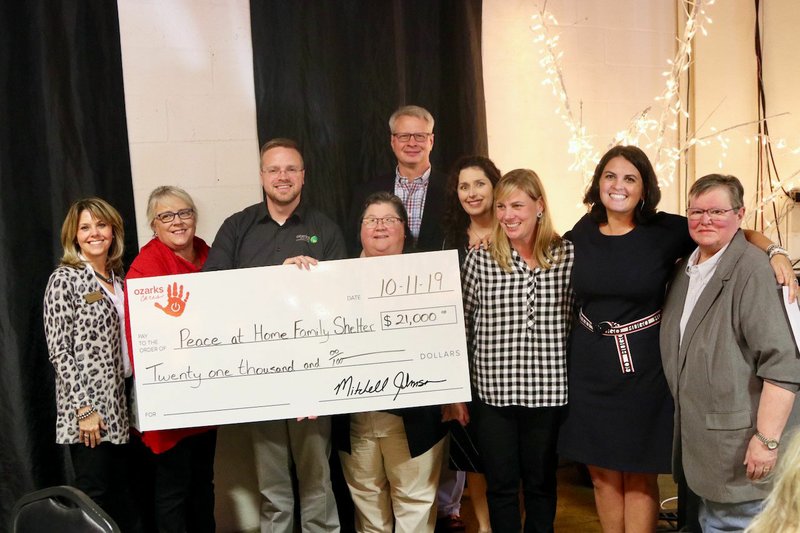 Courtesy Photo Recognizing National Philanthropy Month, Ozarks Electric/OzarksGo employees distributed the funds raised through their Ozarks Cares initiative to Peace at Home Family Shelter ($21,000), The Call in NWA ($21,000), Blind Faith Outdoors ($6,000.00) and Oklahoma Make A Wish Foundation ($7,020). Ozarks Electric is a member-owned cooperative, serving more than 75,000 members across nine counties in Northwest Arkansas and Northeast Oklahoma.
MONAH hosts
event for kids
The Museum of Native American History in Bentonville will present Muscogee Creek artist Johnnie Diacon in a special Creative Visions for Kids: Flat-Style Painting workshop from 1 to 3 p.m. Dec. 7.
Diacon will delve into a traditional Native painting style that is known to the Five Civilized Tribes: Creek, Cherokee, Choctaw, Chickasaw and Seminole. Participants will have a chance in this hands-on workshop to learn about the style of painting and create their very own Flat-Style piece of art. The workshop is geared to kids ages 6 to 15.
Registration: monah.us, email [email protected], or call (479) 273-2456.
Eureka Museum
unveils mural
The Eureka Springs Historical Museum will unveil on Dec. 7 the recently restored Carry A. Nation mural painted by Louis Freund in 1940. Shortly after Louis and Elsie Freund purchased Hatchet Hall, which had been previously owned by Carry A. Nation, Freund painted the mural on panels that were mounted along the stairwell.
The mural reflects life in Eureka during the turn of the century and has an active scene of Carry A. Nation wielding her famous hatchet in an effort to break up the drinking and carousing in the saloon. Also included in the mural are Eureka landmarks such as Basin Park and Pivot Rock.
The mural had been part of the Art School of the Ozarks until the Freunds closed the school in 1967. After the school closed, Hatchet Hall underwent a restoration and later a renovation, at which time the mural was removed and donated to the museum by Louis Freund.
For more than 20 years the Eureka Springs Historical Museum stored the mural in hopes it might someday be restored. Thanks to the support of Arkansas historian Diane Gleason the museum was able to get the conservation process with Norton Arts started in December of 2018.
The Carry A. Nation Mural exhibit will officially open with a dedication at 2 p.m. Dec. 7. Admission is free.
Information: (479) 253-9417.
OLLI offers
new classes
The Osher Lifelong Learning Institute at the University of Arkansas announces the following classes for the upcoming week:
Dec.4 -- "Art and Craft of Prehistoric Pottery." Members, $20; nonmembers, $35.
Dec.5 -- "Pressure Point Therapy." Members only, $22.
Dec.6 -- "Treasure of the Insect Museum of Arkansas." Members, $22; nonmembers, $37.
Dec.9 -- "Build Your Own Blog." Members, $22; nonmembers, $37.
Dec.10 -- "Eagle Viewing by Boat on Beaver Lake." Members, $32; nonmembers, $47.
Dec.11 -- "Artificial Intelligence." Members, $25; nonmembers, $40.
Information: (479) 575-4545 or go online to olli.uark.edu.
Kick talks
about ducks
Hobbs State Park will host Steve Kick, Eagle Scout, scout leader and Master Naturalist, who will give a family oriented program, "All About Ducks," at 2 p.m. Dec. 1 at the Visitor Center.
The program is free.
Information: (479) 789-5006.
Stratman to
read poems
Jacob Stratman, professor of English at John Brown University, will have a reading and book signing for his newly published collection of poems, "What I Have I Offer with Two Hands," at 7:30 p.m. Dec. 3 in Simmons Great Hall at John Brown University.
Stratman, who also serves as chairman of JBU's division of humanities and social sciences, began writing the poems in this collection in 2015. The collection illustrates the divine in everyday moments -- the hills and creeks of the Ozarks, the Eucharist, his son's Batman toys in the tub or the author's own childhood.
Information: (479) 524-9500 or jbu.edu.
Blood Center
seeks donors
Community Blood Center of the Ozarks, provider of blood products to patients at more than 40 area hospitals, is experiencing a shortage of type A positive, O negative and B negative blood products. Donations are needed immediately to ensure that adequate reserve levels are maintained.
During the month of December, all CBCO blood donors at all drives will receive a maroon long-sleeved shirt just in time for colder weather.
You can help by giving blood at the following location:
Eureka Springs -- 1-6 p.m. Dec. 3, Inn of the Ozarks.
Information: cbco.org, or call toll-free (800) 280-5337.
'Stop the Bleed'
saves NWA lives
Stop the Bleed is a community-focused training program in bleeding control principles. It teaches bystanders how to provide immediate aid until First Responders are able to take over care of an injured person. The goal is to control bleeding and prevent death.
On Dec. 10, Northwest Health trauma team members will teach Stop the Bleed training for the public. The training will start at 6 p.m. at Northwest Medical Center Tower II Classroom, 609 W. Maple Ave. in Springdale. A second class will be offered at 5:30 p.m. Dec. 18 at Siloam Springs Regional Hospital Classroom 1, 603 N. Progress Ave. in Siloam Springs.
The classes are free. Space is limited.
Registration: Email [email protected] or call (479) 757-5433.
NAN Profiles on 12/01/2019
Print Headline: Local notes
Sponsor Content
Comments