Alabama defensive back Xavier McKinney (right) loses his helmet as Auburn running back Shaun Shivers runs through him en route to the go-ahead touchdown in the fourth quarter of the Tigers' victory over the Crimson Tide on Saturday.
AUBURN, Ala. -- Another wild, triumphant Iron Bowl finish turned Auburn's field into a teeming mass of orange and blue.
A missed Alabama field goal again had much to do with it.
Shaun Shivers scored on an 11-yard run with 8:08 left to put No. 15 Auburn ahead and another failed kick wiped away the fifth-ranked Crimson Tide's playoff hopes in a 48-45 victory for the Tigers on Saturday.
Auburn (9-3, 5-3 SEC) survived a final, marathon Crimson Tide drive when Joseph Bulovas' 30-yard field goal attempt hit the left upright with 2:00 left.
Auburn couldn't get a first down on JaTarvious Whitlow's three runs while Alabama (10-2, 6-2) burned its final two timeouts. But the Tide were called for illegal substitution after the Tigers lined up with the punter joining the offense, setting off confusion for the Tide and a fist-pumping celebration for Coach Gus Malzahn.
"That's the craziest game I've ever played in," Shivers said.
Auburn fans stormed the field to celebrate another Iron Bowl thriller, filling it from end zone to end zone as they did in the 2013 Kick-Six game, when the Tigers' Chris Davis returned a missed Tide field goal 109 yards for a game-winning touchdown. Davis led pre-game cheers on the field Saturday.
"When we play at home and we play them, we get to the fourth quarter, we find a way to win -- 2013, 2017," Malzahn said. "It kind of held true to the script tonight and our crowd has a lot to do with that. Our guys believed and our crowd willed us."
The Tide had made the first five College Football Playoffs fields, but its case was damaged with a 46-41 loss to LSU. The team's in-state rival delivered the final blow.
Alabama Coach Nick Saban deflected questions about the playoffs.
"I think the lesson to be learned is how important it is to be accountable," Saban said. "When you play against good teams, that's when these things bite you."
Alabama worked more than six minutes off the clock before settling for Bulovas' attempt, the latest costly kicking mishap for Saban and the Tide.
Quarterback Mac Jones, who had replaced injured star Tua Tagovailoa, scrambled for 18 yards on fourth-and-7 to get the Tide into easier field goal range. The drive stalled at the 13 when Auburn defensive tackle Derrick Brown batted a third-down pass back to Jones, who threw a pair of pick-sixes.
Auburn backup linebacker Zakoby McClain returned an interception 100 yards for a touchdown midway through the third quarter when the ball bounced off the back of tailback Najee Harris and into McClain's arms, setting up a sprint down the sideline. Smoke Monday returned another one 29 yards for a touchdown in the second quarter.
"It's my fault," Jones said. "And those two turnovers ended up being pretty big, so that's on me."
Jaylen Waddle caught three touchdown passes and scored on a 98-yard kickoff return for the Tide, helping Alabama build a 45-40 fourth-quarter lead.
The 5-foot-7, 179-pound Shivers, who was playing the role of injured wide receiver Anthony Schwartz, delivered on his only carry. Whitlow took the direct snap and handed it to him. Shivers smashed into Xavier McKinney, knocking the safety's helmet off on the way to the end zone. Bo Nix's two-point pass to Shedrick Jackson made it 48-45.
"That was just pound and ground football," Shivers said. "That's all I knew growing up. I don't fear anybody. I just had to make it happen. I knew that could have sealed the game because I knew our defense was going to hold on."
Nix, a freshman who attended the 2013 game as a fan, passed and ran for a touchdown. The two-time high school state champion whose father was an Auburn quarterback clutched the game ball during interviews.
"That makes it my three state championships, I guess," he said.
Alabama led 31-27 at halftime after the teams combined for 17 points over the final 1:06. Anders Carlson booted a 52-yard field goal after replay officials put one second back on the clock, three points that wound up being pivotal. Carlson made four field goals of 43 yards or more after some late-season struggles.
Jones finished 26-of-39 passing for 335 yards and four touchdowns. Najee Harris ran 27 times for 146 yards and a TD.
NO. 2 LSU 50, TEXAS A&M 7
BATON ROUGE — Joe Burrow padded his Heisman Trophy resume with 352 yards and three touchdowns passing as No. 2 LSU beat Texas A&M for its first unbeaten regular season since 2011.
Burrow's night was highlighted by a deep, pin-point accurate pass on a 78-yard touchdown strike to JaMarr Chase, who had 197 yards and two touchdowns on seven catches.
Burrow has 4,366 yards and 44 touch-downs passing this season, smashing LSU single-season records in both categories. Burrow's yards passing total also broke the SEC record, which had stood since 1998, when former Kentucky quarterback Tim Couch passed for 4,275 yards.
Burrow's 44 TDs has tied the SEC's single season mark set by Missouri's Drew Lock in 2017. And LSU (12-0, 8-0) has at least two games — possibly three — still to play.
NO. 3 CLEMSON 38,
SOUTH CAROLINA 3
COLUMBIA, S.C. -- Trevor Lawrence threw for 295 yards and three touchdowns to lead Clemson to its 27th cons victory and second consecutive 12-0 regular season.
Travis Etienne ran for two touchdowns to break Atlantic Coast Conference marks for career touchdowns (57) and rushing scores (53) as the Tigers dominated on the way to a sixth straight win over South Carolina (4-8).
Lawrence had touchdown throws of 10 and 65 yards to Tee Higgins and of 16 yards to Justyn Ross. Lawrence also had 66 yards rushing for Clemson, which will attempt to become the first program to win five consecutive league championship games when it meets Virginia next weekend.
NO. 4 GEORGIA 52,
GEORGIA TECH 7
ATLANTA -- Jake Fromm threw four touchdown passes and Georgia cruised into the SEC championship game with its biggest win ever over its state rival.
The Bulldogs (11-1) were 28-point favorites over the Yellow Jackets (3-9) and this one was never in doubt, even as Georgia struggled a bit offensively, fumbled the ball away three times, dealt with injury woes and failed to cover an onside kick.
This was a mere speed bump on the way to next week's SEC title game, where the Bulldogs will face No. 1 LSU with a berth in the College Football Playoff on the line.
Fromm was 14 of 29 for 254 yards, connecting on scoring throws of 20 yards to Charlie Woerner, 17 yards to Tyler Simmons, 41 yards to George Pickens and 9 yards to Dominick Blaylock.
Georgia Tech wrapped up its first season under coach Geoff Collins with just 139 yards and seven first downs on offense.
NO. 11 FLORIDA 40, FLORIDA STATE 17
GAINESVILLE, Fla. — Kyle Trask threw three first-half touchdown pass-es, including two to Freddie Swain, and Florida hammered rival Florida State to end a four-game, home losing streak in the series.
The Gators (10-2) locked up consecutive 10-win seasons for the first time in a decade, finished unbeaten at home for the first time in four years and celebrated their first winning streak against the Seminoles (6-6) since 2009.
Florida scored touchdowns on four of its first five possessions, needing two fourth-down conversions to get the first two, and was able to start celebrating before halftime. Receiver Kadarius Toney taunted FSU players by posing and point-ing at a scoreboard as they left the field at halftime.
KENTUCKY 45, LOUISVILLE 13
LEXINGTON, Ky. -- Lynn Bowden rushed for career highs of 284 yards and four touchdowns to lead Kentucky's school-record 517-yard ground performance that blew out rival Louisville in the Governor's Cup showdown.
Bowden, whose feet have led Kentucky's 5-2 turnaround since he moved from receiver to quarterback, broke the game open with TD runs of 60 and 46 yards in the third quarter for a 31-13 lead. The junior also had a 32-yard run in the fourth along with a 6-yarder in the second as Kentucky (7-5) surpassed 400 yards rushing for the third consecutive game.
Bowden's yardage total was 15 short of Moe Williams' single-game mark of 299 against South Carolina in September 1995.
Chris Rodriguez added a 64-yard scoring run in the fourth quarter and AJ Rose had a 4-yard TD run in the first as the bowl-bound Wildcats cruised to their third consecutive win and third Governor's Cup win in four years.
Javian Hawkins' rushed 22 times for 142 yards, including a 56-yard TD just before halftime that brought the Cardinals (7-5) within 17-13. Micale Cunningham tossed a 33-yard TD pass to Tutu Atwell on the game's opening possession but it was all Kentucky after that.
TENNESSEE 28,
VANDERBILT 10
KNOXVILLE, Tenn. -- Tennessee freshman Eric Gray rushed for 246 yards and three touchdowns -- including breakaways of 56 and 94 yards -- as the Volunteers trounced Vanderbilt to end the regular season with a five-game winning streak.
Lightning caused the game to start 28 minutes late. A second lightning delay lasting 39 minutes occurred midway through the fourth quarter with Tennessee leading 28-10.
Gray more than doubled his previous season rushing total and had the fifth-highest single-game rushing total ever by a Tennessee player.
His 56-yard and 94-yard runs were Tennessee's two longest carries of the season. Gray's 94-yarder was the second-longest run from scrimmage in Tennessee history, trailing only Kelsey Finch's 99-yarder in a 27-17 loss to Florida in 1977.
Tennessee (7-5, 5-3) clinched its first winning season since 2016 as it continued its rebound from a 1-4 start. The Volunteers went 4-8 in 2017 and 5-7 last year.
Vanderbilt (3-9, 1-7) was seeking its fourth consecutive victory in an annual series that Tennessee has traditionally dominated. Tennessee went 28-1 against Vanderbilt from 1983-2011, but Vanderbilt won five of their seven matchups from 2012-18 and had beaten the Vols by an average margin of 18 points the last three years.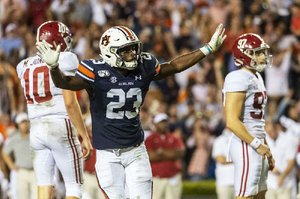 Photo by AP/VASHA HUNT
Auburn defensive back Roger McCreary celebrates after Alabama kicker Joseph Bulovas (right) missed a 30-yard field goal that would have tied the score with two minutes left Saturday in Auburn, Ala. The Tigers won 48-45.
Sports on 12/01/2019
Print Headline: Auburn rides out Iron Bowl thriller
Sponsor Content
Comments