FAYETTEVILLE -- A local couple has offered to donate 5 acres to give boaters and anglers more access to the White River.
The Arkansas Game and Fish Commission on Thursday authorized Director Pat Fitts to enter into an agreement with C.R. Magness and wife Kay Magness for the riverfront property off Wyman Road in Washington County.
Lake Sequoyah
Lake Sequoyah park includes about 1,400 acres of land and 389 acres of water. Fayetteville bought the property in 1958 and the lake was originally constructed as a water supply reservoir. The city stopped using it as a water source after Beaver Lake was built. The park now provides opportunities for boating, fishing, nature watching, picnicking and hiking.
Source: City of Fayetteville
Commissioner Bobby Martin of Rogers said the donation will benefit the growing outdoor recreation scene in Northwest Arkansas.
"Any time we get a donation and get landowners providing access, it is a big deal," Martin said in a news release from the commission. "This provides some tremendous access to the White River near Fayetteville and will be an access to a unique part of the river that will be a great addition for our public."
Magness, a physician, said he acquired the property in the 1980s in a swap for a farm he owned near Goshen. Magness said the area had long been used as an access point to the White River, but he had to end that use.
"People were getting in there with dirt bikes and damaging the property," he said. "I went and planted some pine trees to keep people from getting in."
Magness said he thought about allowing public access again and wanted to be sure it was done properly. He said he'll keep a small "cow and calf" operation on the remainder of his land.
He said he and his family want to preserve the beauty of the area and share it with others. He heard and read about plans to boost the recreational potential of the White River and Northwest Arkansas and thought of his property.
"There's a ford down there where you can walk across the river," he said. "It's a beautiful spot. It's very dear to us."
Randy Zellers, assistant chief of communication for the commission, said the agency hasn't begun work on plans for the access point, which is downstream from Lake Sequoyah, and won't until the donation agreement is complete. Zellers said he envisions the access being used by fishermen and boaters, mainly canoeists and kayakers.
"It's mainly used by fishermen," Zellers said of that portion of the White River. "As far as pleasure boating, it's a pretty narrow stretch of the river for power boats."
Connie Edmonston, Fayetteville Parks and Recreation director, said having more public access points provides benefits to outdoor recreation enthusiasts and to property owners.
"We want everyone to be legal and not trespass on other people's property," Edmonston said. "It's getting so people don't allow anyone on their property so another spot to put in is great."
Edmonston said she had been aware of the possibility of the land being donated and was pleased with the news.
"It's a great spot," she said. "It's right off the road."
Edmonston said the Lake Sequoyah and White River area has seen a steady increase in recreational activity.
"A lot of people hike the trails out there," she said. "On the northwest side of the lake, there's a place people can rent horses and ride in certain areas. We're looking at trying to get some campgrounds out there because a lot of people have expressed an interest in being able to camp in the area. And there's still a lot of fishermen. It's a great asset that has a lot of potential."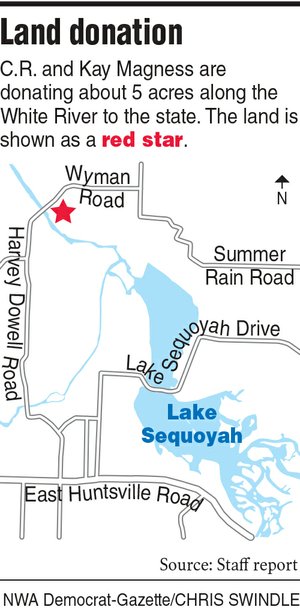 A map showing the 5 acres along the White River that C.R. and Kay Magness are donating about to the state.
NW News on 08/24/2019