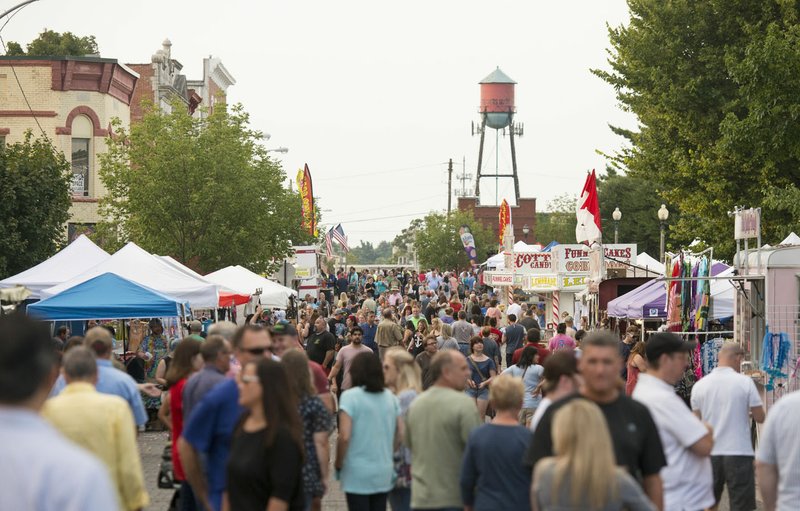 NWA Democrat-Gazette/BEN GOFF @NWABENGOFF In its 35th year, Rogers' Frisco Fest attracts thousands of festival goers over a two-day period.
Even though Rogers' downtown celebration, Frisco Fest, is in its 35th year, the celebration is anything but routine, says Shey Bland, executive director of Downtown Rogers, Inc.
"It's always changing and evolving, because Rogers is always changing and evolving," says Bland.
FAQ
Frisco Fest
WHEN — 5 p.m. today through 10 p.m. Saturday; see website for full schedule
WHERE — In and around downtown Rogers
COST — Entry to the festival is free; some activities require ticket for participation
INFO — downtownrogersinc.org
One big change this year is the integration of the Rogers-Lowell Area Chamber of Commerce "The Good Life" event into the Frisco Fest lineup. "The Good Life" is a celebration of Rogers' "quality of life and culture of food, arts and outdoors...designed for families, young professionals, foodies, art and outdoor enthusiasts, adventurers and explorers," according to the Chamber's website. Workshops offered during the event will include beer making, art, wine tasting and cooking.
"People can mill about, in and out of businesses, checking out workshops, especially since it gets hot during the day," Bland says. "We'll have some Good Life vendors at our Farmers Market, we'll have a Community Walk and an outdoor adventure expo at Lake Atalanta, so we can tie in those amenities that are right there near downtown Rogers. This brings an element of wellness to the festival -- we'll have some outdoor yoga and Zumba, as well."
The event's "Kid Zone" means the festival has something to offer even the youngest members of a family. The varied performers offer a feast for the eyes and ears: Live music will be featured on the main stage today and Saturday, with appearances from bands like ArkanSalsa, Son Sin Gnero Latin Band Orquesta, Chasing Pictures, 412 West and JukeBoxx Party Band. Dance performances by Ballet Westside Dance Studio & Chinelos Morelenses Unidos en Arkansas will entertain the crowd. Crystal Bridges Museum of American Art will present art workshops, and the Arkansas Missouri Railroad will be offering train rides.
"That's a big part of the heritage of downtown Rogers -- our city was birthed from the train," notes Bland. "I was born and raised here, and I'm so proud to [have been] a part of this event for the past couple of years. I'm excited about the future of downtown Rogers and how we're all coming together as a community -- it's a celebration of where we came from. We're a welcoming community for everyone."
-- Lara Jo Hightower
NAN What's Up on 08/23/2019
Print Headline: Frisco Fest 'Anything but routine'
Sponsor Content
Comments