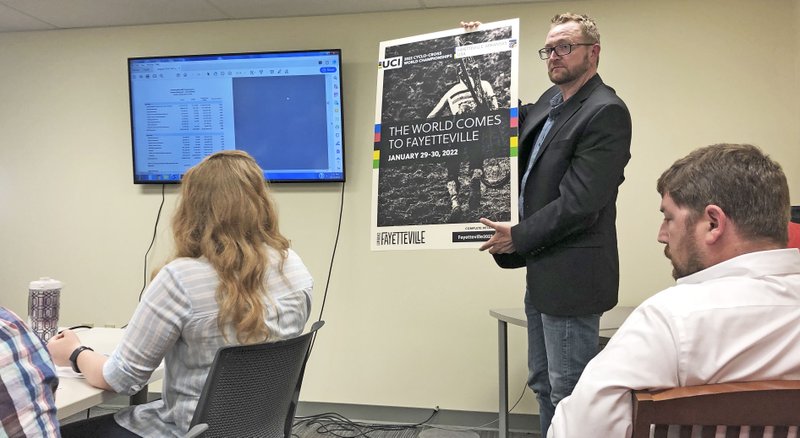 NWA Democrat-Gazette/STACY RYBURN Brannon Pack, cycling coordinator with Experience Fayetteville, holds up a promotional sign Monday for the cyclocross world championship to be held in 2022 at Centennial Park at Millsap Mountain. Fayetteville's Advertising and Promotion Commission approved a contract with race director and organizer Parkven.
FAYETTEVILLE -- The Advertising and Promotion Commission has received a $2.3 million grant from the Walton Family Foundation to bolster cyclocross events in the city, and on Monday the commission hired a contractor to help handle the workload.
The commission was awarded the grant last month from the foundation's Personal Philanthropy Group to host, produce and promote a series of cyclocross events, including a world championship in 2022.
UCI Cyclocross World Championship 2022
Union Cycliste International (UCI) is the international governing body of cycling presiding over the event to be held in January 2022 at Centennial Park at Millsap Mountain. Fayetteville will host to 300-400 competitors from about 30 nations. Champions will be crowned in six categories during the two days of racing.
Source: fayetteville2022.com
Cyclocross is like mountain biking, involving short courses with obstacles, hills, steps and rough terrain prompting riders to get off their bikes to run for certain parts and get back on.
The grant covers a plan to develop the city into a cyclocross destination, said Molly Rawn, the commission's executive director. The amount includes money for licensing fees, marketing, staffing, course development, security, emergency personnel and permits, she said.
So far, three events are scheduled: FayetteCross on Oct. 5-6, an international event next year and the world championship event in 2022. Union Cycliste Internationale, known as UCI in the United States, will host its world championship in January 2022 at Centennial Park at Millsap Mountain.
The largest portion of the $2.3 million grant -- $350,000 -- will go to hiring a race director and organizer. The commission on Monday selected Parkven Productions for the job. Rawn said Parkven helped bring the world championship to the city, and the event is expected to draw 15,000 visitors.
"Partnering with them to manage the logistics of putting this on is a good buy," she said. "I also understand it is the expectation of the Walton Family Foundation Personal Philanthropy Group that we hire out that expertise."
Commission Chairman Matthew Petty said he liked the contract as a fixed fee over three years, and depending on sponsorship, there could be a substantial net revenue after the contract expires.
"I think it's pretty darn favorable for us," he said.
Rawn said there also will be revenue opportunities with ticket sales, merchandising and other means. Money can be reinvested in the city's cycling ecosystem, she said.
"I think it's going to be pretty important that we use that to continue to build," Rawn said. "Nobody wants us to be this great flash in the pan if this wonderful event comes to Fayetteville and then leaves and we're done."
On Aug. 6, the City Council approved a contract with NWA Trailblazers to implement the trails plan at Centennial Park for the 2022 championship. Brannon Pack, former executive director of Ozark Off-Road Cyclists, was hired this month as the cycling coordinator for Experience Fayetteville, a position paid for in part by the Walton Family Foundation.
Pack said the world championship will serve as the biggest event of its kind since UCI held the world championship for the first time in the United States in Louisville, Ky.
"Nothing cycling-specific of this size has hit the states, of this caliber, in any kind of cycling, since 2011," he said.
NW News on 08/20/2019
Print Headline: Officials say Walton grant to spur cyclocross, tourism
Sponsor Content
Comments