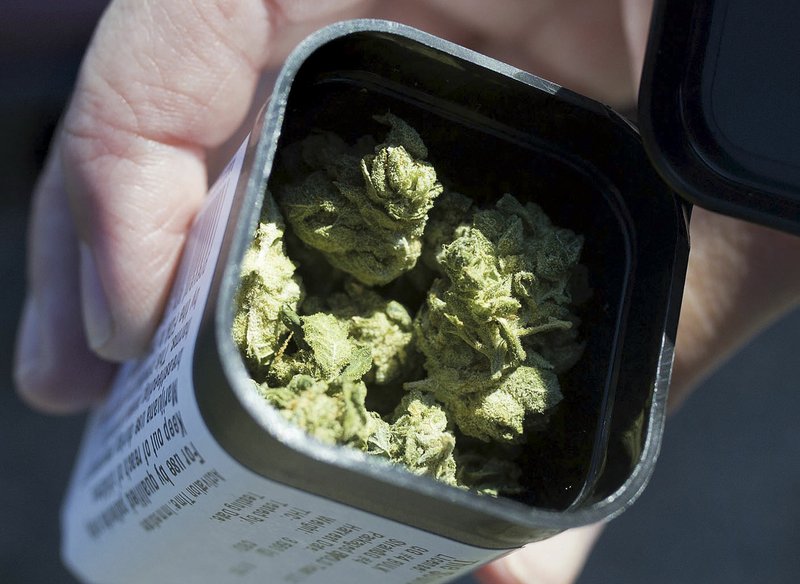 NWA Democrat-Gazette/CHARLIE KAIJO Brenna Hawkins of Bentonville holds a container of medical marijuana Thursday at The Source in Bentonville. She said she has replaced her prescribed pain medicine with a sativa she takes during the day and an indica before bed for pain management from fibromyalgia.
Northwest Arkansas can expect two more medical marijuana dispensaries to open this year, a spokesman for the Arkansas Department of Finance and Administration said.
Acanza at 2733 N. McConnell Ave. in Fayetteville is projected to open in early September, said Scott Hardin, spokesman for the department.
Registry card
To qualify for a registry card to legally purchase medical marijuana, one must meet the following qualifications:
• Be 18 or older or be a minor patient with parental consent
• Be diagnosed with a qualifying medical condition
• Have the official written certification from a physician
• Be an Arkansas resident with proof of residency
State law prohibits members of the Arkansas National Guard and U.S. military from obtaining a registry ID card.
Qualifying medical conditions:
• Cancer
• Glaucoma
• Positive status for human immunodeficiency virus/acquired immune deficiency syndrome
• Hepatitis C
• Amyotrophic lateral sclerosis, or ALS
• Tourette's syndrome
• Crohn's disease
• Ulcerative colitis
• Post-traumatic stress disorder
• Severe arthritis
• Fibromyalgia
• Alzheimer's disease
• Cachexia or wasting syndrome
• Peripheral neuropathy
• Intractable pain, which is pain not responding to ordinary medications, treatment or surgical measures for more than six months
• Severe nausea
• Seizures, including without limitation those characteristic of epilepsy
• Severe and persistent muscle spasms, including without limitation those characteristic of multiple sclerosis
• And, any other medical condition or its treatment approved by the Department of Health
Sources: Arkansas Department of Health, Arkansas Department of Finance and Administration
"We are getting ourselves ready for inspection," said Randi Hernandez, chief executive officer of Acanza. Alcoholic Beverage Control inspects dispensaries.
Hernandez said Wednesday the dispensary doesn't yet have an opening date.
PurSpirit Cannabis, formerly called Northwest Arkansas Medical Cannabis Co. or Valentine Holdings, at 3390 Martin Luther King Jr. Blvd. in Fayetteville is projected to open by Nov. 1, said Gates McKnight, director of operations for PurSpirit.
The company is waiting on its building permit from Fayetteville and plans to spend from eight to nine weeks remodeling, McKnight said Thursday.
The region's first dispensary, The ReLeaf Center, opened Aug. 7 on McNelly Road in Bentonville. Another dispensary, The Source, opened Thursday on Razorback Drive in Bentonville. ReLeaf and The Source were the seventh and eighth dispensaries to open in the state.
ReLeaf had served about 2,000 customers as of Wednesday, said Buddy Wayne of the business. It served an estimated 287 customers its opening day.
The Source had 160 customers its opening day, said Erik Danielson with the business. The dispensary sold about 2.2 pounds of marijuana that day, Hardin said. Dispensaries in Arkansas sold more than 790 pounds of marijuana as of Friday.
A patient or caregiver ID card is necessary to buy medical marijuana products. More than 600 people in Arkansas obtained cards within the past week, according to the Arkansas Department of Health. The total rose from 18,629 on Aug. 9 to 19,227 on Friday.
Julie Sill, 46, of Fayetteville said she began having health problems after a staph infection and took opiates for six years.
"I don't like opiates," she said.
Marijuana helps Sill with her pain, and she described it as a good alternative to prescription medications.
"It keeps people away from synthetics that can kill them," Sill said.
Charles Oliver, 40, of Fort Smith bought marijuana at The Source on Thursday and said he's been addicted to opiates and street drugs in the past. Medical marijuana has helped him stay off other drugs, he said.
"I'm glad that it's here and that we won't go to jail for it," Oliver said.
The state has issued 32 dispensary licenses and can issue up to eight more, Hardin said. The state has also issued five licenses to cultivation sites, where medical marijuana is grown, and can issue up to three more.
State law mandates dispensaries in Arkansas purchase marijuana only from cultivation sites in Arkansas. Three cultivation sites are open.
BOLD Team in Cotton Plant, Natural State Medicinals Cultivation in White Hall and Osage Creek in Berryville are the three cultivators growing and providing products to dispensaries.
The Finance Department anticipates Natural State Wellness and Delta Medical Cannabis, both in Newport, will begin production by late this year, Hardin said.
Cultivation sites have to do their own processing, such as turning marijuana into edibles, Hardin said. However, the state will eventually issue processor licenses to companies that only want to process marijuana.
"We don't anticipate there will be a limit on processor licenses," Hardin said.
Arkansas voters approved the legalization of medical marijuana in 2016, but legal and regulatory hurdles slowed the program's rollout. The first dispensary, Doctor's Orders, opened May 10 in Hot Springs.
NW News on 08/19/2019
Print Headline: More medical marijuana dispensaries coming to region
Sponsor Content
Comments