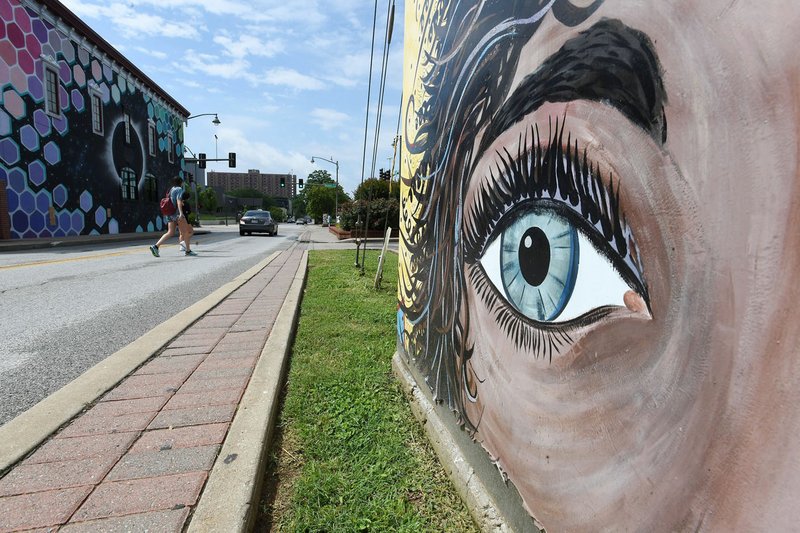 NWA Democrat-Gazette/J.T. WAMPLER Pedestrians cross West Ave. Wednesday June 12, 2019 near Dickson St. The city's cultural arts corridor will span West Avenue from Dickson Street to the Fayetteville Public Library. On Tuesday, the City Council approved an agreement to work with Experience Fayetteville on programming, marketing, operations and maintenance of the public spaces within the corridor.
In the buildup to last April's bond issue election in Fayetteville, advocates for what they called a "cultural arts corridor" in the downtown area from time to time repeated a description of what could be: It will be "transformational," they said.
The voters gave them a chance to demonstrate that, voting 54 to 46 percent in favor of a $32 million plan to develop the corridor from West Avenue and Dickson Street — beside the Walton Arts Center — south to just past the Fayetteville Public Library.
In this edition of the "Speaking of Arkansas" podcast, we speak with Molly Rawn, executive director of the Fayetteville Advertising and Promotion Commission, who has taken a lead role in developing the "programming" of the corridor space. Rawn explains her thoughts on what that means as the city embarks on a project reflecting its ambitions, but one with a lot of questions still to be answered.
Additional city of Fayetteville information on the arts corridor is available by visiting http://www.fayetteville-ar.gov/3456/Cultural-Arts-Corridor
The Fayetteville Advertising and Promotion Commission's website is https://www.experiencefayetteville.com/
As always, news coverage related to the arts corridor and other Northwest Arkansas news can be found at nwaonline.com, website of the Northwest Arkansas Democrat-Gazette.
Sponsor Content
Comments