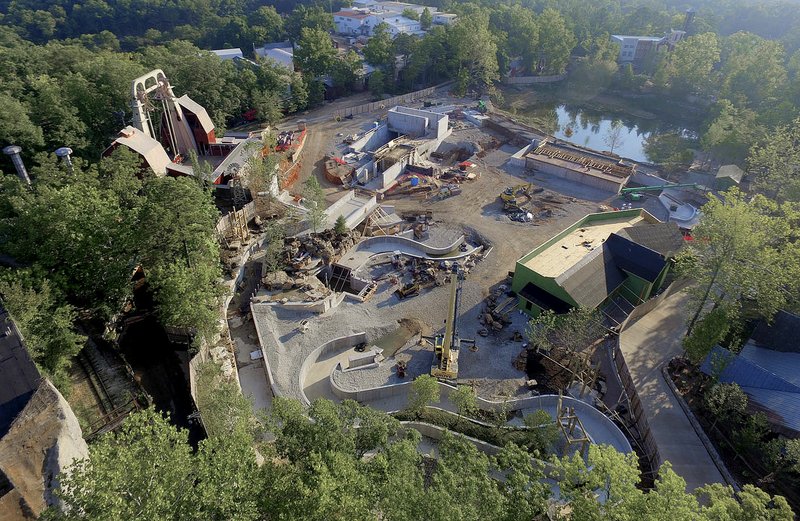 Courtesy Photo/SILVER DOLLAR CITY Construction for Mystic River Falls has already used 22 semitrailer loads of re-enforcement bar, 187,650 cubic yards of concrete, 6,000 tons of landscaping rocks and 220,000 board feet of rough sawn timber.
BRANSON, Mo. -- A $23 million investment should cool hot Silver Dollar City visitors in the summer of 2020, the theme park announced Tuesday.
Mystic River Falls, designed by the park in partnership with Swiss firm RES -- or Ride Engineers Switzerland -- and Barr Engineering, will include the tallest raft ride drop in the Western Hemisphere, park officials said at a news conference.
By the numbers
Mystic River Falls
• Investment: $23 million
• Ride length: 1/2 mile
• Ride duration: 5 minutes
• Lift tower: 82 feet
• Elevated river channel: 66 feet in the air and 180 feet long
• Grand finale waterfall: 4.5 stories
Source: Silver Dollar City
"You will laugh. You may laugh so hard you snort -- and you will certainly get wet," said Brad Thomas, president of attractions at the theme park.
Passengers in round boats will ascend an eight-story tower, travel along 180 feet of waterway elevated six stories and splash down a 45-foot waterfall.
The adjacent Rivertown area, just behind the Riverfront Playhouse, will include a new barbecue restaurant, Rivertown Smokehouse, adding another $4 million to the construction tab. Thomas said a team traveled to the best barbecue restaurants in the country to choose the menu for the 400-seat facility.
The global market for amusement and theme parks is forecast to reach $44.3 billion by 2020 with the U.S. representing the largest market, according to Global Industry Analysts. The business cites an a rise in leisure spending.
Also on the calendar for 2020 is the theme park's 60th anniversary "Diamond Jubilee," celebrating its founding May 1, 1960. The park is owned by Herschend Family Entertainment, with it's headquarters in Atlanta.
Thomas said after the news conference that, while the announcement was fun and important, it's also important to him to look back on 60 years of making memories for families and to help create new memories for more families in the future.
The park also plans to spend $2 million this fall on a new harvest festival attraction, Pumpkin Nights, he said.
The park also plans to add a $1.5 million, custom-designed, eight-story, special effects tree during An Old Time Christmas, he said, bringing the total investment for 2019-20 to $30 million. Each of the lights on the new tree has the capacity for 2 million colors, he added, meaning the lights can create images and graphics.
NW News on 08/14/2019
Print Headline: Silver Dollar City announces new raft ride, $30 million investment
Sponsor Content
Comments