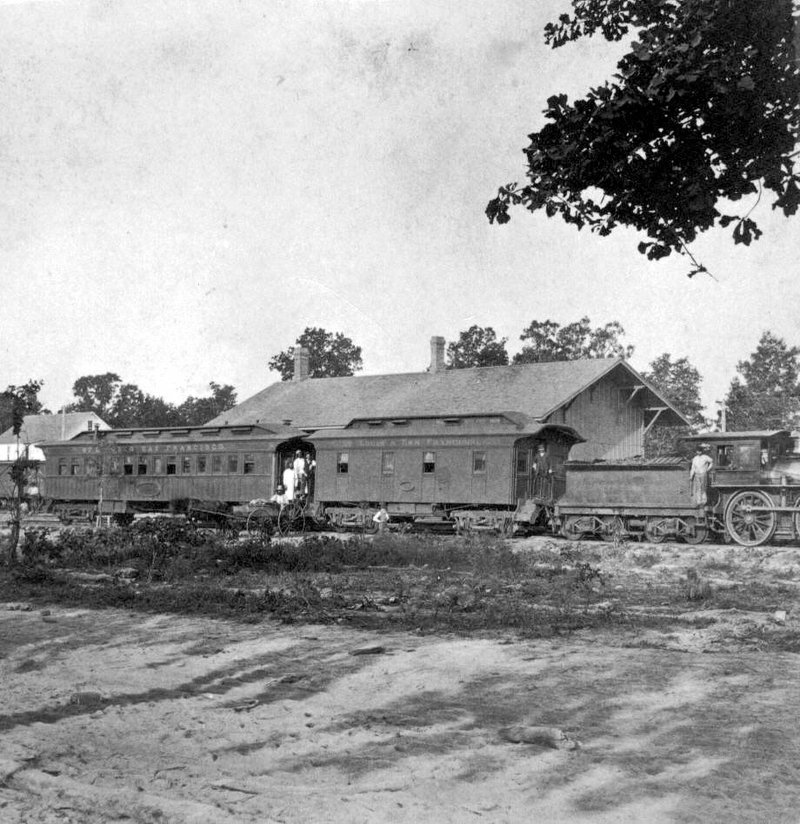 Photo courtesy Rogers Historical Museum The first St. Louis-San Francisco Railroad (Frisco) train rolled into Rogers on May 10, 1881.
At 12:15 p.m. on May 10, 1881, a crowd of a thousand people welcomed the first train to Rogers. Lon Pace, a 15-year-old at the time, wrote later: "I remember that we were giving it a good looking over when the steam popped off, and we thought that the thing had blowed up, and the gang left that pile of railroad ties like a flock of blackbirds. But the scare was soon over, and we returned to our perch. Later on that afternoon we were permitted to go all the way through the train, and that was quite a treat for us."
"The history of Rogers and Northwest Arkansas is inextricably tied to the railroad that cuts through it running north and south," says Terrilyn Wendling, interim director of the Rogers Historical Museum. "Rogers celebrates its birthday as the day the first St. Louis-San Francisco Railroad (Frisco) train rolled into town, and the train still rolls through town."
FAQ
'Trains, Trains & More Trains'
WHEN — 10 a.m.-5 p.m. Monday-Saturday, through Aug. 31
WHERE — Rogers Historical Museum's Hailey Building, 313 S. Second St. in Rogers
COST — Free
INFO — 621-1154
With the annual Frisco Festival coming up at the end of this month, August seemed the perfect time for an exhibit titled "Trains, Trains & More Trains."
"This history and importance inspired the theme, but I wanted to make it a bit more fun and interactive by adding the model trains," Wendling says. "This allowed us to partner with the Sugar Creek Model Train Railroad Club and Historical Society as well as the J. Reilly McCarren Transportation Museum in Springdale.
"We have partnered with the Sugar Creek group for several years during Frisco Fest, allowing them to use museum space to show their model trains and give the public the ability to see model trains in action and speak with the group's members," she goes on. "Because of this partnership, we were able to partner on the exhibit displays and to incorporate them into the exhibit. The exhibit is a separate entity to tell the story of the train and its importance to Rogers, but we did put it up for August to take advantage of our partnership and to market to those coming for Frisco Fest."
It also allowed the museum to bring out and share treasures from its own collections.
"We have a handmade wooden train with track that was made as a retirement gift for a Frisco railroad worker," Wendling begins to enumerate. "The train has both Frisco and Burlington Northern stamped on it, to commemorate the fact that Frisco was purchased by the Burlington Northern line. We have a passenger train lamp, lantern, commemorative bell stamped 'C.W. Rogers' -- the vice-president of the Frisco when it came to Rogers and whom the city is named after -- a set of playing cards, matchbook, and other marketing material put out by the Frisco."
"Trains, Trains & More Trains" continues through Aug. 31. As part of the Frisco Festival, started in 1985, the museum will showcase even more model railroad displays from 10 a.m.-4 p.m. Aug. 24.
NAN What's Up on 08/11/2019
Print Headline: All Aboard!
Sponsor Content
Comments