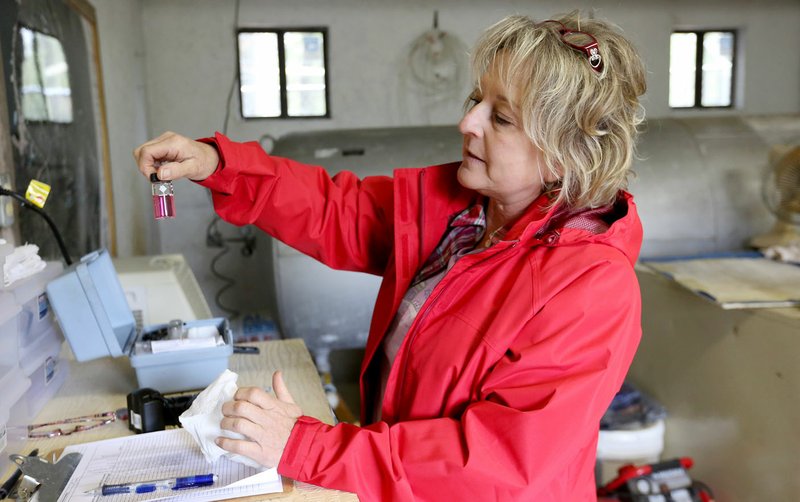 NWA Democrat-Gazette/DAVID GOTTSCHALK D'Ann Whittle, Rambo Water District No. 1 water operator, checks the level of chlorine in the water April 19 at the district well house in Rogers. Rambo Water District No. 1 is a small water district near Beaver Lake with small amounts of cyanide in its community well found during Arkansas Department of Health testing.
BENTONVILLE -- There's just one rule when people visit Jon Fricke's getaway home: Don't drink the water.
Fricke, who lives in Fayetteville, bought the house in the Rambo Water District near Beaver Lake around five years ago. He brings in gallons of bottled water each time he visits after cyanide was detected in the community well about two years ago.
A hookup to rural water is tantalizingly close -- about a half a mile away. The cost, though, could be has high as $855,000, said D'Ann Whittle, the Rambo water operator. The cost estimate came from an engineering firm the district hired.
"It's like visiting a third-world country," Fricke said. "When you go to Mexico, they say don't drink the water. In the United States it's so normal to get water out of your faucet, from your refrigerator door, or even the hose. It's amazing in 2019 that this is an issue, but it is."
Fricke has upgraded the lake home over the past several years and plans for it to be a retirement home for he and his wife, Linda. He hopes to connect to safer water.
Rambo Water District No. 1 covers an area of about 2 square miles near the lake. It serves about 37 households via a community well, which was dug in 1987 and has a depth of 1,170 feet. Two previous wells weren't deep enough and were abandoned.
The water district has been in violation of federal Environmental Protection Agency standards for cyanide content since July 2017, according to the Arkansas Department of Health. The federal standard for a safe level is 0.2 milligrams per liter, and Rambo has been at 0.3 milligrams per liter.
Compliance is determined on a running annual average of four quarterly samples. A running annual average of 0.3 or higher is a violation, according to the Department of Health.
People who drink water containing cyanide in excess of the standard over many years could experience nerve damage or problems with their thyroid, said Jeff Stone, the Health Department's director of engineering. He cited the yearly Consumer Confidence Report for Rambo, which is a drinking water quality report required by the EPA.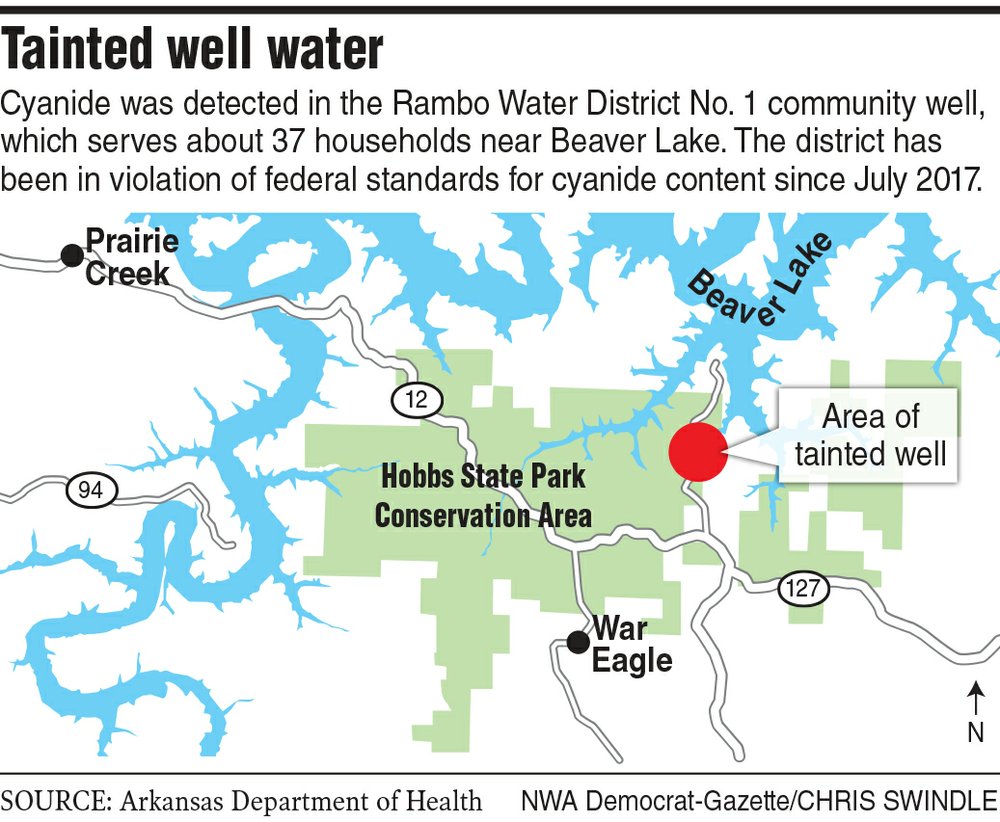 The Quorum Court passed a resolution in February to help Rambo receive money to connect to a better water source. The resolution was needed as part of the grant application process. Benton County will not have to put up any money for the project.
It isn't uncommon to detect cyanide at low levels in some water sources, the Department of Heath said in a news release.
"It just happened," Whittle said. "Some cyanide occurs naturally. We thought it might be a small pocket, but it is not that because it has not gone away. I am not really concerned by what caused it. I just want to get it rectified."
Rambo needs to work toward obtaining a water supply in compliance with the Safe Drinking Water Act so the health risk is eliminated, said Meg Mirivel with the Health Department.
The nonprofit water utility near War Eagle Cavern works like a co-op, and members pay $35 a month for water, Whittle said. She still uses the well water to make ice and for bathing. Their property has been in Whittle's family for more than 50 years, she said.
Steve Zega, the attorney for the district, said the district has received violation notices from the state Health Department. The notices could result in fines, but "as long as you are actively trying to remediate the problem, they don't try to ding you," he said.
The district has submitted an engineering plan to the Health Department showing connection to a better water system was the most prudent plan.
The closest rural water connection is at Huckleberry Hills, about a half-mile from the entrance to the Rambo area, according to information Whittle gave to the Benton County Quorum Court.
Benton County Water Authority No. 5 serves nearly 580 customers east of the Arkansas 12 bridge. The service area runs along the Hobbs State Park-Conservation Area border, according to its webpage.
Much work has to be done before the project could start, said Brent Leas, Benton County Development Authority chairman. The development authority oversees water authorities No. 4 and No. 5, Leas said.
"They would like to access our lines, but there is not a clear path forward as to how that will happen," he said. "There are still many conversations to be had before we dig dirt and make it a reality."
Connecting to a treated water source would likely eliminate the cyanide problem for Rambo, other area water officials said.
Scott Borman, general manager of the Benton Washington Regional Public Water Authority, said cyanide hasn't been detected in the authority's water supply, which comes from Beaver Lake.
"It occurs naturally and sometimes you get pockets of it," Borman said of cyanide. "It's a groundwater problem. You see cyanide, arsenic and radium in groundwater."
Cyanide hasn't been detected in the drinking water supplied by Beaver Water District, said Mindi Dearing, laboratory supervisor for the water district.
The Rambo district recently completed paperwork for a $200,000 grant through the Arkansas Economic Development Commission, Whittle said.
The Arkansas Natural Resources Commission is another source for possible money. Water Authority No. 5 applied to the resources commission on behalf of Rambo, said Ryan Benefield, commission deputy director.
Consideration would come through the commission's loans and grants program, Benefield said. The earliest the application would come before the commission would be at its July meeting. The application asks for $654,000, Benefield said.
After grants are awarded, any difference would be paid for with a loan divided among the residents of Rambo, Whittle said. Each resident also will pay a connection fee to Water Authority No. 5, plus the cost to have a certified plumber to run the connection from the meter to the house.
Rambo is a very small water system, Benefield said. It usually takes 300 users before a system can viably operate, he said.
The Rambo district has problems beyond cyanide in its well. The water lines out to the households are deteriorating. There are at least three to five breaks a year, according to information provided to the county.
District members have repaired the broken pipes. The Rambo area doesn't have fire hydrants and adequate fire protection is a concern. The Piney Point Fire Department would rely on pumper trucks to extinguish a fire if one occurred, according to the information provided to the county.
Whittle hopes to be connected to a better water source by 2020. But a timeline remains in limbo, she said.
"It's a hurry up and wait game," she said. "There's weather. There's digging. There is a lot of legwork. There's a lot that still has to happen."
Guidance
• Private wells should be checked every year for mechanical problems, cleanliness and the presence of coliform bacteria, nitrates and any other contaminants of concern.
• Private well owners in Benton County also should consider testing for cyanide. Homeowners should call (501) 661-2171 or email [email protected] Private labs are able to perform the testing for a fee.
Source: Arkansas Department of Health
About the well
The Rambo Water District well is fed from the Roubidoux Aquifer. It has produced 1.2 million gallons per year, on average, over the past four years, according to D'Ann Whittle, Rambo water operator.
Source: Staff report
NW News on 04/28/2019
Print Headline: Rambo looks for new water source
Sponsor Content
Comments