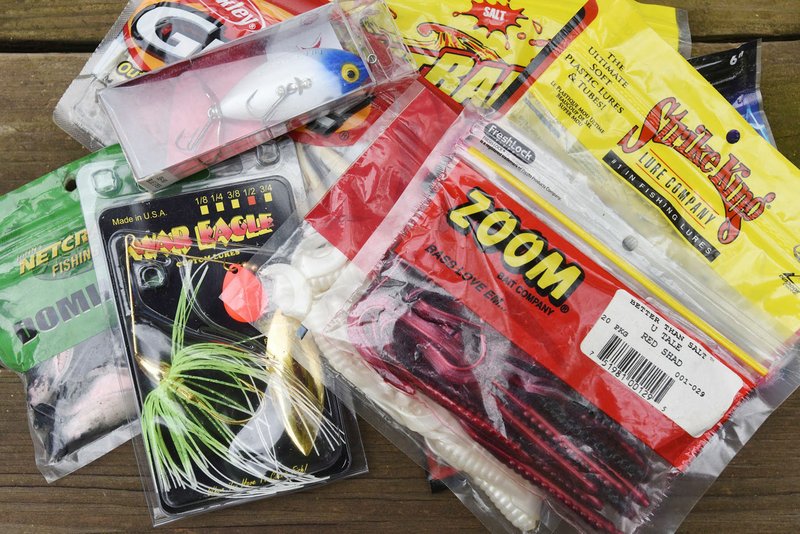 NWA Democrat-Gazette/FLIP PUTTHOFF Fishing lures are on the line as the grand prize in the 2019 Northwest Arkansas Democrat-Gazette fish story contest.
When the dogwoods are blooming and the mushrooms are popping, anglers and nature lovers can think of only one thing. That's entering the Northwest Arkansas Democrat-Gazette fish story contest.
The fish are biting and the catching is good. No doubt our fish-story scribes are on the water gathering some great material for this year's contest. We can't wait for your stories to start pouring in.
Here are the official rules. Write down your story. Send it in.
The contest is for true fish stories, no tall tales. We'll take entries all the way through May. Then in June, we'll crown the 2019 fish story champion and award the lucky angler a swell prize -- a nice selection of fishing lures almost guaranteed to catch the big ones on our lakes and streams.
The winner will bask in fish story fame when we run the lucky angler's picture and story here in NWA Outdoors, along with as many stories as will fit in the section. We'll run all the stories on the Northwest Arkansas Democrat-Gazette website, nwaonline.com.
Dig out the Big Chief tablet, write your story on a napkin or fire up the computer. Just get your true story here to fish-story central by May 31.
Email your story to [email protected] and type Fish Story Contest in the subject line. Or, postal mail it to the newspaper at 212 N. East Ave., Fayetteville, Ark., 72701.
Either way, be sure to include your name, the town you live in or near and a daytime phone number.
This could be the only literary contest where words like stink bait, nightcrawler and Wiggle Wart weave their way through the prose like a crappie prowling for a minnow.
It may be the only fish story contest where we tell you how to win. First thing to remember is no long-winded story has ever won the fish story contest. Short and sweet wins the lures. Fish-story scribes are welcome to submit a photo with their entry. It's a contest for all ages, and kids get a kick out of drawing a picture to send with their story.
Such a prestigious competition requires a distinguished panel of judges, and boy do we have one this year. I've tapped my own neighborhood to recruit this year's trio of fish-story magistrates. Our little Beaver Lake community is ripe with lake lovers and anglers of all stripes.
Judging your stories this year will be my good friend and neighbor, Joy Schillinger. Joy and her husband, Dan, might share the judging duties and the fun of reading your entries.
James Cox, esteemed professor at the James Cox School of Jug Fishing, said he'd "be honored" to judge. James is on a first-name basis with every big flathead catfish in Beaver Lake and catches the fire out of them. He shares the bounty with all of us at a neighborhood fish fry each fall.
Chief judge is my cat, T.C. She will fill the paws of her late brother, Boat Dock, who was chief judge for years. Breaking the tie in the 2017 contest was Boat Dock's last hurrah before lifting off to Life No. 10 somewhere in the stratosphere.
On a side note, readers may remember James from last fall when we got together and cut open some persimmon seeds to forecast the coming winter.
Cox found most to be knives, which folklore tells us means a cold winter ahead with not much snow. Hmm, could be there's more to that seed forecasting than we thought. Oh, and there's really no school of jug fishing so don't try to enroll online.
That long, cold winter is behind us, and now it's that fishing and fish-story time of year. Get your story in by May 31, and good luck in the contest.
Flip Putthoff can be reached at [email protected]
Sports on 04/23/2019
Print Headline: Fish story contest off and running
Sponsor Content
Comments