FAYETTEVILLE -- Land once serving as a family's farm will become a mountain-biking attraction for professionals and spectators alike under a plan revealed to the public Wednesday.
About 30 people attended a public input session for Centennial Park at Millsap Mountain. The city acquired the 228 acres west of Interstate 49 and north of Martin Luther King Jr. Boulevard last year through a matching grant from the Walton Family Foundation.
Web watch
For more information or to provide feedback, go to:
fayetteville-ar.gov/centennialpark
Participants saw preliminary plans outlining proposed trails on the mountain and other amenities. The plan is set to go before the Parks and Recreation Advisory Board on May 6.
In the meantime, the city is seeking input on what is proposed so far. Northwest Arkansas Trail Blazers and CEI Engineering teamed up to develop the concepts.
Trails would be made primarily of three types, said Erin Rushing, Trail Blazers executive director. The most difficult trails would serve "cyclocross" riders for races and events. Cyclocross involves short courses with obstacles, hills, steps and rough terrain causing riders to dismount to traverse.
"It's just kind of gnarly," Rushing said. The city is set to host the 2022 Cyclocross World Championship, the second time the event has been held in the United States.
Another set of trails will be designed for cross-country mountain biking. The most accessible trails would serve casual riders and youth enrolled in the local chapter of the National Interscholastic Cycling Association.
Construction of some of the trails should begin in the fall, Rushing said. It will likely take about a year to build the park in phases, he said.
Other proposed amenities include open event space, places for picnicking and hammocks, pavilions, a canopy walk and nature playgrounds, Park Planning Superintendent Ted Jack said. Park officials used input from the ongoing park plan update to decide what amenities to put at the park, he said.
Paula Marinoni's family for 70 years owned most of the land where the park is proposed. She urged the planners to keep the area's most vital natural resources intact so generations could grow up with them, as she did.
"It would be nice if there's an area that's left natural so that people hiking can take their kids there," Marinoni said. "Kids understand what it means to walk in the woods and feel the leaves crunching under their feet, where everything is not just so perfect and created. There's great educational value in just nature."
Rushing said the exact layouts of the trails aren't set, and planners tried to avoid going through the most valuable natural areas. He also said the idea is to connect with trails the University of Arkansas campus to Kessler Mountain Regional Park, with Centennial Park in the middle.
Nathan Eikenberry, 38, said he lives west of I-49 and is looking forward to having more trails in that part of town connecting to other parts of town. He said he dabbles in mountain biking.
"This is close enough that I can ride to it, ride it and go home without devoting three hours of my afternoon," Eikenberry said. "I can get out and just play around for a little while."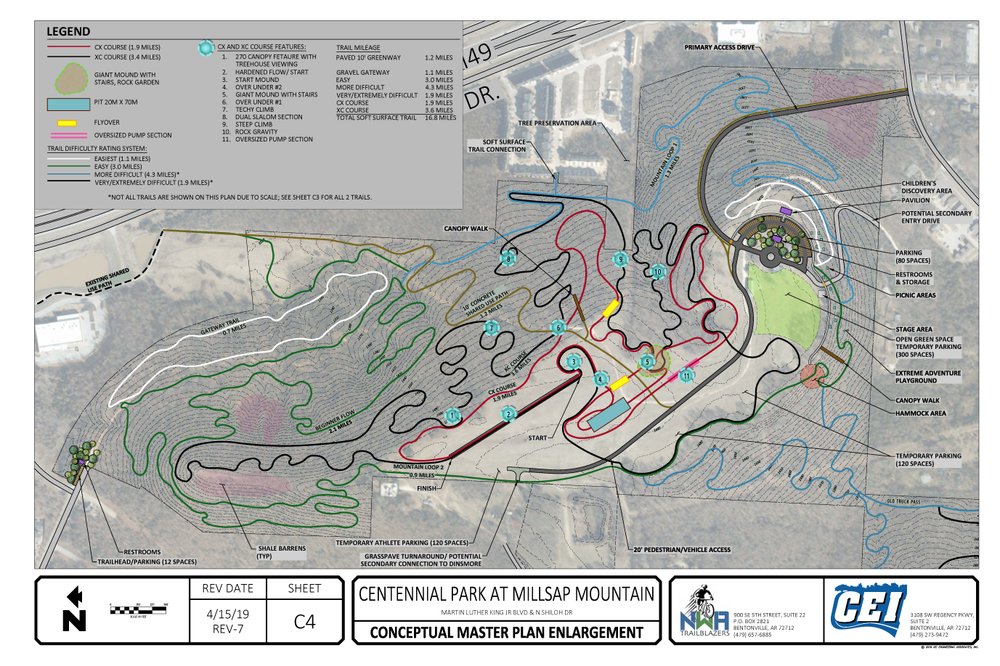 Centennial Park at Millsap Mountain- Conceptual Master Plan_Page_4
NW News on 04/18/2019