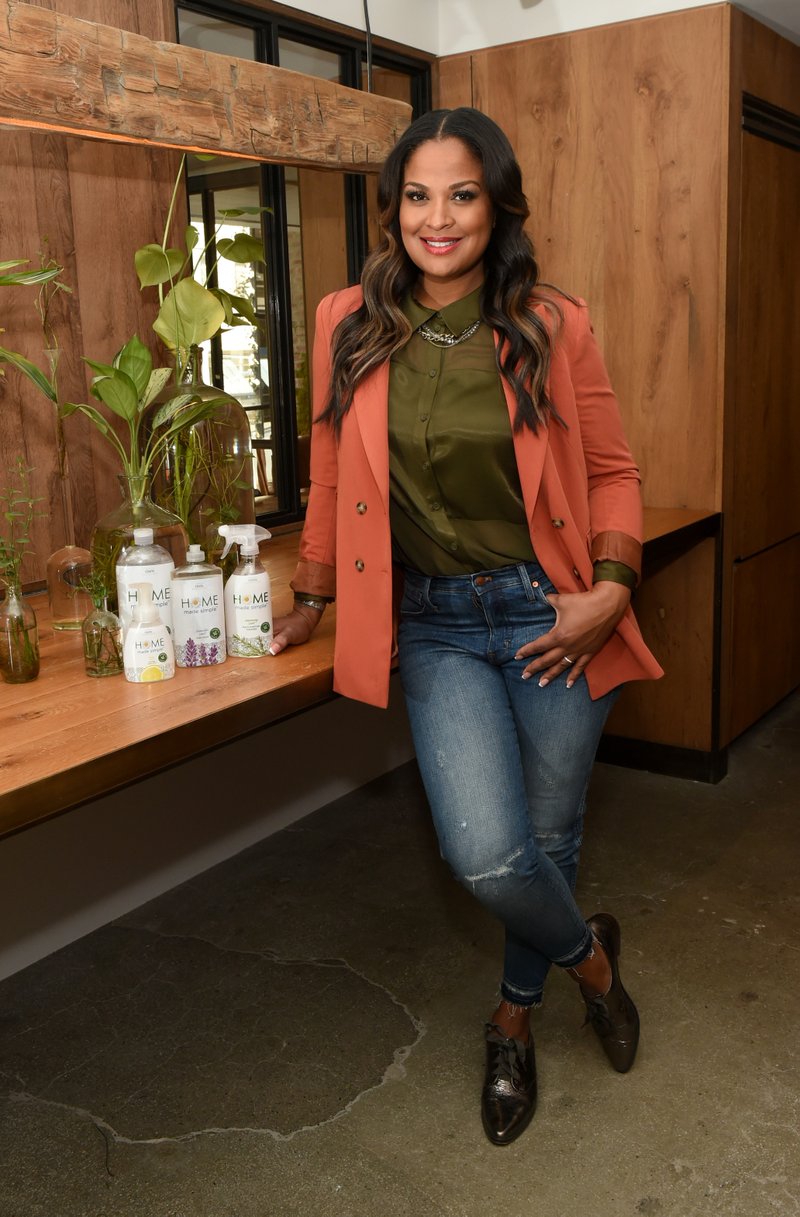 Photo by Diane Bondareff/Invision for Home Made Simple/AP Images Laila Ali, host of the Emmy-nominated television show Home Made Simple, is helping launch a new collection of plant-based cleaning products with a visit from 2:30 to 4 p.m. Tuesday at the Walmart Supercenter on Pleasant Crossing Boulevard in Rogers. She will be signing autographs and chatting with fans.
Four-time undefeated boxing world champion, TV host and healthy lifestyle advocate Laila Ali will be in Northwest Arkansas Tuesday as the ambassador for the new Home Made Simple line of plant-based cleaning products being launched at Walmart.
Besides being the daughter of iconic boxer Muhammad Ali, Laila Ali is the winner of Food Network's "Chopped, Celebrity Edition," founder of the Laila Ali Lifestyle Brand and mother of two. She is helping introduce the new line of plant-based cleaning products inspired by the Emmy Award-winning TV series of the same name.
Prior to her visit, she answered five questions for What's Up!
Q. How did you make the transition from boxer to healthy lifestyle influencer?
A. Much of my inspiration to make healthy lifestyle choices came from being an athlete. Then when I had children, I became more aware of the importance of choosing foods and products that are good for my family and the environment. It was a very natural transition for me, and I also use my platform to share information that I know is helpful for everyone to live their best life.
Q. What are the goals/tools for your family's lifestyle that you particularly like to share?
A. I feel it's important to take care of your family by creating a healthy and fun environment that's comfortable to live in. I like to get the whole family involved when it comes to organizing and clean up, especially for spring cleaning. My kids love to wipe down counters and cabinets, so we use Home Made Simple's all-purpose cleaners, that are safe plant-based products that work and smell great. My kids take pride in their home because they are involved with keeping it in order.
Q. Are there similarities between your childhood and your kids' childhood that surprise you?
A. I'm surprised at how much like me my 8-year-old daughter Sydney is. She is very strong minded, independent and a natural athlete. My son Curtis reminds me so much of my father with his exceptionally kind demeanor. We live a very laid-back lifestyle. I do my best to teach my children to go with the flow in life and appreciate the small things and everyday blessings.
Q. What does this new line of products bring to families that you feel was needed?
A. What I love about the Home Made Simple line of cleaning products is that they not only work great and smell amazing, they are safe for your family and the environment. All of the scents are invigorating: lemon, lavender and my favorite, rosemary.
Q. What do you hope people take away from meeting you besides an autograph?
A. It's nice to have the opportunity to meet fans face to face! I am looking forward to seeing lots of people have happy smiles, and I hope everyone enjoys my visit!
-- Becca Martin-Brown
NAN What's Up on 04/16/2019
Print Headline: Five Minutes, Five Questions Laila Ali
Sponsor Content
Comments