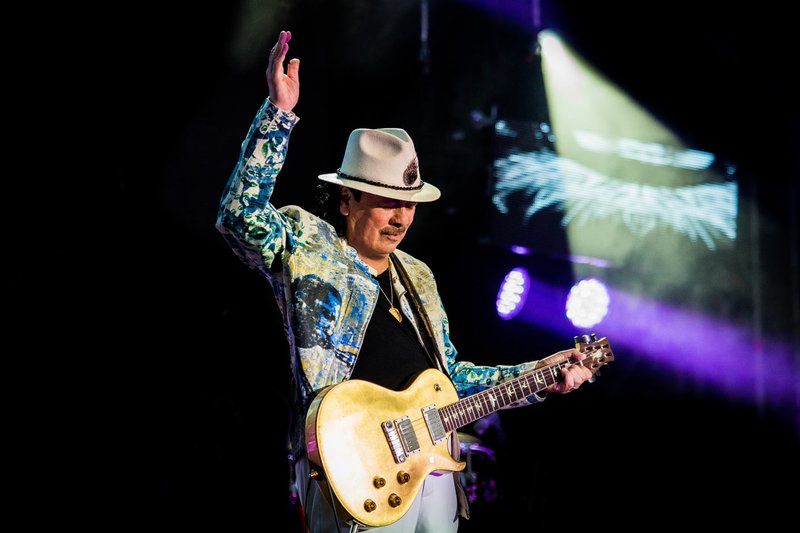 Photo courtesy: Roberto Finizio Sanatana
The Walmart Arkansas Music Pavilion opens its 14th season April 17 with contemporary Christian powerhouse Chris Tomlin. So far, 25 musical acts, two films in concert and one comedian are packed tight into the Cox Concert Series in the next few months, and a few more announcements are on the way.
Ask Brian Crowne, vice president of the AMP, what the "big" shows are, what exciting acts are coming, and he'll tell you that all depends on the person.
"You know, there's shows that are going to sell out that are big shows. But there's also shows that I think are medium-sized shows that might do five or six thousand tickets that we're just as excited to have," Crowne says. "Every show that we booked this year is going to be special to somebody.
"I like to say I'm drinking water from a fire hose, from a programming standpoint," he adds jokingly.
As artists come through and have a positive experience with the AMP, the venue's status has continued to rise in the industry and puts Rogers on the radar for managers, agents and other artists, Crowne explains. And that has only helped his efforts to build lineups that cater to the varied tastes of the region.
"Really, it is digesting what we hear from people, then see what's available and try to assess can we bring them and have it feel like a successful event for all involved, and hopefully be profitable, as well." Crowne shares. "The AMP exists to help fund programming, and arts and education and fun stuff like that at the Walton Arts Center. So there's a lot of stuff that goes into when I assess what I think we want, and fortunately, I feel like we have consistently landed pretty balanced, diverse lineups every year. I'm passionate about serving our community."
Take a peek at the full available schedule here and be on the lookout for a few more announcements coming soon.
WALMART AMP
Season 14
April 17
'Holy Roar Tour'
Chris Tomlin
with Tauren Wells, Pat Barrett, Nicole Serrano and Pastor & Author: Darren Whitehead
7 p.m. Tickets $17.80-$96.50*
April 28
'Global Consciousness Tour'
Santana
7:30 p.m. Tickets $42.50-$97*
"Good lord, I'm excited to have Santana back," Crowne enthuses. "Personally, it's one of the top musical shows I think we've hosted. The musician in me that has a short attention span was just incredibly blown away by his whole band years ago when we had him. So it's exciting to get him back."
May 1
'Good Thing Tour'
Leon Bridges
with Jess Glynne
7:30 p.m. Tickets $35-$69.50*
"LAWN 4-PACK" $24.75/each
May 6
The Killers
8 p.m. Tickets $35-$89.50*
"I've been chasing that show for the last three or four years," Crowne says proudly. "It's going to be a big one. Critically acclaimed, extremely relevant rock band -- I love bands like them that just maintain that level of relevance through their career. It's not like they have to come in and play their hits from 20 years ago; they've still got hits today."
May 17
Earth, Wind & Fire
7:30 p.m. Tickets $42-$66.50*
May 18
An Evening with The Avett Brothers
8 p.m. Tickets $35-$55*
May 25
'Star Wars: A New Hope' In Concert
with SoNA
8 p.m. Tickets $22-$75*
June 13
'Can't Say I Ain't Country Tour'
Florida Georgia Line
with Dan + Shay, Morgan Wallen and HARDY
7 p.m. Only VIP tickets remain.
June 16
Steve Miller Band
with Marty Stuart and His Fabulous Superlatives
7 p.m. Tickets $35-$156*
"Talk about a multi-generational artist, I mean, he's been relevant for 40 years and he puts on an incredible show," Crowne points out. "It's going to be interesting to see how Marty Stuart packages with that. It's a little odd, but he's an incredible musician in his own right and was a virtuoso at a young age. So that's one of those that, there'll be people that missed the show a couple of years ago when Steve Miller played and they'll be excited to see it this time."
June 21
'Loud & Clear Tour'
Trevor Noah
8 p.m. Tickets $30-$169.50*
June 26
Train and Goo Goo Dolls
with Allen Stone
7 p.m. Tickets $29.50-$225*
"LAWN 4-PACK" $22/each
June 27
'2019 World Tour'
Brad Paisley
with Chris Lane and Riley Green
7:30 p.m. Tickets $35-$174*
"LAWN 4-PACK" $24.75/each
July 4
Fireworks Spectacular
'An American Salute with SoNA'
Announcement coming soon.
July 10
Young the Giant and Fitz and the Tantrums
with COIN
7 p.m. Tickets $29.50-$115*
July 14
'Group Therapy Tour'
Hootie and The Blowfish
with Barenaked Ladies
7:30 p.m. Tickets $89.50-$289*
July 19
'Raised on Country Tour'
Chris Young
with Chris Janson and Jimmie Allen
7:30 p.m. Tickets $39-$83.75*
"LAWN 4-PACK" $26.50/each
July 21
'The Royal Affair Tour'
with Yes, ASIA, John Lodge of The Moody Blues, Carl Palmer's ELP Legacy and more
6:30 p.m. Tickets $30-$99.50*
"LAWN 4-PACK" $22.50/each
July 25
'Summer Gods Tour 2019'
Third Eye Blind and Jimmy Eat World
with Ra Ra Riot
7 p.m. Tickets $29.50-$215*
"LAWN 4-PACK" $23/each
July 26
Why Don't We
7 p.m. Tickets $30-$79.50*
July 31
Sublime with Rome
with Michael Franti and Common Kings
7 p.m. Tickets $25-$59.50*
"LAWN 4-PACK" $18.75/each
Aug. 8
Alan Jackson
with William Michael Morgan
7:30 p.m. Only VIP tickets remain.
Aug. 14
'The ALTimate Tour'
+LIVE+ and Bush
with Our Lady Peace
7 p.m. Tickets $29.50-$199*
"LAWN 4-PACK" $22.50/each
Aug. 15
'Very Hot Summer Tour'
Thomas Rhett
with Dustin Lynch, Russell Dickerson and Rhett Akins
7 p.m. Tickets $50.50-$289.50*
Aug. 20
Nelly, TLC and Flo-Rida
7 p.m. Tickets $40-$199*
"It's been amazing how many different people have been excited about that show," Crowne shares. "You don't always know what people are into with their tastes. And, literally, that show has been all walks of life -- they're just giddy about it. So it'll obviously be a really fun vibe that night. It's a multi-generational show, for sure."
Aug. 23
The Smashing Pumpkins
with Noel Gallagher's High Flying Birds and AFI
7 p.m. Tickets $35-$273*
"LAWN 4-PACK" $24.75/each
Sept. 6
Breaking Benjamin
with Chevelle, Three Days Grace, Diamante and Dorothy
5:30 p.m. Tickets $29.50-$140*
Sept. 26
'Beer Never Broke My Heart Tour'
Luke Combs
with The Cadillac Three, Jameson Rodgers and Dee Jay Silver
7 p.m. Only platinum tickets remain
"It's hard to believe that he played George's maybe two years ago or less and now he's blowing out arenas in like three minutes," Crowne says of Combs. "Last time I saw him, he was out in my parking lot playing catch with the football. He's just a real nice, down-home dude, and all of a sudden he's selling a gazillion tickets. So those are fun surprises."
Oct. 12
'Harry Potter and the Prisoner of Azkaban' In Concert
with SoNA
7 p.m. Tickets $22-$75*
Oct. 25
'The Owl Tour'
Zac Brown Band
with Lukas Nelson & Promise of the Real
7 p.m. Tickets $39.50-$257.50*
---
*plus fees
NAN What's Up on 04/14/2019
Print Headline: The Tunes Return
Sponsor Content
Comments