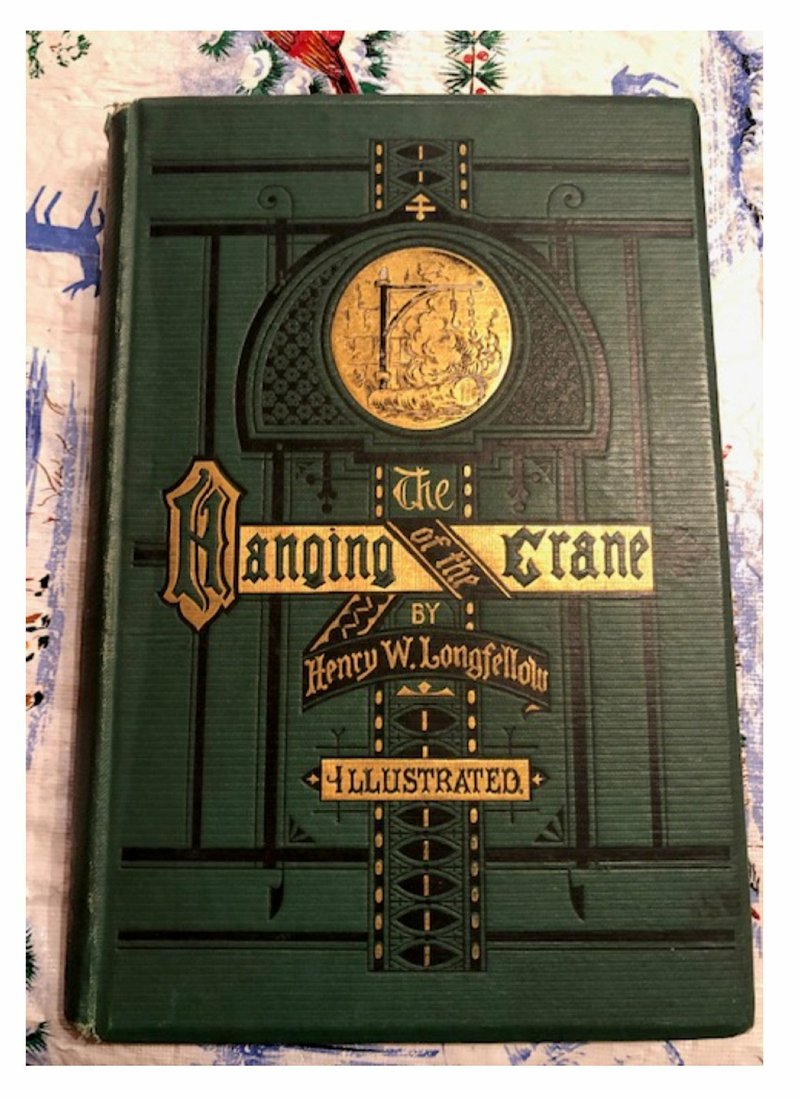 TNS Books are always valuable as purveyors of information and entertainment, but how about their monetary value?
DEAR HELAINE AND JOE: Is there any information you may have pertaining to these books?
Thank you.
— S.C.
DEAR S.C.: We have photographs of four or five books, but we are not geared to address more than one or perhaps two items at a time. With this limitation in mind, we decided to discuss the tome that appears to be the oldest and the one in the best condition. It is titled The Hanging of the Crane by Henry Wadsworth Longfellow (1807-1882).
This is not one of Longfellow's better known works such as Paul Revere's Ride, The Song of Hiawatha or Evangeline, and it is a bit too sentimental — even maudlin — for many 21st century readers.
The tale is about the installation of a fireplace crane, a sort of bracket attached to the brick wall of a fireplace from which a Dutch oven (and other household utensils such as kettles) was suspended over hot coals for the purpose of cooking or heating. The poem was supposedly based on a visit Longfellow made to a newlywed couple living on Pinckney Street in Boston.
Longfellow is said to have observed how the couple's dining room table had no leaves and was suitable for two. As the family grew, table leaves would be added, and the table and the couple's world would be expanded. But as the years passed and the children left home, the leaves would be taken out and the table shrunk until it was just the table for two once again.
The poem was first published in 1874, and the book in today's question was printed in 1875. The company that published the book was James R. Osgood and Company of Boston with a notation underneath that it was — the best we can read in the photograph — the late Ticknor and Fields and Fields, Osgood, and Company.
Osgood began his career as a clerk at the publishing firm of Ticknor and Fields but became a partner. And after a reorganization in 1868, it became Fields, Osgood, and Company. The James R. Osgood and Company itself was founded in 1871 and dissolved in 1878. For a short time, Osgood was partnered with Henry Oscar Houghton, but in 1880 when the firm became Houghton, Mifflin, Osgood refounded James R. Osgood and Company.
With its black and gold stampings against what appears to be a green ground, the book is truly lovely. But we cannot see enough of the condition of the book to judge its true retail value. However, retail prices for examples that seem to be in like condition range in price from $100 to $250. We think the book should be valued in the lower portion of the range because of the sentimental subject matter.
The other interesting piece belonging to S.C. is the Old Maids' Club, which appears to be a relatively modern play script. But the piece is in terrible condition with a lot of written notations and underlining and has little or no monetary value to serious collectors.
Helaine Fendelman and Joe Rosson have written a number of books on antiques. Do you have an item you'd like to know more about? Contact them at Joe Rosson, 2504 Seymour Ave., Knoxville, TN 37917, or email them at [email protected] If you'd like your question to be considered for their column, please include a focused high-resolution photo of the subject with your inquiry.
HomeStyle on 04/13/2019
Print Headline: Treasures
Sponsor Content
Comments