PONCA -- Autumn in Arkansas means football, fall foliage and the rutting of the elk.
Every fall, elk watchers travel to Boxley Valley, along Arkansas highways 43 and 21 in Newton County, where herds of elk shed their fear of humans and graze in the open pastures along the road at dawn and dusk.
People sit in their vehicles along the side of the road with binoculars and telephoto lenses, looking a bit like they're at a drive-in movie or drive-thru safari.
"Boxley Valley is our elk viewing area," said Wesley Wright, the elk program coordinator for the Arkansas Game and Fish Commission. "The elk are acclimated to letting people get very close to them because they are not hunted in that area."
Wright doesn't advise getting too close to them, though. It could be dangerous.
"Because they are wild animals, especially during the rut, you can't take anything for granted," he said. "Don't cross any fences. The majority of that is private land down there."
Arkansas has between 600 and 700 elk, Wright said. They're mostly in the vicinity of the Buffalo National River, which includes Boxley Valley, just south of Ponca.
The Game and Fish Commission monitors the elk herd with the cooperation of the National Park Service. Wright said between 10,000 and 15,000 people visit the commission's Ponca Elk Education Center each year.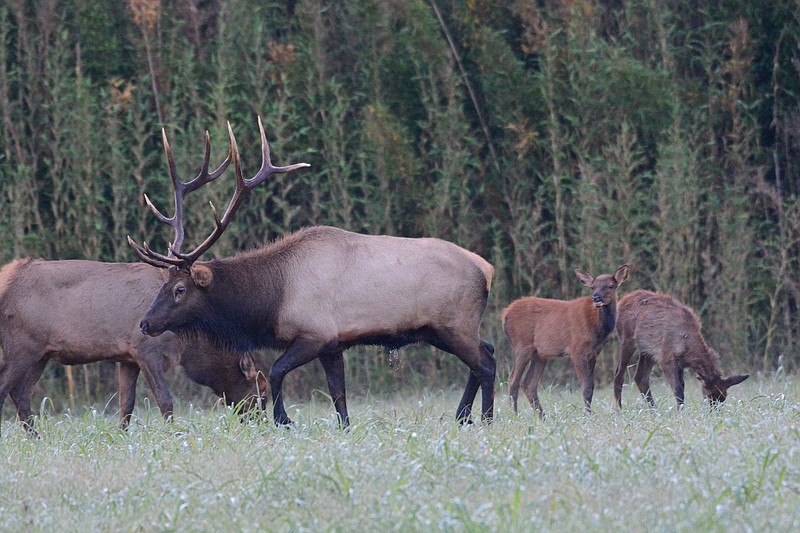 A bull elk grazes with a herd Sept. 29 2017 near the Buffalo National River at Ponca. October is a prime month to see elk grazing in meadows at sunrise and sunset along the river in the Ponca and Boxley areas. (Courtesy photo/TERRY STANFILL)
Elk can be seen in Arkansas at other times of the year, but the best viewing is in the first week of October, Wright said.
"It's pre-conception time," he said. "The bucks are really fired up. Bugling, fighting, locking antlers. The first week of October is definitely the best time to see that. They're kind of oblivious to the people even being there. You can literally drive your car right to where all this is happening."
The National Park Service urges motorists to use designated roadside parking areas to keep traffic moving along Arkansas 43 through Boxley Valley.
The elk weren't visible from the designated parking lot Saturday, but it was a short walk to a better view.
The elk were pretty active on the first day of fall.
As the fog lifted from Boxley Valley early Saturday morning, 16 elk could be seen along Arkansas 43 about a mile southwest of Ponca.
"These three are bulls," said David Simpson, 60, of Bentonville, pointing at three isolated elk. "Over in the herd, there's probably a bigger bull that's pushed these three out."
Simpson was elk watching with his father-in-law, Bobby McCoy, 86, of Newport. They've been monitoring the elk in Boxley Valley for 10 years, usually driving there twice a year to see the animals.
"When I was a kid, I used to float the river, but they didn't have elk here back then," Simpson said.
Eastern elk were native to Arkansas, according to agfc.com.
"Records indicate [the eastern elk] persisted no later than the 1840s and is now extinct," according to the commission's website.
An attempt to introduce Rocky Mountain elk in Franklin County started in 1933.
"This herd increased to an estimated 200 by the mid 1950s, then vanished," according to agfc.com. "No one knows for sure what caused the elk to disappear. Some speculate illegal hunting, natural mortality and shrinking habitat through forest growth eventually caused their demise."
Then, in 1981, the Game and Fish Commission, in cooperation with private citizens, initiated another elk restoration project. Between 1981 and 1985, 112 elk from Colorado and Nebraska were released in Newton County near the Buffalo National River.
By 1998, an elk hunting season was implemented to thin the population in Arkansas. The state has had an elk hunting season every year since then, Wright said.
"We've legally harvested over 600 elk, not counting any road kill or poaching," he said.
About a dozen Arkansas elk are killed by cars each year. Chronic wasting disease also has taken a few, Wright said.
He said people have been elk watching from the highways since the mid-1990s.
The fields along the Buffalo River are a good habitat for the elk, Wright said. There's water, good grazing and cane for cover along the river.
"There's no pressure as far as hunting," he said. "It's a perfect scenario for them to do well."
Three Springfield, Mo., residents drove down to see the elk at Boxley Valley on Saturday.
"I think they're beautiful," said Tori Bridwell, 25.
"I think it's cool that we can drive two hours and see elk," said Katelyn McCoy, also 25.
Lacy Rocole, who works at the Buffalo Outdoor Center in Ponca, directed an elk watcher to a field 4 miles away from the nearest viewing site.
"I saw a herd of 30 elk there on my way in to work this morning," she said.
Jonathan Bridwell (from left), Katelyn McCoy and Tori Bridwell, all of Springfield, Mo., watch a herd of elk in Boxley Valley on Saturday.
The other site was on Arkansas 21 South. Shortly after crossing the Buffalo River bridge, a herd of 37 elk could be seen in a field to the right, where Rocole said they'd be.
"It's seldom that we see this many in one herd," said Jim Kelley, the assistant fire chief of Eureka Springs, who was elk watching with his family early Saturday. "We've seen 25 in a herd before."
Behind a nearby barn, a couple of elk bulls appeared to be having a disagreement.
"Those two behind the barn, when they start up, it's like a National Geographic movie is going on," said Elizabeth Kelley, Jim's wife.
About 9 a.m., after being visible in the fields for more than two hours, the elk headed back into the woods.
A cold front had come through Friday, dropping the high temperatures into the 60s Saturday. A light rain fell in the morning. Elizabeth Kelley said the rain didn't seem to bother the elk, but it apparently kept some spectators away.
Wright said the elk usually "head to timber as soon as the sun gets on them."
He couldn't guarantee that elk watchers will see an elk if they make the trip to Boxley Valley in early October.
"I would say the chances are greater that they will see one than not see one," Wright said.
And where there is one, there is often an entire herd.
Metro on 09/23/2018