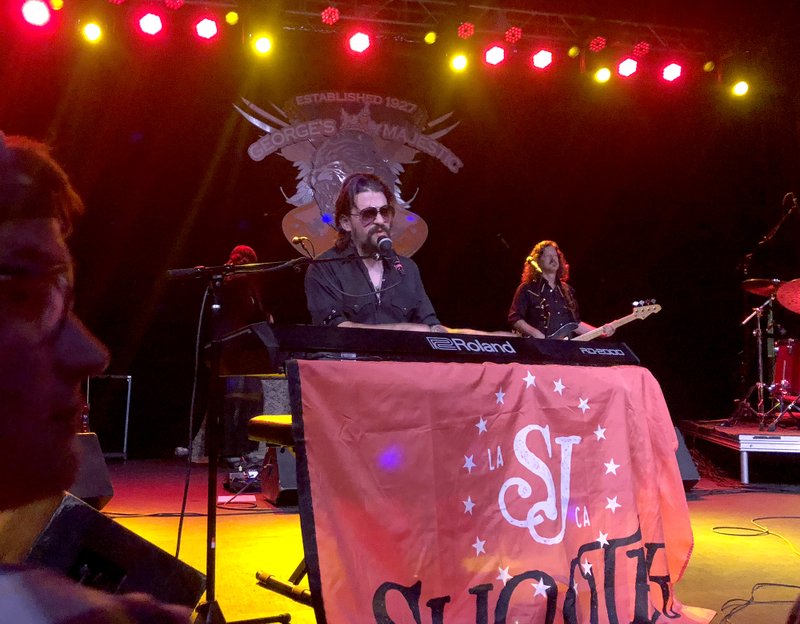 NWA Democrat-Gazette/LAURINDA JOENKS Shooter Jennings at George's Majestic Lounge in Fayetteville.
They took the floor in front of the stage -- the cowboy hipsters with their small-brim cowboy hats and grown out beards. They came to George's Majestic Lounge on Wednesday set to hear some bro-country.
Shooter Jennings disappointed.
Shooter's show ran much like his Outlaw Country satellite radio program "Electric Rodeo" -- an eclectic mix of music, from blues to jazz to progressive rock to Southern rock to electric rock to whatever. At various points in the concert, a music aficionado in the crowd -- who goes by the nom de plume, Cheesepig -- compared the music to Frank Zappa, Rush, Pink Floyd, the Moody Blues -- no doubt among Shooter's musical influences.
"He was just playing the piano, and it was really good," Cheesepig said. "He's much more of an artist than they're used to. He's very deep and soulful."
Shooter gave the hipsters a nod with a few of his older hits. Funny thing was, the wannabes didn't realize that when Shooter sang "Outlaw You," he was making fun of their ilk.
"You gotta pay the bills," Cheesepig said.
Shooter also played the hits off his latest project titled Shooter. And who can go wrong when he opens a concert with a mention of basset hounds with the rockabilly in "Bound ta Git Down"?
The show turned into a jam session. In a very psychadelic moment, with the reflections from the disco ball shining brighter, the drummer and the bass player were keeping the beat. But Shooter, his fiddle player, his guitarist -- each was doing his own thing, playing whatever he wanted. Kind of like the Grateful Dead, Cheesepig compared.
But the wannabes seemed confused. One cocked his head and swayed. Others left the floor. And one young couple tried to two-step.
They didn't even call for an encore ... WHAT????
When his dark black hair fell over his dark black aviators, a self-described Waylon Jennings girl wondered if she was seeing Shooter's legendary father reincarnated on her hometown stage.
No. She was pleased he gave no mention of Waylon, nor did he play any of his songs.
But Shooter did carry on the outlaw tradition -- playing the music his own way.
NAN What's Up on 09/15/2018
Print Headline: REVIEW: Shooter Jennings at George's Majestic Lounge
Sponsor Content
Comments