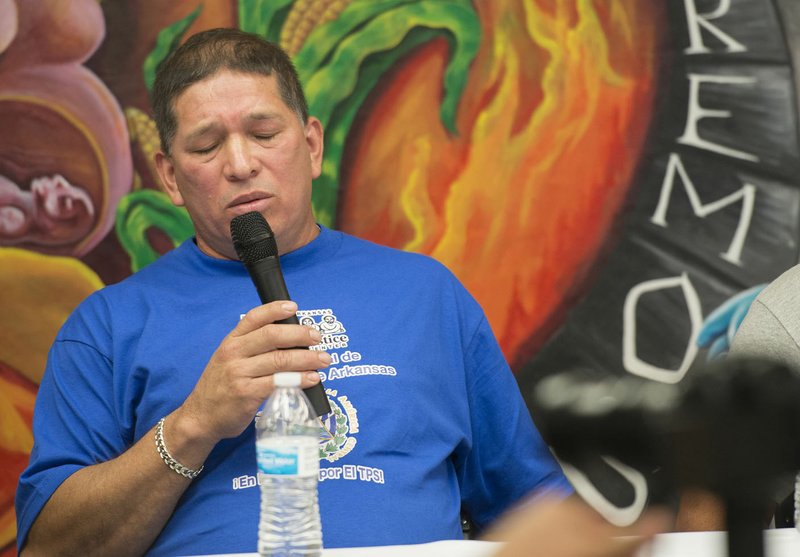 NWA Democrat-Gazette/J.T. WAMPLER Ines Antonio Careres of Springdale talks Monday about potentially losing his temporary protected status next year in spite of being the sole means of support for his four children, who range in age from 6 to 17 and are all U.S. citizens, during a press conference at the Northwest Arkansas Workers Justice Center in Springdale. The National TPS Alliance is taking a bus across the country to raise awareness for the 450,000 people in the U.S. protected by TPS.
SPRINGDALE -- Ines Antonio Caceres' oldest daughter plans to enter the University of Arkansas next fall. By then, Caceres and his wife may face deportation and the prospect of taking their three younger children, all born in the United States, with them.
Caceres joined speakers from across the U.S. at a stop in Springdale by the "Journey for Justice" national bus tour, which advocates for families like his where a parent has lost "temporary protection status." The group's Springdale stop was hosted by the Northwest Arkansas Workers Justice Center.
Caceres and his wife, Juana, married 20 years ago in Rogers and live in Springdale now. They are both originally from El Salvador. All four of the couple's children were born and raised in Northwest Arkansas. The youngest is 6 years old. Caceres came here 26 years ago with temporary protected status. Civil war ripped El Salvador at the time, and Salvadorans could come into the U.S. as a temporary measure to escape the violence under the then-new status.
The Department of Homeland Security or its predecessor organizations have conducted a review every 18 months of conditions within each of the 13 nations whose residents were granted eligibility for the status.
Yemen is the only one of those countries to have that eligibility renewed by the current administration.
El Salvador lost that eligibility in January. The status for Salvadorans will expire in September of next year. Caceres and others spoke at the news conference of the situation, which affects an estimated 2,500 Arkansans with the status, mainly Salvadorans. The 2,500 figure does not include their American-born children.
Nationwide, the loss of status affects an estimated 450,000 people directly and 270,000 of their American-born children. The 270,000 figure is more than 100 times the number separated from their parents in recent, controversial family separations at the U.S. southern boarder.
"Obviously, the program was meant to be temporary. It's in the name," said Matt Sussis of the Center for Immigration Studies in Washington, D.C., which supports the administration's decision. "It's not very temporary when people have been here 15 to 20 years."
The program should be returned to its original purpose, and those with the status who are living here should be part of a comprehensive immigration reform package, he said, while acknowledging such an immigration package has been hard to obtain.
Caceres said the problem with the lengthy stays is not that workers exploited a program. The problem is conditions in El Salvador, for instance, got worse.
"If we have to go back , my daughter in high school will not go with us," he said. "If she did, the gangs would force her to go with them." She will have turned 18 before Caceres is faced with deportation and will be able to stay on her own, he said.
Civil war evolved into anarchy in El Salvador, he said. Armed gangs are unchecked. He knows because his family still in the country, along with his wife's relatives, describe the conditions.
He said the U.S. government never offered a way for those with temporary protection status to apply for permanent residency.
"I suffered through the war," Caceres said. "I don't want to expose my kids to something like that." Every night, he said, he goes to sleep trying to think of a solution. So far, there appears to be none, he said.
NW News on 09/11/2018
Print Headline: Longtime residents face deportation
Sponsor Content
Comments