Buoyed by rising stock markets, the Arkansas Teacher Retirement System's investments increased in value by $1.22 billion last fiscal year to reach $17.3 billion, the system's investment consultant reported Friday.
The investment return of 11.6 percent in fiscal 2018 ranked among the top 1 percent of the nation's public pension systems valued at more than $1 billion, according to Chicago-based Aon Hewitt Investment Consulting. The median investment return for these public pension systems was 8.2 percent last fiscal year, according to the investment consultant. Fiscal 2018 ended June 30.
The teacher system is state government's largest retirement system with more than 100,000 working and retired members. The system uses third-party investment managers.
System Director George Hopkins said Friday that the agency's investments reaped the benefit of "several areas of out-performance."
"Generally, many equity managers performed extraordinarily well in the last fiscal year," he said in a written statement, referring to investment managers of stocks. "Private equity had solid out-performance of its benchmark also [and] direct investments were additive to overall performance."
Hopkins said Friday in an email to the system's trustees that the system also had "a strong relative performance for longer periods of time and finished in the top 1% for the last 3 years, top 1% in the last 5 years, top 2% percent for the last 10 years and top 1% since ... 1986," based on the investment consultant's report.
The system's investment return has averaged 8.8 percent over the past three years, 10.1 percent a year over the past five years, 7.6 percent a year over the past 10 years and 8.6 percent a year since April 1, 1986, according to Aon Hewitt.
"Salute to the ATRS Board for selecting world class investment consultants, investment managers, and investments that have produced top level returns over long periods of time!" said Hopkins, who has been the system's director since December 2008 and is a former Democratic state senator from Malvern.
MEETING NEXT WEEK
Next week, the legislative committee that oversees public retirement programs will meet jointly with lawmakers on the Joint Performance Review Committee to hear presentations on the retirement systems.
The release of the investment consultant's report came three days after Rep. Charlotte Douglas, R-Alma, who is a retired teacher, questioned whether the planned presentations on Tuesday and Wednesday would be biased against public retirement systems.
Those scheduled to make presentations to lawmakers next week include officials for the Pew Charitable Trusts; Bellwether Education Partners and TeacherPensions.org; the University of Arkansas Department of Education; the Reason Foundation; and the National Association of State Retirement Administrators.
Rep. Charlotte Douglas (left), R-Alma, is shown in this file photo.
"We are not going to be discussing any solutions to any problems," said Rep. Doug House, R-North Little Rock, co-chairman of the Joint Committee on Public Retirement and Social Security Programs, at the panel's meeting on Tuesday.
"It is just basically to get an understanding of where we are at with our two largest retirement systems," he told the committee Tuesday.
The Arkansas Public Employees Retirement System is state government's second-largest system with about $9 billion investments and more than 75,000 working and retired members.
But Douglas pressed House, "Is this two-day meeting going to present all sides of the problem or is it just going to be negative toward retirement systems in general?
"I'm just trying to put it out there and make sure that we have an unbiased view toward all sides," she said.
In response, House, whose wife is a retired teacher, said, "I think it is a fair presentation from all different viewpoints."
"Arkansas is about the 11th state to start looking at so-called stress testing and what happens if we have seven years of plenty followed by seven years of famine [and] what is that going to do our different retirement systems," he said.
House said officials for the teacher and public employee systems also will make presentations at these meetings.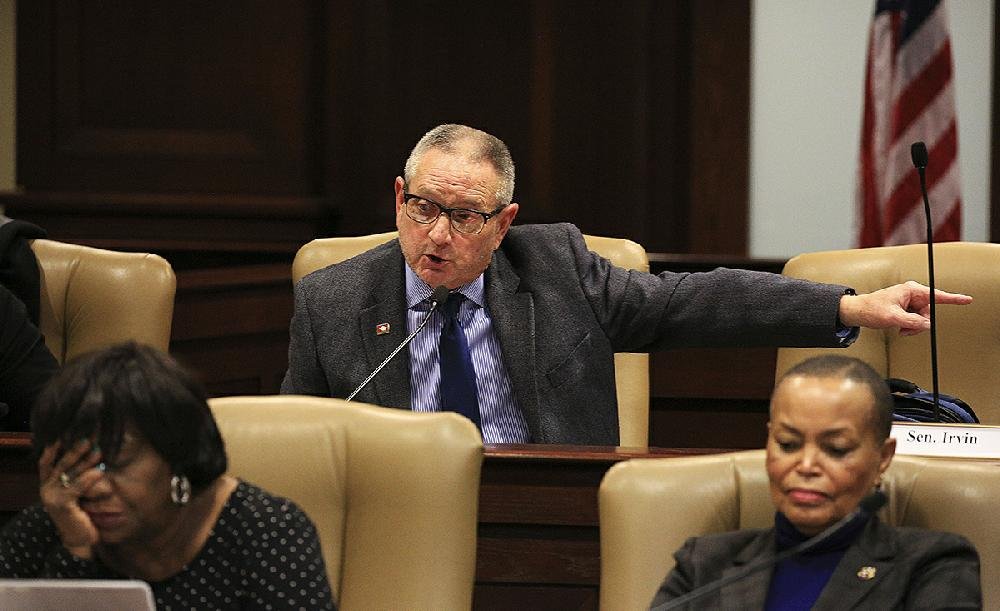 Rep. Doug House (middle), R-North Little Rock, is shown in this file photo.
Nearly two months ago, a Joint Performance Review subcommittee co-chairman, Rep. Mark Lowery, R-Maumelle, and House grilled Hopkins after Hopkins denied knowing in advance about referral fees paid to attorneys in lawsuit settlements involving the system.
In sworn testimony to the retirement and performance review committees, Hopkins repeatedly said that until a special master raised questions about a $4.1 million referral fee paid to a Texas attorney, he didn't know that the fee was part of $75 million in attorneys' fees awarded in a $300 million settlement with Boston-based State Street Corp. in a class-action lawsuit filed on behalf of the retirement system.
Lowery later called for Hopkins' resignation, saying he didn't believe Hopkins' testimony. Hopkins countered that his testimony was accurate and he declined to resign.
STOCKS, BONDS GAIN
In fiscal 2018, the Teacher Retirement System's stock market investments gained a return of 13.4 percent to reach $9.49 billion in value, while bond investments posted a return of 1.3 percent to end up at $2.57 billion, according to Aon Hewitt.
The system's private equity investments earned a return of 22.3 percent to reach $2.03 billion, while real estate investments gained 10.8 percent to end up at $1.41 billion, the consultant said.
Agricultural investments posted a 3.3 percent return to reach $195 million. Timber investments recorded a 1.2 percent return to end up at $267 million last fiscal year, according to Aon Hewitt.
The system's opportunistic alternative investments gained a return of 0.7 percent to end up at $984 million. Infrastructure investments totaled $182 million and cash totaled $179 million at the end of the fiscal year.
School districts and other employers paid $420 million into the system last fiscal year and system members contributed $137 million, Hopkins said.
As of June 30, 2017, the system included 68,337 working members with an average annual salary of $37,707 and 45,092 retired members with total retirement benefits of $1.045 billion, an average of about $23,174 a year, according to system actuary Gabriel, Roeder, Smith & Co. in its last actuarial report for the system.
Gabriel said the system's unfunded liabilities totaled $4.1 billion with a projected payoff period of 29 years as of June 30, 2017. Unfunded liabilities are the amount by which the system's liabilities exceed its assets. Actuaries often compare unfunded liabilities to a mortgage on a home.
Last December, Gabriel officials said the system's projected payoff period for unfunded liabilities remained largely the same as the June 2017 projection because the trustees approved about a dozen measures aimed at cutting costs and raising more money in the next five years. Those changes were made to help make up for cutting the system's projected annual investment return from 8 percent to 7.5 percent -- which actuaries called reasonable and system officials deemed conservative -- and approving new mortality tables that project system members will live longer than previously expected.
Hopkins said Friday that he expects the investment performance will reduce the system's unfunded liabilities and reduce its projected payoff period to below the current 29 years.
A Section on 09/08/2018