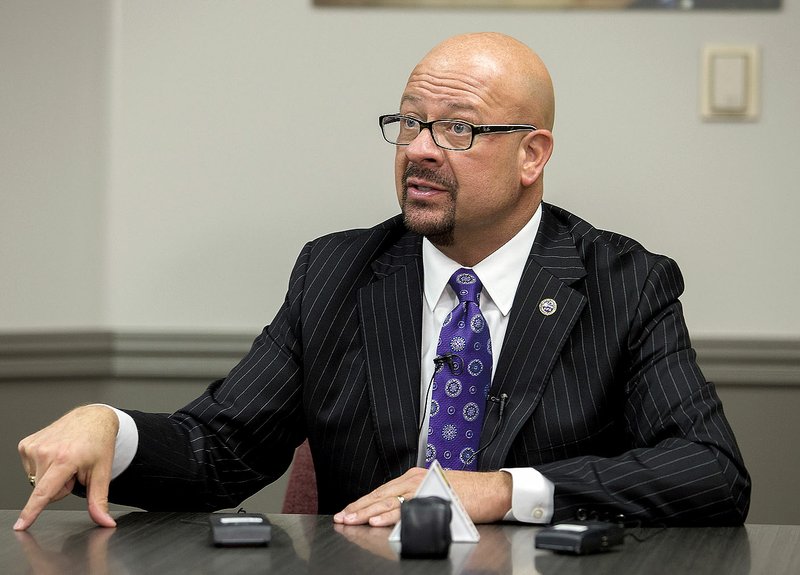 File Photo/NWA Democrat-Gazette Matthew Wendt, former Fayetteville Public Schools superintendent, speaks in March 2017, at the administration building in Fayetteville.
FAYETTEVILLE -- A lawsuit filed by former Superintendent Matthew Wendt claiming the woman who accused him of sexual harassment is responsible for the Fayetteville School Board firing him should be dismissed, according to a motion filed Friday.
Wendt filed the lawsuit in early August against Shae Lynn Newman in Washington County Circuit Court.
The lawsuit seeks not less than $850,000 in damages from Newman, claiming she intentionally and improperly interfered with the business expectancy between Wendt and his employer and her actions led to his termination.
In addition, Wendt's lawsuit contends he can no longer get a job as a school administrator. Wendt said he has had more than 65 employment rejections since he was fired, including one for a car salesman.
Newman's motion to dismiss, filed by her attorney, Suzanne Clark, argues Wendt fails to state a valid claim.
"The former superintendent of the Fayetteville Public Schools, Matthew Wendt, filed his complaint to harass and intimidate the defendant. His claim against her is entirely without merit and should be dismissed," according to the motion. "Wendt's intention in filing his complaint was to disclose the defendant's identity and make public assertions he apparently believes exonerate his repugnant and abusive conduct toward Ms. Newman."
The motion claims Wendt sued Newman because she reported his behavior to school officials.
"Wendt laments his lack of employment and faults Ms. Newman for that status. If Wendt wants someone to blame for being out of a job and 'damaged in the marketplace,' he should look in the mirror," according to the motion. "His ongoing efforts to intimidate and harass the defendant in this case is an abuse of process and further demonstrates his complete lack of character."
The motion says because Newman is an employee of the school district, that defeats Wendt's claim for tortuous interference with a contract, according to the motion. Wendt fails to assert sufficient facts to demonstrate Newman's conduct was improper or that his termination was specifically caused by her actions rather than his own conduct, the motion says.
An investigation by school officials completed in March found there was no basis for a sexual harassment claim and no action should be taken against Wendt, according to his lawsuit.
Newman's lawyer went on the offensive after that finding and made confidential information available to the public and media, identifying Wendt while concealing Newman's identity, according to the lawsuit. Newman's lawyer put pressure on the school board to fire Wendt, according to his lawsuit.
Wendt contends material provided to the press and public were engineered to present a completely inaccurate and false picture of the relationship.
The only objective and purpose of Newman and her attorney's actions was to ruin Wendt's career and reputation, according to his lawsuit.
Clark filed the sexual harassment claim with the school district March 14. She presented Chris Lawson, district general counsel, with voice recordings of Wendt and copies of text messages between Newman and Wendt supporting her client's complaint, Clark said in a news release.
Clark filed a complaint May 25 with the Equal Employment Opportunity Commission against the school district and School Board. The complaint to the commission details Wendt's abusive conduct after Newman refused to continue to have sex with him, according to a news release by Clark.
Newman complained Wendt stalked her, sent her numerous text messages while she was at home and at work and told her she could be fired for her actions, according to the release.
The board unanimously voted to terminate Wendt's contract June 18.
The board cited a breach of contract by violating district policy. Wendt violated the policy through his derogatory and offensive conduct and communication with a female subordinate employee, according to Susan Kendall, a lawyer with the Kendall Law Firm in Rogers and the School Board's legal counsel.
State Desk on 09/08/2018
Print Headline: Filing seeks dismissal of ex-school chief's suit
Sponsor Content
Comments