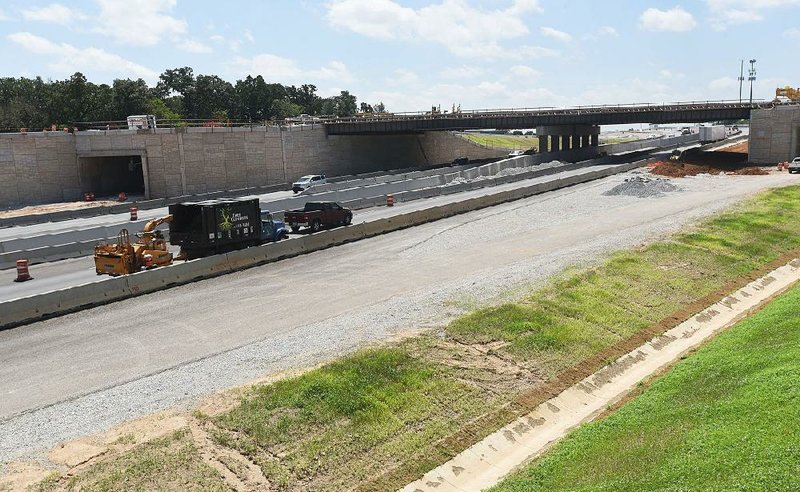 Traffic moves through a work zone last week on Interstate 49 in Bentonville near Northwest Arkansas Community College. - Photo by Flip Putthoff
FAYETTEVILLE -- Highway construction along Interstate 49 is humming in Northwest Arkansas.
The I-49 corridor has 17 projects, including interchange improvements and widening, either completed, in progress or planned, Arkansas Department of Transportation engineers recently told regional planners.
All the work is expected to be completed or underway in the next five years.
The engineers recently updated regional planners on the progress of work along the I-49 corridor from south of Fayetteville to the Missouri state line.
Mitchell Archer, construction engineer, said stretches of the interstate have been widened to six lanes and are open now, except near a couple of interchanges in Bentonville. "The two jobs that we have active right now are the Eighth Street project and the additional two lanes of the Bella Vista Bypass" in Bentonville, he said.
Archer said the Eighth Street interchange project is expected to be complete by December. The project includes using what are called braided ramps because of the proximity of two exits, and there will be tunnels under the Eighth Street bridge for the ramps.
Archer said the tunnels are necessary because the two interchanges are close together, and "that's the only way it could be done without having traffic conflict between the ramps. We've been going for about two years on that project."
Down the road at Exit 85, contractors are ready to start work on the state's first single-point urban interchange, he said. The interchange provides access to Walton Boulevard in Bentonville and Walnut Street in Rogers.
"Basically there's one traffic light underneath the I-49 bridges in this design, and it controls all of the action from U.S. 71 to I-49 and vice versa," said Danny Straessle, a spokesman for the Arkansas Department of Transportation.
"There are still some conflicts below on Highway 71 with utilities and right of way," Archer said. "The I-49 work will have to be done first, and, once it's open to six lanes, then we can work on the part underneath."
The plan for the interchange initially was to use a diverging diamond, but it was changed to a single-point urban interchange because Bentonville and Rogers officials didn't like the original design, Archer said. That delayed the projects.
The interchange consists of two 185-foot bridges that have to be demolished and replaced because there isn't room between the piers for that type of interchange, he said.
"We're gonna have to span that all in one span," Archer explained. "When you go to longer spans, you've got to get taller, so we're gonna get a lot taller and that pushes our footprint out because we've got to raise everything up about 5 feet. What we're gonna have is one 237-foot, single span bridge."
Farther south, Bashar Qedan, resident engineer for the Transportation Department's District 4, which includes Fayetteville, said several significant projects are lined up for the next few years, but most of the projects in Washington County are done.
"We finished the big interchange in northwest Fayetteville earlier this year and from Porter Road to the Highway 112 interchange," Qedan said.
He said some minor corrective work was required, including adding arrows to I-49 south on an overhead sign and shields on the pavement, pointing to I-49, Arkansas 112 and U.S. 71.
"We are hoping within a month or six weeks we will be out of there," he said.
Remaining jobs include replacing the interchange at Martin Luther King Jr. Boulevard -- not far from the University of Arkansas, Fayetteville campus -- with a single-point urban interchange in 2022.
Farther north, replacing the Wedington Drive interchange has been pushed back to next year, Qedan said because it "is going to involve replacing the entire bridge with an eight-lane bridge."
There are plans to redo and add signs, including overhead signs, along I-49 from Alma to Bella Vista starting in September.
Closer to Missouri, work continues on the Arkansas side of the Bella Vista Bypass while Missouri works to find the money for the project on its side, Archer said.
"We've completed three projects, 12 miles. We have the other two lanes under construction right now. We're very early in that project. We're about 14 [percent] or 15 percent done," Archer said.
"There's a lot of structure work going on, some of the preliminary earthwork is going on," he said. Two sections of the project are still scheduled but "basically we're waiting on Missouri."
Archer said a stretch of the U.S. 412 Northern Bypass, from I-49 to Arkansas 112, was substantially complete in May.
Work is ongoing to extend Arkansas 265 north into downtown Rogers, Qedan and Archer said. "We are working on the portion from Arkansas 264 north into the city of Rogers," he said. "We hope to have it open this year."
Qedan said the part of Arkansas 265 stretching south from Arkansas 264 will probably be complete by March. The job is unique because it involves relocating utility lines and some lane shifts to accommodate the work, he said.
Qedan said a few smaller projects in the district will include sealing Arkansas 16 from the Benton County line to Lake Wedington and rehabilitating a bridge over the Illinois River. Chip and seal was applied to Arkansas 220 north out of Devil's Den State Park.
Archer said safety projects continue on 14 miles of Arkansas 12 from Rogers through Hobbs State Park. Much of the work involves applying a high-friction surface treatment on the dangerous curves.
"It is basically like a piece of sandpaper. It's a fine aggregate that sticks in epoxy," Archer said. "It resists water, it does really good in wet conditions, it's a proven method of preventing wet surface crashes."
Metro on 09/02/2018
Print Headline: Engineers along I-49 focusing on big projects
Sponsor Content
Comments