Black Oak, Arkansas, didn't always embrace Black Oak Arkansas.
Especially in the 1970s, at the height of the rock band's popularity.
"We were a pariah, a negative thing to the town back then," Black Oak Arkansas guitarist Rickie Lee Reynolds said of the Craighead County town for which the band was named.
He remembers when Black Oak gave them a Styrofoam key to the city.
"They didn't turn their back on us," Reynolds said. "They just didn't wrap their arms around us and hug us."
But things have changed in Black Oak.
The town is working on a museum. Besides antiques and old photographs, the museum will feature memorabilia from the band Black Oak Arkansas and author John Grisham, who spent part of his childhood in Black Oak.
"We're proud of them," said Black Oak Mayor Eddie Dunigan.
It was the older generation that didn't care for the band in the 1970s, he said.
Fans were always stealing the Black Oak city-limit signs, even when the bolts were welded onto the nuts, Dunigan said.
And frontman James "Jim Dandy" Mangrum didn't exactly look like a respectable small-town Arkansas boy.
"The showman that Jim is, coming out on stage without a shirt and tight pants, they didn't think that reflected the image of the town very well," Dunigan said.
The mayor plans to give his grandfather's mule-drawn plow to the museum, but he suspects people won't be driving from New York City to see his grandpa's plow.
"It means a lot to me, but maybe not to someone else," Dunigan said. "They'll be coming here to see Black Oak Arkansas or John Grisham stuff, not this old plow."
Black Oak had a school in 1887, but the town wasn't incorporated until 1923, after timber was cleared and the swamps drained, according to the The Encyclopedia of Arkansas History & Culture.
People came from all over at cotton-picking time, Dunigan said. The sidewalks of Black Oak were so crowded that you had to walk in the street, he said.
But machines took those jobs. From 1950 to 1980, the area's population dropped by about 90 percent, Dunigan said.
While other towns in the area have recovered, Black Oak has not, the mayor said.
Situated 17 miles east of Jonesboro, Black Oak had a population of 262 in 2010. That's down from 329 in 1940.
In 1971, the band's eponymous album Black Oak Arkansas was released on Atco, a subsidiary of Atlantic Records. It introduced Black Oak Arkansas to the world and put the tiny town on the map. In fact, Black Oak was circled on a map of Arkansas on the album's cover.
Black Oak Arkansas charted 10 albums in the 1970s and had a Top 40 hit with a " fiery version" of LaVern Baker's song "Jim Dandy," according to the Encyclopedia.
"The band toured extensively from 1972 to 1977 and became known for its high-energy shows and Mangrum's overt sexuality," according to the article. "In those years, the band was one of the highest grossing live acts in the United States."
And Grisham?
He attended school at Black Oak as a first-grader, according to the Encyclopedia. One of America's best-selling novelists, Grisham's 2001 book A Painted House is set on a farm near Black Oak.
Wanda Carroll gave Black Oak a building for the museum. It once housed Otto Chrisco Cash Mercantile, Dunigan said.
The mayor said he has received so many donated items for the museum that they've run out of room in the building, so Carroll has decided to give them the building next door for the band and Grisham materials.
Dunigan said a hole will be knocked in the wall to make a passage between the two buildings.
Most likely, it will be called the Black Oak Museum. Dunigan hopes the museum will be open in a year.
Black Oak Arkansas did a jubilant song of hoots, hollers and ringing guitar riffs called "When Electricity Came to Arkansas."
Dunigan is similarly enthusiastic about the impending arrival of sewer service to Black Oak. That, too, should happen in about a year, thanks primarily to a $1.9 million federal grant. Not having a city sewer system has hampered Black Oak's growth, he said.
Black Oak has gotten a $15,000 grant for the museum through the Arkansas Department of Rural Services. It requires a $15,000 match from the city, Dunigan said.
With free buildings, donated items and a grant, Dunigan said the museum is well on the way.
Black Oak Arkansas is still rocking, but only rolling with two of the original members -- Mangrum, 70, and Reynolds, 69, both of whom live in Memphis.
While Mangrum was from Black Oak and the band formed in Black Oak, Reynolds was from the Monette area, and other original members of the band were from as far as Memphis.
Reynolds said Black Oak Arkansas will have a new CD coming out soon. It will be called Underdog Heroes.
Reynolds said he and Mangrum met in junior high school and started playing music in 1964 in a cotton gin at Black Oak.
Band members originally called themselves The Knowbody Else. Reynolds said they had the longest hair in Arkansas and nobody else looked like them.
Then they went to California and realized they looked like everybody else out there.
A subsidiary of Stax Records in Memphis cut the first Knowbody Else album in 1969, according to Discogs.com, which lists the album as psychedelic/country rock.
Reynolds said his band mates always called him "the keeper" because he didn't throw things away. He's still got a poster from when Bruce Springsteen opened for Black Oak Arkansas at Kent State University in 1974.
Reynolds said he has all sorts of stuff that could be interesting for a museum display, including guitars, stage clothes, photos and washboards that Mangrum played.
Initially, Reynolds said he'll lend things to the museum. After he's gone, his kids can decide whether to give the items to the museum.
When the band began making a lot of money, Black Oak Arkansas started giving it away because the members didn't want President Richard Nixon to get it through taxes and spend it on the Vietnam War, Reynolds said.
They gave about $2 million to charities, mostly in Arkansas, said Reynolds. Often, the donations were made anonymously, he said.
Reynolds said they never forgot their Black Oak roots.
"We have kinfok and friends and stuff who have been there for half a century," he said. "We always have affection for that kind of thing."
The band members always treated everyone in Black Oak like close friends, Dunigan said.
"Even when they were on the top of their game, they know you and talked to you like you were their old high school buddy," he said. "They've always maintained that. That's what makes them so great."
Black Oak may not have embraced the band 50 years ago, "but that didn't stop us from embracing them," Reynolds said.
With the Atco record deal and success on the horizon, the band renamed itself after the town where it all started.
"We didn't name the band after just the people in the town," Reynolds said. "We named the band after the town. No matter who you are or what you do, there's a certain point in life when you are at the pivot point from what you were to what you are.
"The city of Black Oak was a pivoting point for us. Whether they liked us or not, that was the pivot in our history."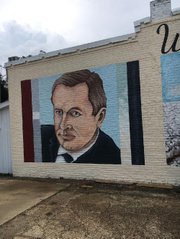 SundayMonday on 09/02/2018