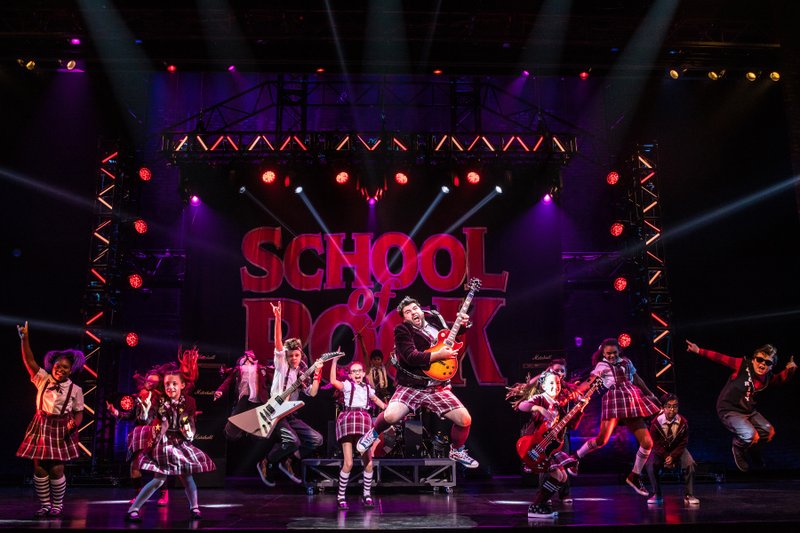 Courtesy photo There are four more chances to catch the first national tour of Andrew Lloyd Webber's "School of Rock" at the Walton Arts Center in Fayetteville through Oct. 28.
"School of Rock" is a fun show. It's rocking, yes, but hopefully that goes without saying. Fun, funny, impressive and moving, though, should certainly be said.
When deadbeat wanna-be rockstar Dewey weasels his way into posing as a substitute teacher at a prestigious prep school, the obviously unqualified guitarist discovers the kids are musically gifted. Having just been booted from his own band, Dewey (Merritt David Janes) devises a plan to enter a battle of the bands competition with the kids backing him. He wants to get revenge on his former band and win the prize money. Based on the 2003 movie of the same name starring Jack Black, the stage adaptation is full of new music from theater legend Andrew Lloyd Webber -- "You're in the Band" and "Stick It to the Man" being two of the most fun -- and features a cast of kids who are all actually playing their instruments. And I've got to say, these kids are seriously special.
FAQ
'School of Rock'
WHEN — 8 p.m. Oct. 26; 2 & 8 p.m. Oct. 27; 2 p.m. Oct. 28
WHERE — Walton Arts Center in Fayetteville
COST — $38-$77
INFO — 443-5600, waltonartscenter.org
Sure, some of the humor and the back-and-forth between Dewey and the class is over-acted, but with plenty of kids in Tuesday's opening night audience, the humor felt right. Janes makes the goofy Dewey his own, while also very clearly channeling Jack Black in a few moments -- and both sides of the character were equally funny. The kids -- Mystic Inscho as guitar-shredding Zack, and Grier Burke as the timid but talented Tomika, in particular -- were completely engaging as we watch the cheek they give Dewey in the classroom, the confidence that getting into music brings them and the struggles they have at home getting their parents to pay attention. I wasn't in the least expecting to tear up at this show, but my eyes were unexpectedly watery at one point -- when a few of the kids were ignored or put down by their parents when trying to talk to them during the tune "If Only You Would Listen."
Mostly though, it was all smiles throughout. The characters come out better on the other side of their struggles, the parents end up more accepting of their kids' dreams and the audience gets to watch some immensely talented young people share their gifts for an hour and a half. Some of the lyrics here and there were hard to make out -- both from Dewey and the kids -- but in most cases I noticed, it was easy to get the gist of the song and the missed lyrics didn't seem to matter so much.
But I was disappointed in the curse words in the script. Maybe I'm a little more old-fashioned than I realized. And maybe it doesn't bother parents nowadays because curse words everywhere in the world where we live. But being very aware of how many children were in the audience around me, and seeing a large group of 10- to 13-year-olds up on the stage, the couple of B-words, the couple of S-words and the GD that rang out across the theater honestly made me uncomfortable. If your little one hearing a handful of curse words doesn't bother you, though, this is one show where kids can truly see themselves represented on stage: in characters who are shy and lonely and smart and determined and unique and trying their best to figure out who they are -- all while getting to be actual fully formed characters that drive the narrative forward.
NAN What's Up on 10/26/2018
The story was updated to the correct guitar-shredder.
Print Headline: REVIEW: 'School of Rock'
Sponsor Content
Comments