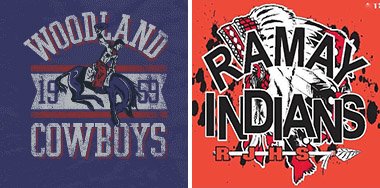 Logos for Woodland Junior High School (left) and Ramay Junior High School.
FAYETTEVILLE -- The days of playing as cowboys and indians may be coming to an end for Fayetteville's junior high students.
The School Board voted unanimously Thursday to appoint a committee to review and make a recommendation to the School District regarding the mascots at Woodland and Ramay junior high schools.
National Movement
More than two-thirds of American Indian mascots at K-12 schools across the country have been retired since the 1970s, according to a report by the Colorado Governor's Commission to Study American Indian Representations in Public Schools.
Source: Staff Report
Ramay students have been known as Indians and Woodland students have been Cowboys since both schools opened more than 50 years ago.
Recently, however, numerous people -- including students, parents and district employees -- have expressed concern about those mascots, said Justin Eichmann, board president. He noted the district's mission statement calls on the schools to maintain an "inclusive and safe environment" for students.
"The discussion we've had is that having human representation mascots and imagery does not create that inclusive environment for every child and sometimes can create a hostile environment," Eichmann said.
It was a student who initially brought up a concern about the mascots, said Superintendent John L Colbert. He added the district wants to ensure students don't feel "threatened or embarrassed" by certain aspects of their school's mascot.
A timeline for the committee's work and exactly who will participate in it wasn't discussed Thursday.
"It won't happen overnight. It's a process," Colbert said.
Eichmann said he doesn't expect the board to play a role in choosing mascots for any school. That choice should be left to those at the schools, he said.
Bob Maranto, a board member, said examining the mascot issue makes sense, adding when the mascots were chosen more than 50 years ago, it wasn't meant to be disrespectful.
"But times change, sensibilities change, our interpretation of symbols change, and we have to acknowledge that and make adjustments," Maranto said.
Board member Megan Hurley cited a 2016 study commissioned by Colorado looking at the use of American Indian mascots in schools. The commission recommended communities eliminate American Indian mascots unless they partner with tribes.
Hurley said she believes the district's achievement gap won't close "without making sure our kids feel like they belong and their schools are their schools."
Also at Thursday's meeting, Colbert presented a plan to bring Head Start back to the campus of the Agee Lierly Life Preparation Service Center starting next August.
The Economic Opportunity Agency, which runs Head Start, used to lease space on the center's campus for Head Start. Both the district and the agency wish to see Head Start return to the campus, Colbert said.
The agency operates a Head Start location on Wood Avenue, on the east side of town. The center's campus will establish a Head Start site for families closer to the west side and will accommodate 40 additional students, Colbert said.
The district and the agency have agreed to share the cost of any renovations necessary at the center to make the classrooms suitable for Head Start. Those renovations will be minor, Colbert said.
The board likely will vote on the matter at its meeting next month.
NW News on 10/26/2018
Print Headline: Fayetteville committee will tackle mascot issue
Sponsor Content
Comments