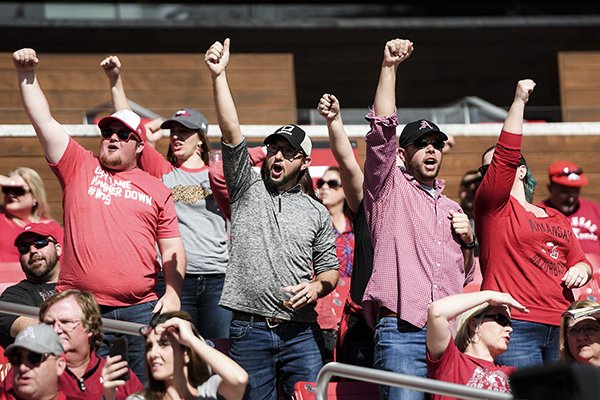 Arkansas Razorbacks fans call the hogs during the fourth quarter of a football game, Saturday, October 20, 2018 at Donald W. Reynolds Razorback Stadium in Fayetteville. - Photo by Charlie Kaijo
The great stadium debate is finished. Done. Complete.
Apparently a skirmish broke out on social media about attendance after the University of Arkansas' 23-0 win over Tulsa in Fayetteville on Saturday.
Scanned tickets for the Razorbacks' second win were a little more than 40,000. Admittedly, in a stadium with a capacity of 75,000, it didn't look great.
So some brought up the fact that the attendance was 51,438 for the Ole Miss game in War Memorial Stadium in Little Rock the weekend before. That was not the number of brave bodies weathering horrible weather to cheer for their Hogs. It was probably a little more than 40,000.
War Memorial Stadium is not equipped with ticket scanners -- and probably won't be for one game every other year -- so the tickets distributed were the official attendance, just like the official attendance for Saturday's 11 a.m. kickoff was 56,691. That's how many tickets were distributed.
Seriously, it is time to stop arguing about the Razorbacks playing in central Arkansas.
It is good for them and for the school, but their home is the newly renovated Reynolds Razorback Stadium. Once every two years, at least for now, their home-away-from-home is War Memorial.
No one has supported WMS more than yours truly. There are tons of memories in the grand old lady starting as a kid with a transistor radio sitting on his bike outside the stadium and relishing the rush of the loud crowd. That advanced to sneaking in and standing in the exits to get a peek.
Thousands and thousands of people in Arkansas have fond memories, but the stadium is 70 years old and needs updates -- according to one study, about $17 million worth.
That should not happen for five Razorback games every 10 years. That's a lot of tax dollars, and truthfully it is not in the budget for the Arkansas Department of Parks and Tourism, and it won't be.
Some money is going to be squeezed out for some renovations and probably new turf -- although the turf is not what caused Ty Storey's concussion; that was all the Ole Miss Rebels -- and other minor things.
The seats are not going to be enlarged or leg room added. It will mostly be things that will make the teams more comfortable. Plus, the SEC may make unreasonable demands about the size and shape of stadiums, but the final say in that will be with the chancellors and presidents.
When the Razorbacks started playing in Little Rock -- and no doubt between that and Orville Henry's heralded coverage, they became the state's team -- Razorback Stadium didn't have lights, was smaller and there weren't many hotels.
Part of the thrill of attending a game in Little Rock was the shopping and the food, but in case you haven't been to Northwest Arkansas lately, it is a mecca of shopping, great food and nice hotels -- and not just in Fayetteville. If you haven't experienced the Bentonville town square, put it on your list of things to do.
What needs to happen is the Razorback fans unite and support their team regardless of where they are playing.
Yes, it has been a tough spell of barely being competitive in the past seven years, and fans have a right to be unhappy, but the home fields didn't make the Hogs 2-6 this season or 4-8 last season.
The real issues are being attended to by Chad Morris and his staff as they work 24-7 on coaching and recruiting. The only legal way the fans can help is show up at 11 a.m. Saturday in Fayetteville for the Vanderbilt game and do what they do best, call the Hogs.
Sports on 10/23/2018
Print Headline: Attendance misleading in stadium debate
Sponsor Content
Comments