Rodger Bumpass wants it to be known that Rodger Bumpass is not his stage name. And he has not died twice.
Don't recognize the name Rodger Bumpass? He's the voice of Squidward Q. Tentacles on the long-running animated Nickelodeon series SpongeBob SquarePants.
"Now who in the world would change his name to Bumpass? Maybe if your name is like John D. Morning Breath, Bumpass ain't so bad," he says.
Bumpass is a 1970 graduate of Little Rock Central High School and a 1976 graduate of Arkansas State University at Jonesboro.
As Mark Twain famously said, reports of Bumpass' death have been greatly exaggerated. But two other Rodger (or Roger) Bumpasses have died. And both of those deaths were attributed to Squidward's Bumpass.
First, a man in Nova Scotia died while Bumpass was on a plane headed to a comic convention and IMBD.com reported the voice of Squidward had died. The organizer of the convention called the airline to find out whether Bumpass was on board.
"I said 'Did you ask the airline if I was in the cabin or the cargo hold,'" he says.
Two months later, a man with the same name died in San Diego. A television station in Jonesboro picked up the story.
"I called them and tried to explain logically that because I am talking to you, I'm not dead and they ran a retraction and then they sent me the videos of both news stories which is very surreal. No one gets that window of people saying what they will actually say when they think you are truly dead," Bumpass says. "I was very touched."
When he actually does die, the 67-year-old says "No one will believe it. Will you look at that? Rodger Bumpass died again. Who knew he was a cat?"
Bumpass grew up on Riverview Drive overlooking the Cantrell Road viaduct. His parents, Virginia and Carroll, owned Bumpass Cleaners and Dryers. He had a brother, Leonard, who died in 1992. His sister Cathey died at birth.
KTHV anchor Craig O'Neill — which is the stage name of Randy Hankins — was in Bumpass' class at Central High. Bumpass says his old friend was a lot better at being a ham than he was. "I still think he is funnier than I am."
Bumpass was voted wittiest, senior class favorite and home room president by his classmates at Central. O'Neill and Bumpass also attended ASU at the same time.
"Going back to our days at Central and ASU I remember that Rodger was never a comedian that was always 'on,'" O'Neill says. "He was restrained and bided his time until he entered the spotlight and then it was electric. He will never know how many bits I stole from him!"
In Jonesboro, Bumpass was hired at KAIT-TV and worked as an announcer, film processor, audio technician and technical director. He also hosted his own late-night comedy program Mid-Century Nonsense Festival Featuring Kumquat Theater.
"Voice work is acting with two hands tied behind your back and two legs tied behind your back and a sack over your head because all you have is the voice."
After cobbling together $700, he left Jonesboro for New York in 1977 to pursue an acting career. After a couple of months of standing in front of Woolworth doing rug cleaner demonstrations, he landed a spot in National Lampoon's music and comedy show That's Not Funny, That's Sick.
Bumpass got the part, he thinks, because he was very familiar with material in National Lampoon: Lemmings, a stage show that helped launch the careers of John Belushi and Chevy Chase. A lot of the material in That's Not Funny, That's Sick came from Lemmings.
After receiving good reviews, Bumpass was offered a part in a movie — Jaws 3, People 0. But Jaws director Steven Spielberg put the kibosh on it. Around that time, Universal Studios had released Animal House, a huge success, and was looking for another movie. It decided to do a comedy about a movie studio making a shark movie.
Spielberg objected, contending the spoof was going to ruin the fantasy of Jaws. "He said 'You guys either cancel that movie or I'm walking' and what do you think they did," Bumpass says.
Bo Derek, who had just appeared on the big screen in 10, was also cast in Jaws 3, People 0.
"The true tragedy of that story was, according to the script, I had a comedic love scene with Bo Derek. I was doubly crushed about this whole thing," Bumpass says.
But he says he did "dodge a bullet on this one" because "the funniest thing about the whole thing was the title."
Bumpass, who had moved to Los Angeles, found an agent and won parts in movies like Escape From New York and TV shows like Hart to Hart. He also found himself in demand for his voice work in animated films like Heavy Metal, Hercules, A Bug's Life and Tarzan.
BICKERING IN BIKINI BOTTOM
In 1999, he won the role of Squidward in SpongeBob SquarePants. The show about the undersea world of Bikini Bottom in the Pacific Ocean became a Nickelodeon TV hit with kids and adults.
Squidward is the surly, sarcastic, miserable cashier at the Krusty Krab.
"He's underappreciated, underpaid and underwater," Bumpass says of his character. "He's a frustrated artist."
"People overthink this way too much about the psychological dynamics of Squidward and his wish for death. … Literally he is between two morons that are annoying as all get out. … Except for small moments of drinking tea and having canned bread and doing interpretative dance, life is just a big frustration for Squidward."
In 2004, The SpongeBob SquarePants Movie was released, followed by The Sponge-Bob Movie: Sponge Out of Water in 2015. A third movie is in the works for 2019.
The SpongeBob cast gets together from 10 a.m. to 2 p.m. on Wednesdays to create two 11-minute cartoons. Yes. He works four hours a week. "I know, nice gig," he says.
At least once a show, Squid-ward screams. "Once they learned I could scream, they make me scream every show. They get their money's worth."
The cast does the script twice — just like the directors want it done. It's all family-friendly until they do a "crazy take."
"We can do any darn thing we want to do, off-color or whatever. It's just for our own amusement and they always record it. Somewhere there's a reel of stuff that is so blue, but a lot of times our improvisations make it into the show."
In 2012, Bumpass was nominated for an Emmy for outstanding performer in an animated program. He lost to June Foray of The Garfield Show.
"It kills me when someone says 'Oh, you do voice work. Do you ever do any acting?' Voice work is acting with two hands tied behind your back and two legs tied behind your back and a sack over your head because all you have is the voice," he says.
He says he was starstruck when Ernest Borgnine (Mermaid Man) and Tim Conway (Barnacle Boy) appeared on the show. He said they were both very nice and a "delight to work with." Not so much with William Shatner. "You learn you don't go and chat up William Shatner."
Tom Kenny, the voice actor who plays the part of Sponge-Bob SquarePants, says Bumpass is "devastatingly funny and just right in the pocket all of the time."
"He is the master of hilarious. And you should hear his off-color comments in Squid-ward's voice as soon as the mic is turned off."
Kenny called Bumpass a "true craftsman" and a student of the great voice actors of the past. His says Bumpass' Squid-ward interpretation is a "great mishmash " of W.C. Fields and Jack Benny with a bit of the Three Stooges, Laurel and Hardy and the Marx Brothers thrown in.
"Rodger has all of that in him. He's encyclopedic. … Rodger is an amazing person and he's one of those guys who's got a pretty deep history that you only kind of find out over the years."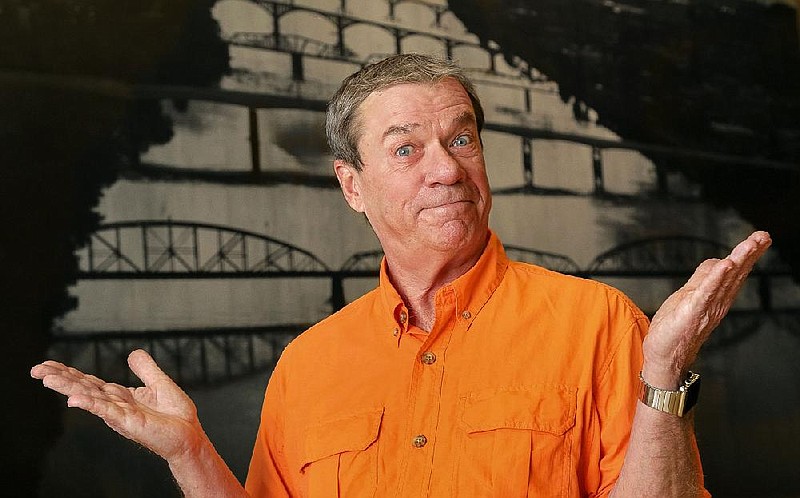 "I went to the checkout one day and this young guy noticed all of this stuff and he said 'Well, someone likes SpongeBob' and I said 'Yeah, I kind of work on that show' and he said 'Well, can you do the voice?' and I did the voice for him and he says 'Yeah, that was pretty good.'" - Rodger Bumpass
THE SPONGEBOB MUSEUM
Bumpass claims he has the world's biggest collection of SpongeBob merchandise, adding he just knows he is going to get into the Guinness Book of World Records. Asked to prove it, a couple of weeks after this interview he sent photos of rooms in his Burbank home filled with SpongeBob stuff.
"It has taken over the house. I had to have special rooms built just to house it. I think I am going to open it up to the public sometime."
He's paid for every item and has "tens of thousands of pieces" including a SpongeBob toilet training kit. He likes to search the aisles of Target for new products.
"I went to the checkout one day and this young guy noticed all of this stuff and he said 'Well, someone likes SpongeBob' and I said 'Yeah, I kind of work on that show' and he said 'Well, can you do the voice?' and I did the voice for him and he says 'Yeah, that was pretty good.'"
As a child, Bumpass would mimic characters from Looney Tunes and other cartoons. He idolized Mel Blanc, the voice of nearly all of the Looney Tunes characters. He also memorized the comedy albums of Jonathan Winters and Bill Cosby.
His parents had died by the time SpongeBob premiered but they got to see him perform once when he competed in a theatrical competition in 1974 in Little Rock.
"Nobody in my family was ever in show business so they didn't have a very optimistic view of anyone pursuing it because actor is always preceded by 'starving' actor." He says his parents were "regular folks" and "good heartland people."
His mother was the "life of the family. She had the energy." His father was a "typical Southern male with Southern male disgust."
"But he was a very loving person and giving person and he provided for our family," Bumpass says.
Bumpass and his brother, Leonard, did not always have a close relationship. "I thought he didn't like me."
It changed years later when Bumpass sent him a card "that basically said I don't know why this happened. And I signed it 'Your brother.' My mother said he cried when he read it."
After that the two became closer and built a stronger relationship.
Bumpass, who never married, is dating Angela VanZandt of Little Rock. The two were in the same class at Central but did not go on a date until last year. She is a screenwriter and recently founded a Women in Film chapter in Arkansas.
VanZandt says she had a crush on him in the 10th grade but in those days, girls didn't let their feelings known. She would see him at class reunions every 10 or so years and her heart "would beat so fast."
In her high school yearbook, Bumpass wrote, "Angela, I love you. That's all you should remember about me. Stay sweet for me. I love you very much. Rodger Bumpass."
Through Facebook and email, she and Bumpass kept in touch.
In 2016, she sent him an email saying she was available. It took him six months to answer — he would be in Little Rock in April. She planned a picnic on the grounds of the Clinton Presidential Center.
"We went for a walk on a bridge and he took out his cellphone and I thought he was going to take a selfie and he kissed me and took a picture of our first kiss," she says. "He said 'Angela, do you know how long I wanted to do this?' It took 50 years."
When asked for one word to describe Bumpass, VanZandt quickly says "gentleman."
"He is not the boyfriend of the week or the month or the year," she says. "He is the boyfriend of a lifetime."
SELF PORTRAIT
Rodger Bumpass
DATE, PLACE OF BIRTH: Nov. 20, 1951, Little Rock
MY FAVORITE MOVIES: Anything by the Zucker brothers, Airplane!, The Naked Gun, Hot Shots, etc. Also Monty Python's The Holy Grail and the all-time feel-good movie Platoon.
PEOPLE SAY I LOOK LIKE: Last week's oatmeal — but I do moisturize.
THE ONE THING YOU WILL ALWAYS FIND IN MY REFRIGERATOR: Mustard — usually ONLY mustard. It always looks like an Andy Warhol art work.
MY FANTASY DINNER PARTY WOULD INCLUDE: BACON! Bacon-wrapped bacon filets with a white wine bacon sauce with bacon nuggets on a sesame seed bacon bun followed by a bacon aperitif. Then we all retire to the library for smoked bacon, Cuban of course.
I DRIVE A: Wondrously beautiful Corvette Stingray convertible. I call it my trophy wife. Certainly less expensive than a real trophy wife.
I ABSOLUTELY WON'T EAT: ONIONS! I hate onions!! Especially those raw, red, stinky monsters! If you put a raw onion in front of me, I will sue your mother for having you!
I GENERALLY WAKE UP AT: The crack of noon — whether I need to or not. It was shocking enough to learn that 11 o'clock came TWICE in one day!
THE LEADING ACTOR IN THE MOVIE ABOUT ME WOULD BE: Duh, ME! As long as I have not yet achieved room temperature, I am not farming that puppy out to anyone. I have done my research and am confident in my skills of portraying me.
BEHIND MY BACK, MY CO-STARS SAY I AM: Now, how the heck can I know this? They're talking BEHIND MY BACK! I guess they are saying I am faceless, hard to make eye contact with and have a cute rear end — at least that's what I think they are saying back there. I can't be sure because… they're TALKING BEHIND MY BACK!
MY LAST MEAL WOULD INCLUDE: Anything that takes a really long time to cook. It wouldn't hurt also if we ordered take out and got an extremely incompetent GrubHub driver.
THE ONE WORD TO SUM ME UP: This is a tough one so I will cheat — humor-seeker. All things that pass my way are run through the "How Can This Be Made Funny?" filter. It is a wonderful and I firmly believe therapeutic way of life. Laugh and the world laughs with you. Frown and you get that stupid little wrinkle right between your eyes.
"I went to the checkout one day and this young guy noticed all of this stuff and he said 'Well, someone likes SpongeBob' and I said 'Yeah, I kind of work on that show' and he said 'Well, can you do the voice?' and I did the voice for him and he says 'Yeah, that was pretty good.'"