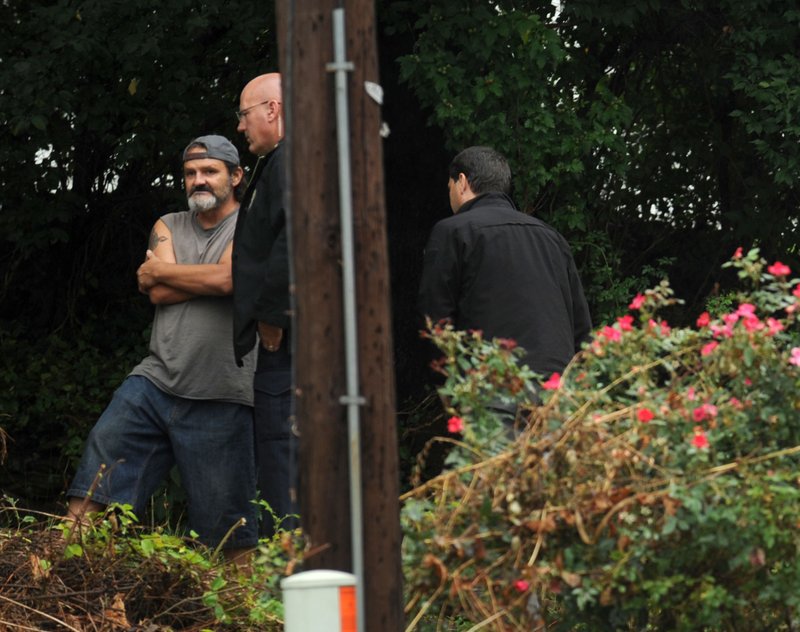 File Photo/NWA Democrat-Gazette/ANDY SHUPE Mark Chumley (left) speaks with Cpl. Robin Fields on Aug. 19, 2015, outside a house at 455 S. Hill Ave. after a caller reported a death at the residence. Chumley and four others were arrested on suspicion of capital murder, tampering with physical evidence and engaging in violent criminal group activity.
FAYETTEVILLE -- Several co-defendants pointed fingers Thursday at Mark Edward Chumley as the one who orchestrated the torture and killing of a Fayetteville woman in 2015.
Chumley, 49, is charged in Washington County Circuit Court with accomplice to capital murder in the killing of Victoria Annabeth Davis, known as Tori, on Aug. 19, 2015. Police said Davis, 24, of 433 S. Hill Ave., was held captive at her home for hours and beaten by Chumley and others. She died of blunt force trauma.
Accomplice
An accomplice is distinguished from an accessory by being present or directly aiding in the crime. An accomplice is someone who knowingly, voluntarily, and with common interest, participates in a crime, and can be charged with the same crime for which the accused will be tried.
Source: uslegal.com
Chumley's first trial in May ended in mistrial. He faces life in prison without parole or the death penalty if convicted.
The other defendants are John Christopher Davis, 30, who is Tori's husband; Christopher Treat, 32; his wife, Desire Amber Treat, 32; and Rebecca Lee Lloyd, 39.
Among those testifying Thursday was Desire Treat who described the beating and Chumley's role.
"We were taking turns," she said. "Mark would say, 'Somebody else hit her.'"
Chumley also told Treat to rape Tori Davis with a baseball bat, Treat said. When she was unable to, Chumley sent John Davis for chainsaw oil and tried himself, she said.
Treat said she felt threatened by Chumley, who she said was angry and carrying a baseball bat.
"He wanted to hurt somebody," Treat said. "So, why not me next?"
Chumley thought Tori Davis was trying to set him up for drug possession or child abuse, according to Treat and other witnesses.
John Davis told jurors Chumley was the first to hit Tori with a bat and he hit her once himself.
"Mark Chumley told me she was cheating on me with my brother," Davis said. "And, Mark Chumley knows I have an anger problem, the slightest little anything can set me off."
Davis said Chumley told him he would kill him if he tried to stop things and sent him for a battery charger and connected it to Tori Davis' breasts and plugged it in. Later, Chumley ordered the group to take Tori Davis to a small house on the property and shot her up with some substance, Davis said. Tori Davis' body was locked in that house when police arrived.
Chumley also directed the group to burn evidence and throw away the bats, Davis and several others said.
Later Chumley beat John Davis severely and tried to make him take responsibility for killing Tori, he said.
Christopher Treat said he participated because Chumley threatened to kill him and his wife if they tried to leave and their phone was taken away. They didn't call police even after they were allowed to leave, he said.
"You know what fear is?" Christopher Treat said combatively to a defense attorney. "I was afraid to call the police because somebody who'd just killed someone knew where I lived. I didn't have a choice."
Treat said he had no prior knowledge of what was going to happen that night.
"I hope you rot in hell, Chumley," Treat said as he was escorted from the courtroom by deputies.
John Davis pleaded guilty earlier this year to being an accomplice to first-degree murder and was sentenced to 37 years in prison in exchange for his testimony against Chumley. The Treats have been offered plea deals for 35 years, according to prosecutors.
When police arrived, they found Tori Davis' badly beaten body on the floor of the small house. She was wearing only a tie-dye T-shirt, and there was a used syringe next to her.
John Brooks, crime scene investigator for Fayetteville police at the time, told jurors he'd never seen anything like the beating Tori Davis endured.
"There was major trauma to pretty much every part of her body," Brooks said.
Dr. Frank Peretti, with the Arkansas State Crime Lab, told jurors Tori Davis was hit well over 20 times and there was a grease-like substance in her crotch. Peretti said there was bruising in the area but he could not say whether she was penetrated with a bat.
The case is expected to continue today before Judge Joanna Taylor.
NW News on 10/19/2018
Print Headline: Co-defendants say Chumley was ring-leader in woman's death
Sponsor Content
Comments