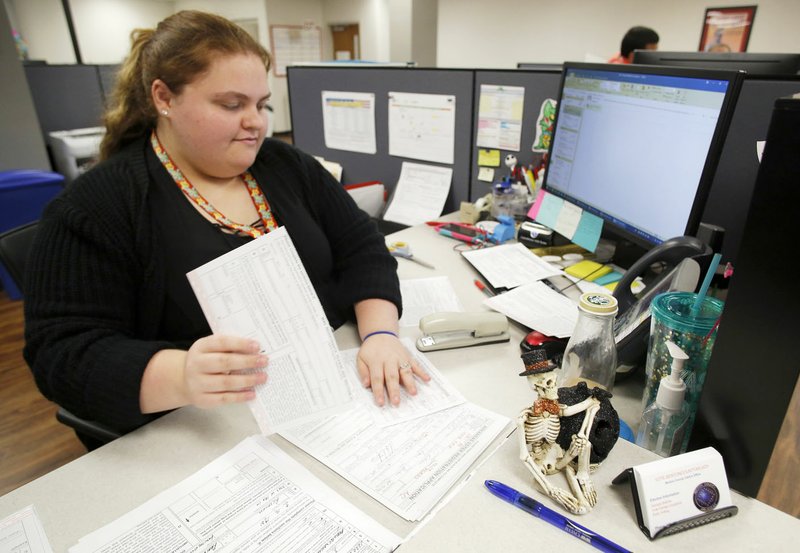 NWA Democrat-Gazette/DAVID GOTTSCHALK Breezy Bazey, deputy clerk at the Benton County Clerk's Office, reviews Wednesday voter registration applications in the Administration Building in Bentonville. Applicants and residents that have filled out a change of address form will be notified in the mail of their eligibility to vote in the coming elections.
BENTONVILLE -- Charlie Baltrusch of Decatur wasn't about to miss his first chance to vote.
"I'm an American. It's a duty and responsibility as an American. It's also cool, and it makes me feel like an adult," Baltrusch, who is 18, said Tuesday at the Benton County Clerk's Office.
A Pledge To Vote
The League of Women Voters of Washington County has a pledge-to-vote campaign. Individuals fill out post cards by checking the box next to their voting plan (vote by absentee ballot, vote early or show up at the polls on Nov. 6), sign their name and address the card with their mailing address. The league keeps the postcards and will send them back to those individuals one to two weeks before the election.
Source: League of Women Voters of Washington County
He's one of more than 290,00 residents registered to vote in Benton and Washington counties, according to county officials.
Tuesday was the deadline to register to vote in the Nov. 6 general election. Early voting starts Oct. 22. The Benton County Clerk's office stayed open until 7 p.m. to accommodate last-minute signups. Eighty-five people showed up between 4:30 p.m. and 7 p.m., Betsy Harrell, chief deputy clerk, said Wednesday.
"And there was a constant stream of phone calls during that time, too," Harrell said.
Benton County has 158,038 registered voters and probably added a few hundred more after a stack of registrations was entered Wednesday.
Washington County has 132,182 registered voters. That number will increase slightly with registrations still being entered into the system, said Marlena Young, deputy clerk.
Jennifer Price, Washington County election coordinator, spent Wednesday meeting with new poll workers and finalizing plans for early voting.
Washington County will have nine early voting sites and use about 60 machines. About 60 percent of Washington County voters voted early in 2016, Price said.
"We hope to continue that trend," she said. "We encourage people to vote early. The ballot is longer than it was in 2016, so it will take a little more time to vote."
Kim Dennison, election coordinator in Benton County, said machines for early voting were being tested Wednesday. The state-mandated deadline for machine testing is Monday. Benton County will have 12 early voting sites and use 123 machines.
Voter turnout varies from election to election, Dennison said. "It's a wait and see," she said.
The Republican Party of Benton County didn't put together any voter registration drives, but held a dinner Tuesday in Gravette that drew about 225 people, said Scott Brownell, chairman. Local volunteer participation has been encouraging, he said.
"People seem more energized, more focused," he said. "People want to knock on doors, put up signs, make phone calls. About half say they never have done anything like this before. They are asking, 'What can I do?"'
The League of Women Voters of Washington County held voter registration drives and hosted several voter registration trainings that the county clerks from Benton and Washington counties participated in, Bonnie Miller, director of diversity and co-chairman of the League's Voter Engagement Committee, wrote in an email.
Baltrusch expects to be part of the Benton County voting crowd. Bruce Baltrusch, Charlie's father, went with his son to the Clerk's Office on Tuesday.
"He asked about voting, and I told him I would bring him on his first day off. He brought it up to us. He even put on his best boots," Bruce Baltrusch said.
NW News on 10/11/2018
Print Headline: Voter registration set, early voting up next
Sponsor Content
Comments