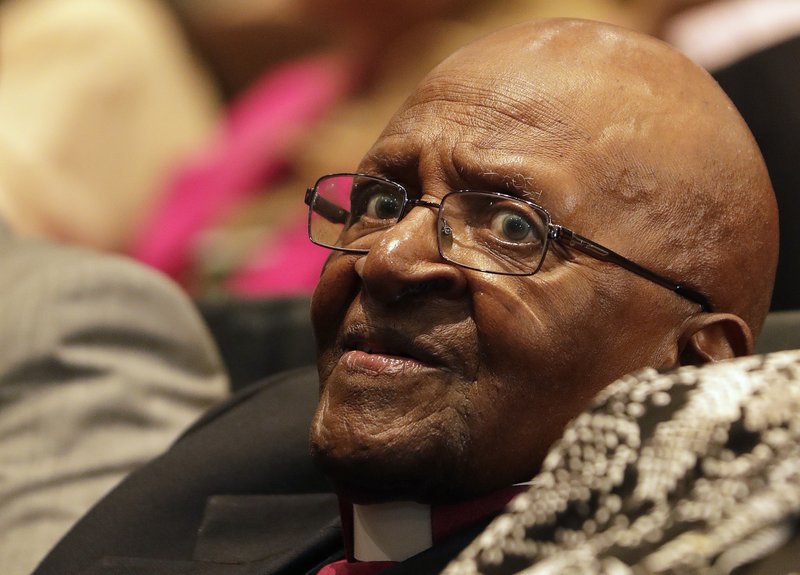 FILE -- In this Thursday, Feb. 8, 2018 file photo Anglican Archbishop Emeritus Desmond Tutu attends the launch of the Mandela rose in Johannesburg, South Africa. Tutu will spend his 87th birthday Sunday, Oct. 7, 2018 in a Cape Town hospital, the Desmond and Leah Tutu Legacy Foundation said. (AP Photo/Themba Hadebe, File)
SINTRA-CASCAIS, Portugal -- Over 700 firefighters battled a wildfire Sunday in a national park west of Lisbon that forced Portuguese authorities to evacuate about 350 people.
The fire that broke out overnight in the Sintra-Cascais Natural Park that covers hilly terrain near the Atlantic coast injured 17 firefighters and one civilian, Andre Fernandes of Portugal's civil protection agency said Sunday.
Fernandes added that 300 people were evacuated from a campsite while another 47 were removed from their homes in the woods as a precaution.
Firefighters on the ground were being supported by 225 vehicles and six aerial firefighting units as they tried to put out the blaze. Planes swooped low to dump water on plumes of smoke rising from densely wooded hills 25 miles west of the capital.
Fernandes said firefighters were fighting the fire on two fronts, and their efforts were being helped by a decrease in the winds that had previously fanned the flames.
"The first hours of the fire were very, very difficult," Fernandes said.
Resident Francisco Reymao said "it was very windy, so the fire front came all the way down with an astonishing speed."
"The firefighters could only watch during the night because it was impossible to control the fire," Reymao added. "Our luck was the start of the day when the aircraft were able to stop this ... it would have been a tragedy here in Charneca."
Wildfires routinely blacken large areas of forest every year in Portugal. Last year, wildfires killed 106 people in what was by far the country's deadliest fire season on record.
That was a wake-up call for authorities, who had been slow to react to demographic changes and a climate that was getting hotter and drier. This year the Portuguese government enacted a raft of preventive measures to reduce fire deaths, such as employing goats to munch flammable undergrowth along key roads.
A Section on 10/08/2018
Print Headline: 1-18-2 1-18-2 Birthday wishes pour in for Tutu Portuguese wildfire forces evacuation injures 18 people
Sponsor Content
Comments