Cade Hanson's finish was much better than his start.
Hanson, a sophomore from Maumelle Charter, overcame three consecutive bogeys to start his round to win medalist honors Thursday at the Class 2A boys state golf tournament on the Burns Park championship course.
Hanson turned in an 8-over par 79 to win the tournament on a hot sunny afternoon in North Little Rock. Conway Christian senior Matthew Hubbard was three strokes back with an 82.
"I made a lot of putts on the back [nine], and I kept it in the fairway," Hanson said. "I put shots on the greens and made pars. ... I thought anything in the 70s would give me a good shot."
Jackson Hunt of Bay and Gus Longing of Conway St. Joseph both shot 85s. Hunt earned the No. 3 spot into next week's Overall tournament at Pleasant Valley Country Club in Little Rock by defeating Longing in a sudden-death playoff that lasted three holes.
St. Joseph won the team title with a 262, beating Conway Christian by one stroke.
After taking a double bogey on the 375-yard, par 4 No. 6, Hanson was 6-over. He parred 10 of his final 12 holes and was only 1-over on the back nine.
"I shot a 76 [Wednesday] in my practice round," Hanson said. "I had a lot better score on the front nine."
Hubbard said he was content to keep the ball in the fairway.
"I just hit them straight," Hubbard said. "I kept the ball in the fairway but I missed some putts, badly. But if you keep it pretty straight here, you can play it well."
Both Hanson and Hubbard said they were pleased with how they played the 520-yard, par 5 No. 4, which is regarded as the toughest hole on the 6,000-yard course.
"It's a really hard hole, and I was happy to get a par on it," Hubbard said. "It's long and narrow and just hard to play. It's hard to keep it in the fairway. It's almost impossible to get [to the green] in two."
"No. 4 is the hardest hole and I parred it today, so I'm happy with that," Hanson said. "It's real narrow, and it forced me to lay up. I hit a wedge in, and then I two-putted."
All four of St. Joseph's team members -- Longing (85), Collin Coney (86), Tim Coney (91) and Luke Bruich (91) -- finished among the top 15 of the 72-player field.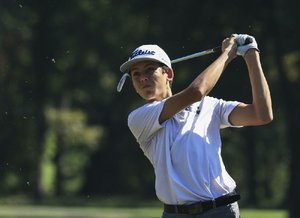 Photo by Staton Breidenthal
2A champion Cade Hanson of Maumelle Charter tees off on the eighth hole Thursday during the Class 2A boys state golf tournament at Burns Park in North Little Rock. Hanson shot 8-over par 79 to earn medalist honors.
Sports on 10/05/2018