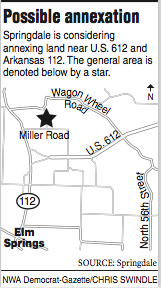 A map showing possible annexation sites in Springdale
SPRINGDALE — City Council members considered Wednesday night annexing 24 acres into the city. They'll vote on the annexation during the regular meeting Tuesday.
The land sits in five "islands" north of the intersection of West Miller Road and Arkansas 112 in the northwest quadrant of the city. Each parcel is surrounded by land considered in Springdale.
"It's not a matter of taking more land in. It's a matter of not leaving these out," said Councilman Jim Reed. The islands are governed by Washington County and served by both city and county services.
Reed, who serves Ward 1, where the land lies, listed reasons the annexation would benefit the land owners — lower rates for water, sewer and trash service, service by the city's Fire and Police departments; and lower home insurance rates with Springdale's Class 1 fire rating. The annexed areas would be classified as agricultural districts by the city's zoning. "So there won't be any big changes" for the landowners, Reed said.
The parcels aren't far from the intersection of Arkansas 112 and the new U.S. 412 bypass. The land value is expected to increase with expected development in the area. "And their land will be worth even more if it's in the city," Reed said.
Reed explained his home is near the areas to be annexed. "I live in that ward, and I didn't know we had islands," he said. "I don't like the fact that we have islands. Things could go on on that land that we don't allow in the city. If somebody does something, the surrounding land owners are stuck with it."
Reed has served on the City Council since 2006 and has announced he isn't running for re-election.
No one with city has contacted the five land owners for their opinions, including Reed.
It's not required at this point, said City Attorney Ernest Cate. State law provides, that if a piece of land is surrounded by a city, it can be annexed by city ordinance.
If approved, the city must hold a public hearing within 60 days, during which time, the property owners would be notified, Cate said. The council members then must pass another ordinance declaring the annexation.
"This starts the process," Council member Kathy Jay-cox said of the first ordinance the council will consider.
In 2009, the city annexed about 100 similar islands with the same intention, explained Mayor Doug Sprouse. "I thought we had gotten them all," Sprouse said. "It's just easier in terms of providing them services."
Laurinda Joenks can be reached by email at [email protected] or on Twitter @NWALaurinda.
Print Headline: City considers 'islands' annex; vote planned
Sponsor Content
Comments