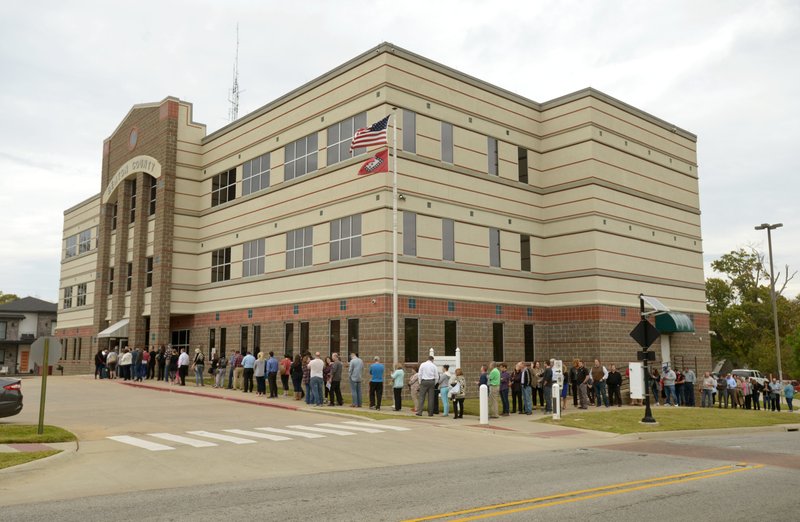 The Benton County Administration Building in Bentonville.
BENTONVILLE -- Benton County officials endorsed a $5 increase in the fees charged for housing municipal prisoners in the jail, raising the amount from $50 per day to $55 per day.
The Finance Committee voted to send the recommendation on to the Committee of the Whole for further discussion.
Brenda Guenther, comptroller, said the fee charged to cities has lagged behind costs and the disparity has increased with an addition to the jail.
According to Guenther, the fee was $40 in 2013, 2014 and 2015. The Quorum Court increased the fee to $45 in 2016 and to $50 in 2017.
According to Guenther, the cost of housing an inmate for one day was estimated at $45.74 in 2013. That increased to $47.91 in 2014, to $50.75 in 2015 and to $53.59 in 2016. After the county added jail space the cost increased to $60.06 in 2017.
"Right now, there's a $10 spread," between the costs and the fees charged to cities, Guenther said.
Tom Allen, justice of the peace for District 4 and committee chairman, suggested increasing the fee over time.
"I wouldn't advocate we stick them and go with a $10 jump," Allen said.
Pat Adams, justice of the peace for District 6, disagreed, pointing out that the costs will continue to go up.
"Lets go ahead and get it up to where we're at least breaking even," Adams said.
Guenther said the county receives $30 per day from the Arkansas Department of Correction for state prisoners. Chief Deputy Meyer Gilbert said the county receives $56 per day for housing federal prisoners.
The committee also recommended a funding plan for the new radio system, costing $3.75 million. The panel elected to spend $1.175 million from reserve and borrow $2 million to pay for the radio system. The justices of the peace considered paying the full amount but chose to borrow some money with the option of paying the loan early. The county has already decided to borrow about $2.5 million to pay for voting machines. The two loans would require the county pay about $984,589 annually. Allen said he wants to have that flexibility until plans for a new $30 million courthouse are set. The funding plan for the building is supposed to go to voters in a special election in March, 2019.
"I'm leaning toward borrowing at least some of it," Allen said. "There's just too much uncertainly right now.
"I kind of like the idea of paying for it all at once," said Kurt Moore, justice of the peace for District 13. "We don't have to have all the money for the courthouse at once. I don't like the idea of carrying two notes at the same time."
NW News on 10/03/2018
Print Headline: County raises jail fees for cities
Sponsor Content
Comments