Little Rock's War Memorial Stadium is a familiar destination for the Greenwood Bulldogs.
For the fourth consecutive season and 11th time in Coach Rick Jones' tenure at Greenwood, the Bulldogs will play in the state championship game at the Central Arkansas home of the Arkansas Razorbacks.
Greenwood (11-1) faces Benton (10-2) at noon Saturday in the Class 6A state championship game. The Bulldogs will attempt to win their second title in a row and ninth overall.
For Jones, who has led the Bulldogs to seven state titles, every title run is special.
"I tell people all the time, it's hard to get here," Jones said Monday at the Arkansas Activities Association's state championship news conference at War Memorial Stadium. "You think back to the first week of January when we started this road, and you just feel very fortunate that your kids worked so hard and your coaches have worked so hard to get here, to give you an opportunity to be here. You drive up here and see the lights as you make the turn, it sort of makes your heart skip a beat because it's a great honor to be here.
"We're thrilled to be here. But we know it's not as much fun to just be here as it is to win here. We're going to do our best to play a great football game."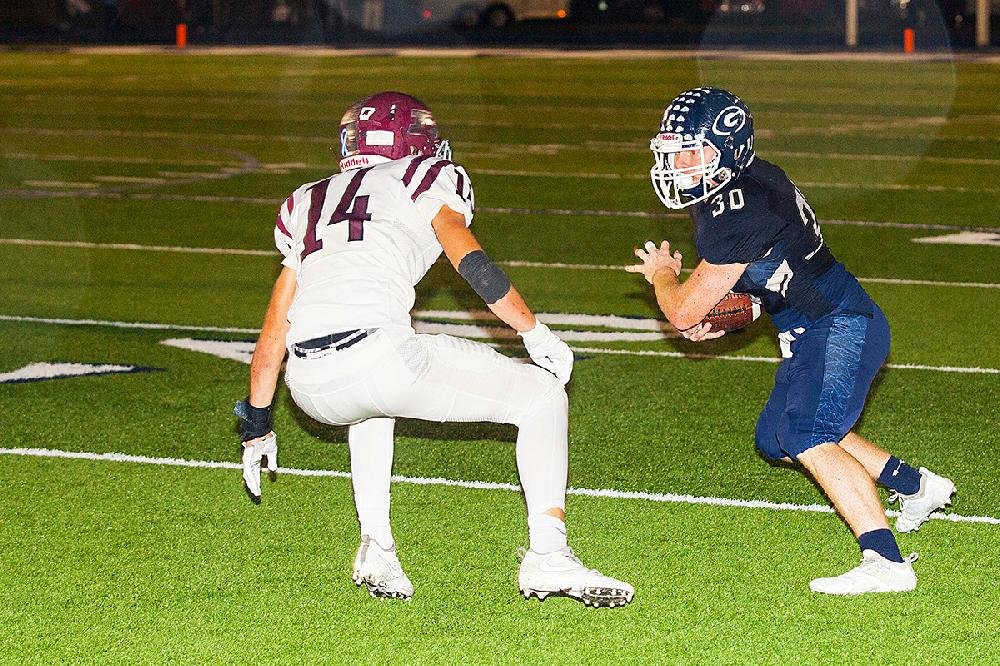 Hunter Wilkinson of Greenwood (right) rushed for 160 yards and scored 4 touchdowns in the Bulldogs' 62-33 victory over Benton on Oct. 19. Greenwood and Benton meet Saturday for the Class 6A state championship at War Memorial Stadium in Little Rock.
Greenwood graduated 26 seniors from last season's state championship team, including quarterback Connor Noland (now at the University of Arkansas) and running back Kenny Wood (now at the University of Central Arkansas).
But the Bulldogs haven't regressed with former wide receiver Peyton Holt shining at quarterback.
Holt, a senior, has completed 210 of 303 passes for 2,752 yards with 21 touchdowns and 1 interception this season.
"He's done a fantastic job," Jones said of Holt, who played quarterback in eighth and ninth grade before moving to wide receiver. "He's been hungry to learn. The mental part of it, he's done a really good job. He goes through the progressions really well. He can anticipate people getting open."
Defensively, the Bulldogs are led by senior defensive end Austin Archer (11 sacks) and junior defensive back Logan Workman (101 tackles). The unit has allowed 6.0 points per game in its past four games, and Greenwood shut out Searcy 35-0 in the Class 6A quarterfinals Nov. 16 and defeated Sylvan Hills 31-10 on Friday in the semifinals.
"They've gotten us to this spot," Jones said of his defense. "People usually think offense when they think of Greenwood. But our defense has carried us the last five weeks. Our defense has been rock solid."
Greenwood lost its season opener at Fort Smith Northside 31-16, but has won 11 consecutive games and the 6A-West Conference championship. Jones said the Bulldogs, especially the senior class, have done a "super job" since the Northside loss.
"We got punched in the mouth in Week One," Jones said. "At that point, you could question everything and gripe and complain or go to work. Our kids decided to go to work. That's what they've done for 13 weeks. They've had a lunch-pail mentality.
"I challenge anybody to come to our practice and see if anyone is working harder than our kids. We haven't had to bullwhip them to come to practice. That's why we're fortunate to be where we're at right now."
If Greenwood wins Saturday, Jones will pick up his eighth state championship with the Bulldogs since he was hired in 2004. But he's focused on his players winning a title, not himself.
"They're all different. They're all wonderful," Jones said. "It just means for that one short moment in time, your kids can walk off the field knowing they were the best. We work from January to hopefully the first week of December to have that feeling. It would be about those kids walking off the field knowing that they were the best."
Sports on 11/27/2018