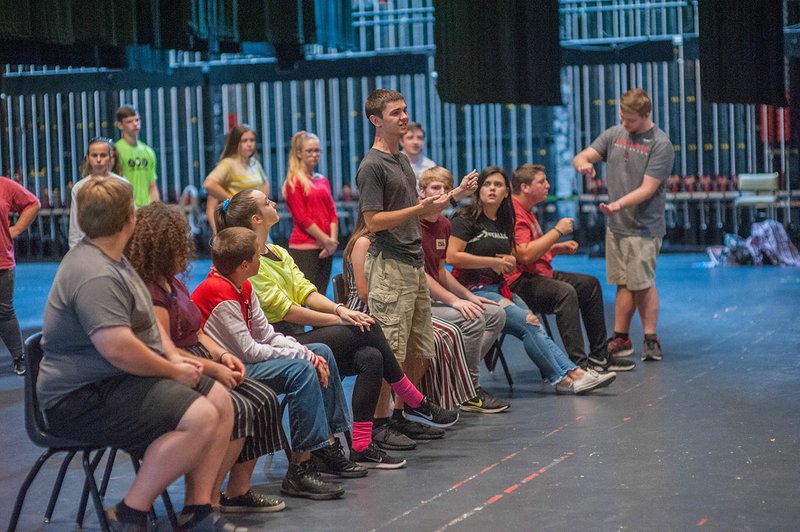 NWA Democrat-Gazette / LARA JO HIGHTOWER Students at Alma High School have been working on "The Addams Family" musical all semester, says Alma PAC executive director Teresa Schlabach.
The worst possible news has befallen the Addams Family, the darkly funny, macabre family first created by Charles Addams in 1938: Daughter Wednesday has grown up and fallen in love with -- the horror!-- a conventional, straight-laced young man. When she asks her father to keep the awful secret from her mother, Gomez has to lie to Morticia for the first time in their lives.
As you can imagine, comedy ensues in "The Addams Family" musical, as it has in the various incarnations of Addams' funny-scary family over the past eight decades. The cartoons would ultimately spawn a cult-classic television show in 1964, several film adaptations and this musical, which opened on Broadway in 2010 with Nathan Lane and Bebe Neuwirth playing Mr. and Mrs. Addams. Next weekend, high school students at Alma High School will take on the large-scale musical that they've been working on all semester. The show is a joint project shared among the theater, dance and music departments, says Alma Performing Arts Center Executive Director Teresa Schlabach.
FAQ
'The Addams Family'
WHEN — 7 p.m. Nov. 29-Dec. 1; 2 p.m. Dec. 2
WHERE — Alma Performing Arts Center, 103 E. Main St., Alma
COST — $10-$15
INFO — 632-2129
"This is actually a production class," Schlabach says of the teens on stage during a recent rehearsal. "These kids tried out for the show last spring. We'll do six performances -- three private and three open to the public."
The stage the actors are rehearsing on is one of the largest in the state. Alma PAC is a theater student's dream, with a full costume and scene shop on site and a house that seats 1,500 audience members.
"We build all of our own sets and costumes," notes Schlabach.
The students on stage will be joined by a full orchestra, made up of the school's music students, as well as several members of the school staff.
NAN What's Up on 11/25/2018
Print Headline: They're Creepy And They're Kooky
Sponsor Content
Comments