Paul Rainwater is delivering a suit to a client, Dr. Grant Dennis, at his west Little Rock clinic, The Specific Chiropractic Center. It's a handsome suit, a light gray ensemble with craftsmanship that stands out even from a distance. And it's cut to fit Dennis. Bespoke, if you will.
Rainwater tells Dennis how he can mix and match his new suit with the custom suit he's wearing that day -- another supplied by Rainwater. The smart black ensemble is jazzed up with a white-collared pink shirt and a white pocket handkerchief trimmed in pink.
"I have worn suits, but none feel like these. There's just something different about the custom suit. ... It fits, it feels right, it walks right," says Dennis, 29. "If I'm not comfortable in the work setting, people sense that you're not comfortable. So I enjoy dressing comfortable; I enjoy dressing nice. Part of being a gentleman, I think, is dressing nicely.
"I think first impressions matter. And I always want people, when they first walk into the clinic, to feel that I'm comfortable, that they're comfortable here, that they're talking to an expert in this field, sharp as a tack, enthusiastic, but [who] also looks well in the way that he dresses, speaks and looks." When dressed in clothes that look and fit well, Dennis adds, "you just carry yourself differently."
Rainwater represents Dallas-based company Q Clothier, a made-to-order men's clothing company that was founded in 2003 and prides itself on having pushed back against the onslaught of the online clothing market. He says he takes people back to earlier days when "every town had a tailor."
"The custom world is in response to, almost a reaction to, the cookie-cutter world where everybody's supposed to get the same thing," he says. "It's a backlash against that, where the individual says 'No, I don't want to be just like everybody else. I want this made ... just for me.'" Younger men especially are adopting this attitude, he adds, not just with clothes but with other consumer goods like cars and even food.
TEACHING AS HE DRESSES
But Rainwater doesn't consider himself a mere seller of clothing. He sells -- and teaches -- fit, because he considers the biggest fashion faux pas to be wearing something that doesn't fit.
It doesn't matter whether a person is young or old, casually dressed or dressed to the nines. "If their clothing fits them, they'll always be looking more toward their best," he says.
Not only does Rainwater teach fit, he teaches appropriateness.
"Do you have the equipment in your wardrobe that fits the occasion and fits the body?" he asks. If so, "you're going to be perceived as a more well-put-together person. And you will be more trusted and believed in just by that. Before you even say a word."
Rainwater goes on to explain the fine art of custom tailoring for someone like Dennis, who would find ready-made jackets to be too long on him.
"He and I are so short; that's why we need custom," Rainwater says. "But by the time they would fit ... in the shoulders like this, because he's got pretty athletic shoulders, this would be too big."
A big man would have the opposite problem.
"In general the harder they are to fit, the more they're a candidate to have it custom," Rainwater continues.
Rainwater burns a lot of gas serving clients -- mostly at their offices. He'll still do so, but now, clients can come to him. His new store, Q Clothier and Rye 51, opened Nov. 1 in the Promenade at Chenal. Opened by parent company Q Fifty One, this is the eighth location for the nine-store retail chain, with other outlets in Texas, Georgia and Oklahoma.
This store offers ready-to-wear and custom suits. But it's the former for which the company, and Rainwater, are known.
MADE TO ORDER
The gray suit is Dennis' fourth bespoke suit. "The first time you put on a custom suit -- I always say you feel like James Bond, he says.
'This is how clothes should feel; this is how a suit should feel."
He has another description of how it feels -- presidential.
Jeremiah Russell has had a similar experience. The 38-year-old architect and business owner makes his living designing buildings, but his first time designing a suit for himself this spring was a life-changing experience.
"We actually sat down and designed the suit together," Russell says of himself and Rainwater. Russell chose his fabric, lining, lapel style, pant style. And when he donned the finished product, "it felt great," he says. "As I told Paul, it was like night and day."
Russell, who describes himself as being "sort of in between" standard sizes, has worn suits most of his adult life. Like most men he bought off the rack and settled for suits that didn't really fit him: "You get your first tailored suit that's actually supposed to fit you, and it feels wonderful ... it's just worth every penny."
Rainwater started working with Q six years ago, but he has been in the business much longer -- 44 years in all. His family has had a men's shop in Fort Smith since 1974. "My dad opened that shop when I was age 16." He grew up in the family business and ran the store more than three decades.
But it wasn't the clothing business that brought Rainwater and his wife, Deborah, to Little Rock. They moved to Little Rock nearly seven years ago to be near their youngest son Kirk, 17, who's severely autistic and who's a seven-year resident of Conway Human Development Center.
Rainwater now has about 300 clients in Little Rock as well as others elsewhere in the state -- Fort Smith as well as the Fayetteville/Springdale/Rogers/Bentonville area. His shortest customer, he says, is about 4 feet, 11 inches -- a grown man of about 50. Then, he has two clients who are 7 feet tall. "And everywhere in between."
The age range is wide also -- from children to retirees. One client has had Rainwater outfit his grade-school son. With custom suits. Another client has three boys -- one in junior high, one in high school, one in college. "He wants a custom suit for all three of them." But most of his clients are of what he would call business age, from out of college up through retirement.
Rainwater notes the changes he has seen in menswear over the decades.
"When we first got in the business, every businessman wore a suit every day. He didn't even think about not wearing one," he says. "But now, its completely different." That difference is evident in the new store, of which he's general manager. While the Q side of the store offers dressier fare, the Rye 51 side supplies customers with casual, ready-to-wear attire such as T-shirts, jeans and leather jackets.
Other changes in menswear are evident in today's silhouette choices: classic fit, athletic fit, slim fit.
Rainwater provides clients with clothing bearing an athletic fit. "It's not the super-skinny, but it's not the real baggy either," he says. "It makes the man, no matter how old he is, more athletic-looking." Shirts have more room at the top and are tailored at the bottom. Pants are "cut straight through the hip, thigh and leg," as described on Propper.com.
So what about that slim-fit tapered look that the young and youthful hipsters are wearing these days?
"I think you can take it too far," Rainwater says. "That's why I use that 'athletic' term, because athletic is different from skinny. If you walked up to a ... man and said, "[How] do you want to look? Do you want to look athletic or skinny? ... They're not going to want to look skinny. They want to look athletic."
SUITING UP
Custom suits ordered through Rainwater start about $1,100. Q Clothier sources its wool, cotton and silk fabrics mainly from Italy, but some come from England. Blue and gray are the cornerstone colors, the best-sellers. Q also makes small-batch suits and pieces -- only six of a particular pattern sport coat, for instance.
Generally, Rainwater meets with each client twice. During the first, armed with a book of swatches, he measures and designs, about a 30-minute process. Four weeks later, he takes the client the finished product to try on for a fitting.
"The custom world that I'm in, is ... really, the only really growing part of menswear in America," Rainwater says. "It's tough to be in the clothing business these days. But in custom it's a niche, because you're providing these things that they just can't find."
Being a fashion teacher, Rainwater also does a little sartorial outreach work for boys. He and Dennis founded The Society of Classic Gentlemen, a small group of men with whom the emphasis is self-improvement. The two hope to set up one-day camps to take into schools and teach boys how to behave as gentlemen as well as how to tie a tie, wear a pocket square and shine their shoes.
"The way we act and speak and look is part of my philosophy of even being in this business," Rainwater says. "I'm wanting to improve and help others improve also. And this outward-appearance aspect of it is a part of it. Fair or unfair, right or wrong, the way we look does matter."
So what sartorial advice does he have for a man of modest means, someone who's unable to buy four-figure-priced suits made especially for him?
"You just need one good dark suit, 'cause then it's for all occasions," he advises. This suit could be navy, charcoal or even black, and it would take its wearer to weddings, funerals, dinners, dances, banquets.
"It doesn't take a huge wardrobe," he assures.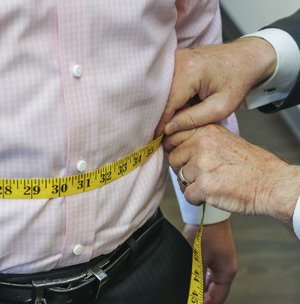 Photo by Arkansas Democrat-Gazette/JOHN SYKES JR.
Paul Rainwater (left) measures Dr. Grant Dennis, who has bought four custom suits from the Q Clothier representative.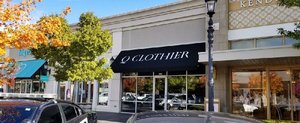 Custom menswear provider Paul Rainwater will still be making house and office calls to his clients, but now, clients can go to him. His Q Clothier store, the eighth in a small Dallas-based chain, opened Nov. 1.
Style on 11/13/2018