CULVER CITY, Calif. -- On an August morning, in a warehouse sandwiched by auto repair shops, Ashley Bezamat, the 37-year-old founder of the eyewear company Dom Vetro, was hunching over a thin bar of white acetate.
"Half a millimeter on the bottom or on the side makes this frame too big," Bezamat said. "This is my second attempt." He flicked on the switch of a sanding machine and ran it over the edge of a temple, the part of the frame that gets tucked behind the ear. He held it up to the light. "This now looks like it's proper."
Lanky, soft-spoken and shaggy haired, Bezamat regards pieces of acetate the way a fine wine producer might a bunch of grapes. His company, founded in 2012, whose name roughly translates to "house of glass," gives eyewear the artisanal treatment lavished on things like leather sneakers (Common Projects) and coffee beans (La Colombe). Dom Vetro's glasses evoke the 1960s and eschew overtly trendy styles (mirrored, pill-size lenses).
Other custom luxury eyewear manufacturers have risen in recent years, like the French company Volterre and the Australian brand Veux. But Dom Vetro, whose frames start at $295, is the rare eyewear company that manufactures frames in the United States.
Given the speed of competitors like Warby Parker and Lenscrafters, the time Bezamat takes to produce a pair of glasses -- one week -- seems almost quaint. But his attention to detail is one reason that customers, including actor Alec Baldwin, keep coming back.
"His glasses are well-made, you can tell when you hold them in your hand," said Baldwin, who first saw a pair of Dom Vetro glasses in a men's magazine and then went through a "lengthy process" to track down Bezamat. He now owns three pairs of Dom Vetro sunglasses and ordered a pair for his wife, Hilaria.
"My head is fat," Baldwin said of his loyalty. "I literally can't find frames that are wide enough." He is trying to convince Bezamat to make an oversize, black-rimmed pair in the style of the Hollywood talent agent Irving Paul Lazar ("Swifty" to most). "My goal is always to get right to the edge of silly," Baldwin said.
Clients avail of personal consultations with Bezamat, either in person or over the Internet, and often he recommends a frame based on their face alone.
"People do send me pictures of themselves but it's not an algorithm," he said, "it's my recommendation. I'm obsessed with working with people to get the perfect fit, the most flattering glasses for their face. I know people have tried to do that with technology, but it's just not the same."
His attention to personal detail has earned him other famous clientele, including Hilary Rhoda, a model, and Terrell Owens, a former professional football player.
Owens' autograph adorns a slab of tortoiseshell acetate by Bezamat's workstation: "To Ashley -- walk by faith, not by sight." Curiously, considering his obsession, Bezamat's eyes require no correction. "I've had 20/15 vision all my life," he said.
Growing up in Los Angeles, he collected sunglasses the way his peers hoarded Hot Wheels, saving up his allowance to buy Oakleys and Ray-Bans. While getting a master's degree in business administration from Stanford University, he and others founded a company that used noninvasive lasers to change eye color. Shortly after graduation he traveled to Italy, where he fell in love with Veneto, a tiny town with many eyeglass makers.
"When I got to Veneto, it really felt like my home," Bezamat said. He got to know graying artisans, whipped out his camera, and gave them the music video treatment. He moved to Italy for two years and apprenticed under three of them.
Bezamat founded Dom Vetro in Veneto, buying an eyewear factory and employing two of his mentors, but moved the company and his dozen or so milling, computer-aided design and sanding machines back to the Los Angeles area last year.
He now oversees a staff of five here, including an Italian-trained eyewear maker, a family friend whose affinity for watches Bezamat thought might translate and a guy he found online who used to work at a Sunglass Hut. "There are certain things that I look for in hiring, but prior experience is not one of them," he said.
Dom Vetro produces approximately 20 pairs per day and sells about 3,000 a year through its website and at select boutiques in New York, Paris and other cities.
Bezamat is looking to scale up, though not so swiftly that he's forced to replace his personal recommendations with a line of code.
"I started this company to preserve artisanal craftsmanship as an art form," he said. "Even the Italians, they want to compete with overseas factories -- 'Volume, volume, volume.' Even my mentors, it took them a while to understand. I used to make them hand-write notes to customers." They're now retired.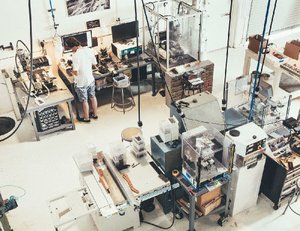 Photo by THE NEW YORK TIMES/ADAM AMENGUAL
An employee works inside Dom Vetro on Aug. 14 in Culver City, Calif.
High Profile on 11/11/2018