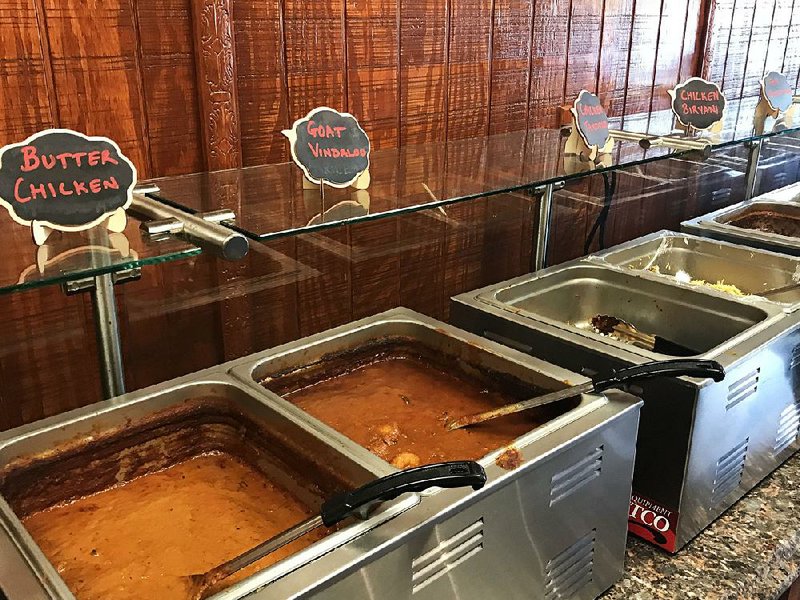 Saffron Indian Cuisine's lunch buffet features dishes from Butter Chicken and Goat Vindaloo to Chicken Tandoori and Chicken Biryani. - Photo by Jennifer Christman
The menu at Suite 18 of west Little Rock's Centre at Ten shopping center has changed from gumbo to goat and gobi.
The space that was the short-lived, fast-casual Cajun/Creole J. Gumbo's is now the promising Saffron Indian Cuisine, offering a buffet at lunch, a champagne brunch buffet on weekends and a full-service dinner, with dishes like spicy Goat Vindaloo and Dum Aloo Gobi (that's boiled cauliflower, potatoes, carom and cumin seeds and smoked peppers).
Saffron, which opened in August, clearly plans to stay longer than its predecessor. Hammering could be heard in the next-door storefront as the restaurant completes what is to be an adjoining party room. Perhaps this project had something to do with lapses in service and lengthy wait times. But the food is first-rate, and we predict they'll get pacing problems under control.
We preferred Saffron's meals and atmosphere more at dinner than at lunch.
Gallery: Saffron
Sure, the $8.95 all-you-can-eat weekday buffet is an excellent deal and a fine option for a fast lunch (well, if you can flag down a server to give you the check; this took a while). But with the lights dimmed, the restaurant, which has warm-colored walls accented with wine racks and wine prints and seating options that include a half-banquette or leatherette chairs, takes on a more intimate vibe at night. For dinner, we easily waited 30 minutes for our entrees to arrive after our appetizers, and yet we didn't really care because we just enjoyed the surroundings, incredible scents -- and I had a glass of pinot noir; that helped.
First, the appetizers -- and were we glad we ordered them. We split orders of Vegetable Samosa ($3.95) and Onion Bhajiya ($3.95). The two samosas were mildly spiced comforting and carb-y dough pockets stuffed with potatoes and peas. The Onion Bhajiya, a savory tangle of onions fried in a chickpea flour batter, we likened to an Indian Bloomin' Onion. Both were served with lively mint and tamarind chutneys for additional flavor, not that they lacked any.
Our friendly server asked our heat preference -- mild, medium or spicy -- for our entrees, the Shrimp Saagwala ($14.95) and the Dum Pukht Biryani with Chicken ($12.95). As we specified "medium" for meals, we went with the plain white naan ($1.95), instead of trying one of the flavored varieties -- onion, garlic, green "chilly," fruit-and-nut, or "cheese chilly" ($2.25-$3.95). The soft, chewy bread was delicious by itself and when dabbed into sauces.
The Shrimp Saagwala, tail-on shrimp in a spinach sauce, didn't look like much when it was served; the portion looked skimpy and chopped spinach just isn't the prettiest sight. But the surprisingly lush dish featured a good number of shellfish, as well as flavor; with a side of rice, it was very satisfying.
By contrast, his Chicken Biryani was a looker. The giant aromatic helping of long-grain rice included caramelized onion, spices and chunks, as well as bone-in pieces of chicken. I also ordered Biryani as a carryout item on another visit (vegetable, lamb, goat and prawns are other options for $11.95-$14.95); it was still enjoyable but it's more of a "wow" dish when dining in the restaurant.
We also shared the Navratan Korma ($11.95), a mix of fresh vegetables cooked in a rich cream gravy and sprinkled with herbs.
We didn't need dessert or "mithai" -- I was too full, and he got enough sugar from a yogurt-based mango lassi drink. But we noticed that Saffron has more sweet selections ($3.95-$5.95) than most Indian restaurants: coconut sorbet, Carrot Halwa or pudding, rice pudding, Gulab Jamun ("dried milk pastries in honey and cardamom syrup"), Rasmalai ("pressed Indian cheese, reduced milk, rose water syrup") and Matka Kulfi or Indian ice cream served in a clay pot in pistachio or mango flavors.
I mentioned Biryani was a takeout dish on a subsequent visit. So was the pleasing Goan Shrimp Curry ($14.95), six plump shrimp in abundant zesty coconut cream-based sauce with a side of rice -- though I'd recommend avoiding the leaves, which are better for seasoning and bitter for eating. This time, the naan of choice was the garlic ($2.95); it was so good I almost didn't mind that my car smelled like it for a week.
A friend joined me on a recent weekday for a late lunch to try Saffron's $8.95 buffet. While the restaurant wasn't too busy, we wondered if perhaps it had been earlier, as what was there seemed picked over and hadn't been adequately replenished. Dishes such as the Butter Chicken were all sauce and no meat. We'd expect it to be better stocked on weekends when a champagne brunch buffet is offered for a few more dollars.
Saffron Indian Cuisine
Address: Centre at Ten shopping center, 12911 Cantrell Road, Suite 18, Little Rock
Hours: Lunch 11 a.m.-2:30 p.m. Monday-Friday; weekend champagne brunch buffet, 11:30-3 p.m Saturday-Sunday; dinner 5-10 p.m. daily
Cuisine: Indian
Credit cards: AE, D, MC, V
Alcoholic beverages: Beer, wine
Wheelchair accessible: Yes
Carryout: Yes
(501) 313-5335
saffronarkansas.com
The buffet, which is small but substantial, doesn't have a logical flow, which makes for congestion. The plates are on one side, but then the starters, such as soup and vegetables, are on the other side and right by the dessert (carrot pudding on the day we visited).
Choices included white rice, vegetable fried rice, Gobi Manchurian (cauliflower), Sambhar (lentil stew), Butter Chicken, Goat Vindaloo, Chicken Tandoori and Chicken Biryani, Paneer Tikka Masala (cheese in tomato sauce) and Dal Makhani (lentils).
Observed my friend, "The food was good, but no dish really stood out as the best or tastiest. Mostly because the dishes were all very similar in texture, color and flavor. All in the brown/red family, spicy but not too much so and smooth sauce with no real pieces of meat. I never figured out if they had run out and not realized it, or had just gotten very frugal and only waved a chicken over the Butter Chicken sauce or waved a goat over the vindaloo.
"The Paneer Tikka Masala did have several nice chunks of cheese in its savory sauce. I want more like this dish."
Which is why we're more likely to return at night for full orders of Saffron's vegetable, chicken, lamb, tandoor dishes and its chaat (Indian street food) items.
We can't chaat up Saffron's dinner enough.
Weekend on 11/08/2018
Print Headline: RESTAURANT REVIEW: New Saffron in west Little Rock curries favor at dinner
Sponsor Content
Comments