Before The Beatles led the so-called British Invasion of our country's pop music charts, The Four Seasons had staked out their own claim to fame. And the voice of The Four Seasons with an intriguing, easily identifiable falsetto was its lead singer, Frankie Valli.
In the early 1960s, The Four Seasons and the Beach Boys battled for chart domination in an era when they were the primary musical groups of consequence. Both have endured, after a fashion. Both are still on the road, despite the passage of time.
Valli is still singing at age 84, accompanied by The Four Seasons -- a backing group that has changed its members through the decades. Besides original members Valli, Bob Gaudio, Tommy DeVito and Nick Massi, 34 others have at times been considered to have been members of the band.
Valli and his group have enjoyed renewed attention in recent years, thanks to a successful play and movie about them: Jersey Boys. The musical, which began its Broadway run in 2005, tracks the creation and rise to fame of The Four Seasons. One of the three touring versions of the show returned to Little Rock for shows at Robinson Center Performance Hall in October. The 2014 movie was produced and directed by Clint Eastwood.
Let's try to minimize confusion by sorting out three things: Valli, The Four Seasons and Jersey Boys.
Valli, born Francesco Stephen Castellucio on May 3, 1934, in Newark, N.J., at age 7 was inspired after having accompanied his mother to see the young Frank Sinatra. He was soon finding other young men with whom to harmonize on urban street corners. It was the time of "doo-wop" singing, which drew in both white and black men.
As to the falsetto vocal style he was known for, Valli said this to NPR's Bob Simon in a 2012 interview: "I don't know. You know, I thought everyone had falsetto. And since I wasn't a schooled singer who studied with anybody, I just thought anybody who had a voice could do anything they wanted with their voice. Not until much later on in life did I realize I had been blessed with an incredible range, and then I saw it from a different perspective."
Frankie Valli
and The Four Seasons
8 p.m. Friday, Verizon Arena, East Broadway and Interstate 30, North Little Rock
Tickets: $60, $70, $80, $90, $100
(800) 745-3000
ticketmaster.com
Valli began moving from group to group before he was 19. One of his original band mates was guitarist Tommy DeVito, who followed Valli though various group names -- the Variety Trio, the Variatones, and the Four Lovers -- with only occasional success and modest bookings to show for their efforts. Valli also released records by Frankie Valley, Frankie Valley and the Travelers, Frankie Tyler, The Romans and Frankie Vally. Valli's luck began to change when keyboardist Bob Gaudio became a group member. Gaudio had credentials that impressed: at age 15, as a member of The Royal Teens, he had co-written an actual hit, "Short Shorts."
As Gaudio joined with Valli, DeVito and bassist Nick Massi, the foursome went for an audition at a bowling alley in 1960, experienced rejection, and, famously stood outside wondering what to do next, when their gaze fell upon a nearby cocktail lounge's neon sign with the name Four Seasons. The Four Lovers became The Four Seasons.
Success was not overnight, until Gaudio met another songwriter, Bob Crewe, who, like him, had genuine hit experience. Crewe had co-written a top 10 hit, "Silhouettes," which the Diamonds took to No. 10 in 1957. Soon, Gaudio and Crewe (who never joined The Four Seasons) began writing songs together, and, as the old saying goes, "the hits just kept on coming."
"Sherry" became that first Four Seasons hit, reaching No. 1 Sept. 15, 1962, where it remained for five weeks. Subsequent No. 1 hits were: "Big Girls Don't Cry" and, in 1963, "Walk Like a Man," before a series of hits that did not reach the top: "Ain't That a Shame" (No. 22), "Candy Girl" (No. 3), "Marlena" (No. 36), "Dawn (Go Away)" (No. 3 in 1964), "Stay" (No. 16), "Ronnie" (No. 6), "Alone" (No. 28), before "Rag Doll" again captured the No. 1 position in 1964. When "Ronnie" was released, the records began to be credited to The 4 Seasons featuring the "Sounds" of Frankie Valli.
"Save It for Me" reached No. 10, followed by "Big Man in Town" (No. 20) and "Bye, Bye, Baby (Baby Goodbye)" (No. 12) in 1965, "Girl Come Running" (No. 30), "Let's Hang On!" (No. 3), "Working My Way Back to You" (No. 9 in 1966), "Opus 17 (Don't You Worry 'bout Me)" (No. 13), "I've Got You Under My Skin" (No. 9), "Tell It to the Rain" (No. 10), "Beggin'" (No. 16 in 1967), "C'mon Marianne" (No. 9), "Watch the Flowers Grow" (No. 30), "Will You Love Me Tomorrow" (No. 24 in 1968) and "Who Loves You" (No. 3 in 1975.)
The group had its final No. 1 hit with "December, 1963 (Oh, What a Night)" in 1975. A remixed dance version of the song reached No. 14 in 1994.
Meanwhile, Valli had begun testing the waters with a solo career even as he kept The Four Seasons intact. Gaudio left the road, but maintained his handshake deal with Valli, and the two are still members of what they call The Four Seasons Partnership.
Valli's first attempt at a solo hit was a song, "The Sun Ain't Gonna Shine (Anymore)," but his version of the song only made it to No. 128 in 1965. (Ironically, the song was reworked into a hit for The Walker Brothers, reaching No. 13 in 1966.) Valli continued pursuing the elusive solo hit until his "Can't Take My Eyes Off You" reached No. 2 in 1967, followed by the No. 1 "My Eyes Adored You" in 1975 and "Grease" in 1978.
Hit songs eluded him after the late 1970s, and Valli turned to acting, with roles in the TV shows Miami Vice, Full House, The Sopranos, Hawaii Five-O and in the movies And So It Goes and Witness to the Mob. He never really stopped performing, going out to smaller venues and doing shows in Las Vegas and other casino locations.
In 2007, he released an album, Romancing the '60s, containing his versions of hit songs by other artists during the time he was recording his own hits. The songs on the album included "Take Good Care of My Baby," "My Cherie Amour," "Spanish Harlem" and "Any Day Now."
Valli explained to Simon his reasoning in doing that album: "I was very careful about the songs that I chose to do in this CD. Unfortunately we have very little radio going on, and there are just about no record stores at all that I can think of. It never really had a chance. But I do some of the songs from this album in the show and I must tell you right now, the response is mind-boggling."
When the idea for Jersey Boys, a theatrical version of his and the group's life and times arose, Valli was initially reluctant to reveal things that had not been part of their narratives, until partner Gaudio convinced him, he explained to Simon: "When it came down to doing the play, Bob Gaudio said to me, 'Ya know, if we do a play, and it's going to be about our lives, we have to lay it all out there. Are you ready to do that?' At that particular time, there were so many record(ing) artists that had not made it yet until they got arrested. So at this point in time, I said, 'What difference is it going to make?' So he went along with that and so did I. We were just very careful to try not to hurt anybody."
When asked how he could continue a musical career in his "golden years," Valli told Simon: "Singers are no different than bodybuilders. You have to sing every day. You have to try to stay in great shape. So anybody out there that wants to be a singer, it's no smoking, no drinking and no substances if you really want to keep it and be able to go out there and continue to do it.
"So basically you have to live a pretty clean life."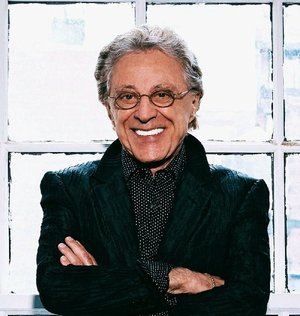 Style on 11/06/2018